Your homepage is your face. It is where everyone will be looking for some direction on what the website is all about. It is also where you can add coded and explicit messages alike, to prompt actions in your site visitors.
For this reason, web page design is very crucial in forming your image and achieving your goals.
When people arrive at your website, they could be looking for something specific or they could just be browsing. It is up to you, to use your business's 'face' to let them know you have what they are looking for or that they might find something interesting if they explore a bit.
These questions will help you create an experience that takes into consideration the way your site visitors feel and your own needs to advertise what you are selling.
      What do you want your site visitors to do when they arrive at your site?
      How simple is it for them to do the things you want them to do?
      How many steps does it take them to reach the intended goals?
      How much information do they require before they can proceed through the actions you want?
      Are there steps you can remove to make the path to goals shorter?
With these questions answered, you will come closer to crafting a homepage that works.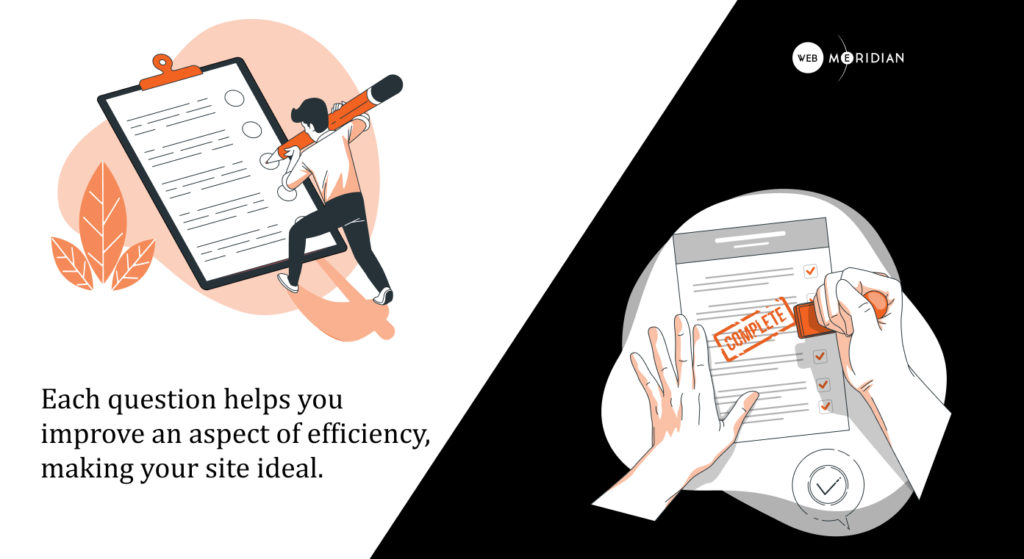 Clear Value Proposition
When it comes to value, it is crucial that people feel a sense of pride buying from you? What do you have and why should they care? If you cannot answer these questions clearly on your homepage, then you won't be able to capture their attention.
Your value proposition needs to cut through and make it clear to the site visitor that they need what you have.
Use strong and engaging content as well as combining elements of the UX and written copy to communicate without missing any demographic.
 Intuitive Navigation Website
When it comes to navigation, the simpler the better. This might sound like a contradiction since you want to cater to everyone and simplicity might not offer variety. The simplicity needs to be in how you write the words or group content.
In navigation, website designers need to ensure that they can draw the attention of the visitor to the right places without overwhelming them with too much information.
Generally, you want to create 'chunks' of content that people can take in and retain easily. Giving too many options about what to do or where to go, will only serve to confuse your site visitors.
Keep Brand Consistent
There are so many brands out there looking to make a name for themselves. Every day, it gets harder to be heard through all the noise. However, with the right design choices, you can stand out above the crowd as unique.
So, how do we tame this elusive KPI?
Be memorable because of your service. If your customer feels like they were treated exceptionally well, they will remember that and associate it with your name.
Keep your brand's colours, fonts, messaging and other identifying markers consistent. People tend to remember things by association and the slight colour change could render you invisible.
Share your story. Your customers need to be able to attach some humanity to the brand and have emotions about it. By tying your story (especially if it is inspiring) into your store, you can create a memorable identity.
Be a part of social change. When the people who shop at your store see you being a part of the community and participating in real-world events, they will learn to identify you with things they care about and be more likely to even recommend you to friends and family.
Flooding your channels of communication with advertisements and logos will not give you effective brand recognition, meaning that you have to appeal to the emotions of your target audience. If you can get them to feel warm and fuzzy whenever your brand comes up, you will have done your job.

Pick Up Proper Colour Schemes for an eCommerce Store
Websites have emotions. Those emotions are colour schemes. A website without great colour schemes feels barren and dead like a desert. It doesn't make any visitor feel like there is anything worth looking for. So, what do you do about website colour schemes?
First of all, you need to know that colours have different meanings. Each colour evokes a different feeling. Your first step should be to find out what the colours mean and which one best describes the kind of feeling you want your site visitors to have.
You do not have to be stuck to one colour and are encouraged to mix them for better results. Here are the things to keep in mind while choosing colour:
 What is the scope of your business?
 What effect do you want people to have when they look at your site?
 What is your potential market like?
If you get stuck, there are colour experts you can consult, to help you pick the right feeling for your site.

Source: NEOM
Call to Action Button That Leads to Purchase
You have attracted and held the attention of your audience, they have browsed throughout out of curiosity and seen what you have. But they did not buy anything! It seemed like they might have wanted to and yet, they did not buy anything!
Well, in that case, you did not do your call-to-action button configuration properly. If you do it well, it should prompt people to want to purchase what you have.
A call to action is a phrase used to tell your audience exactly what action to take and how to take it. It includes simple two-word invitations like 'Buy Now' or something more complex like 'Love finding out how to edit colour in a film? Subscribe now so you never miss a thing!'
Most of them are attached to links that automatically take the visitor to the next step in completing the purchase journey. Done well, it is seamless and effective.
Easy to Access Shopping Cart
Another essential addition to the homepage for a store website is the cart. It needs to be easy to spot. It should also sit in the top right corner. It is better when the cart can display on a small icon, the number of items placed in it.
The number tells customers that the process is ongoing and prompts them to want to complete what they have started.
The shopping cart should also be able to slide out and let the customer continue to shop or go to checkout if they want to.
Advanced As Well Easy Search Bar
Finding anything on your site should not be hard, especially when it comes to highly populated catalogues. If you have many products, the customer should be able to find whatever they want using a website search bar.
The search bar needs to be simple and easy to find (use the magnifying glass icon). Users who complete searches successfully are likely to buy something. If you have a lot of products and there is no way to pinpoint individual items easily, it will turn your customers away.
Content – Blogs, Videos, Media
Interaction and engagement with customers come from attracting their attention. Aside from great site design, there are more ways to attract customers to your site and products. Blogs, videos, and other relevant media can be used to achieve goals like:
      Encouraging the visitors to look at you as an authoritative source of information
      To enlighten customers about products
      To market products in a visually convincing way
      To appeal to the emotional side of your audience
One thing to keep in mind as you do this is that sometimes, content can be distracting when positioned improperly. It is preferable to keep all website content on the homepage below the fold and above the footer. That way, visitors will not be distracted from the products.

Highlight Special Offer
Your homepage is a great place to advertise any special offers you may have. Most of the time, you will see this utilized during holidays and other special days of the year. The discounts are a great way to inspire people to buy what you have and offer you the opportunity to make an impression that would likely make them repeat customers.
Mobile Homepage Design
When it comes down to mobile web design, there is no need to prove a well-known fact that mobile web-traffic actively grow over the last few years. You definitely know how it's crucial to simplify your homepage design for mobile phone keeping in mind intuitive and smooth user flow during mobile shopping.
How to design a mobile responsive website, right? Here are 4 of the best practices that will help you create a mobile-friendly website:
Use drop-down menus. Give your users better control of the menu and straightforward access to category or subcategory. BUT menus shouldn't have more than two levels.
Keep page elements to a minimum. A mobile screen has in 4 times less space available for the same number of elements as on a desktop. Therefore, not all the text or visual elements on your desktop website design will find their way (in the proper form) into the mobile version. It would help if you hide some of the unnecessary elements that don't affect the main message.
Add 'Back to Top' button. Give your website users instantly scroll to the top of your page in one click. As a result, you can increase a Page depth (average number of website pages that your visitors view during a single session).
Leverage on mobile-only features. Use mobile animation, branded welcome screen, customized mobile menu, features by a few taps, and more other.
We prepare the best mobile website design examples:
Ed5M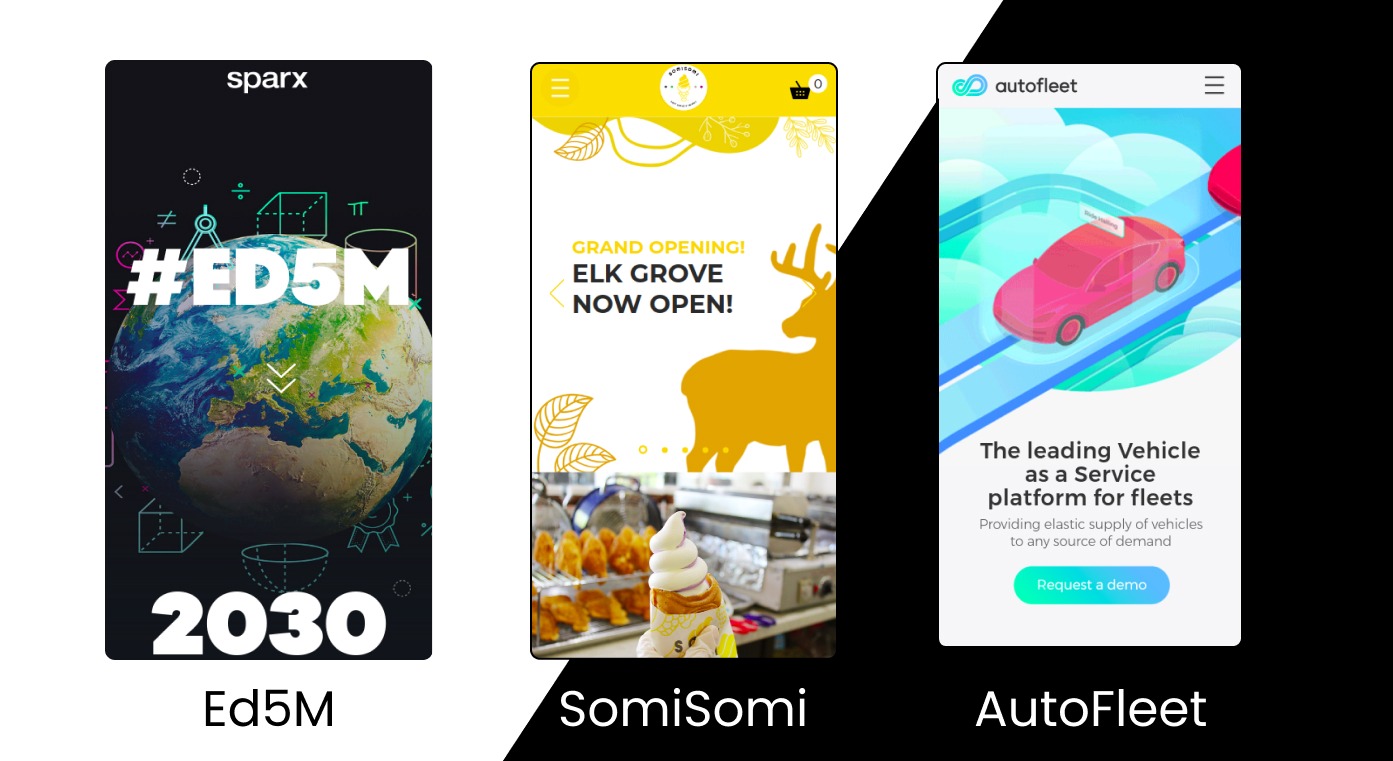 Display Social Media Icons
Social media marketing and selling is a great way to double sales on the eCommerce website. Due to social proof as customers reviews, endorsements or other UGC (user-generated content), you can short a time of decision-making about a purchase or cut marketing costs for ads. 
How can you actually use it?
So, you just need to add social media icons at the website's footer and represent persuasive social media proves such as posts, Instagram galleries, or endorsements from influencers or experts at the website homepage. In this way, you boost trust in your brand for new visitors. 
5 Examples of the Excellent, Innovative Homepage Design
Conclusion
As you can see, there is no one way to do this. The web page design is complex and is a reflection of what your business is all about. If you do a good job of communicating who you are and what value you have to offer, people will have no problem remembering you or even getting curious enough to make a purchase.
If you are not sure how to proceed on web page design, you should consider the expert business and tech consulting services we have to offer.
Our service is all-in-one and includes all the types of eCommerce-related concerns. Not only can we help you build the store from the ground, but also offer you the insights our years in the industry have given us.
We aim to offer you all the solutions for your tech challenges. Whatever business model you have (offline/online) we have something for you. Some of our clients are notable brands that have benefited from us.
Do you have any questions about the service? Talk to us today and find out what we can do for you.