In this modern age of technology, eCommerce has become one of the most successful paths for retailers and entrepreneurs to take. With the ever-increasing need to go digital and the emergence of instantaneous technology like smartphones and tablets, eCommerce provides the opportunity to stay competitive in the market. You could potentially be extending your reach to every person with internet access around the world. 
If you're a retailer, eCommerce is tremendously beneficial as you can have more eyes on your products that you wouldn't have achieved physically. It works both as a marketing tool as well as a platform for you to make sales. Mobile eCommerce has grown by 300% over the past few years. Now is the perfect time to make the jump to online retailing. And we at WebMeridian, are dedicated to helping you get started on your eCommerce journey.
What we can do for you is a myriad of eCommerce solutions primarily focused on Magento development. Our tech stack includes Shopify, Shopware, WooCommerce, React.js, and other framework-based technologies.
We have a strong background in eCommerce technology with an unrivalled 5+ years of experience in the field. We are dedicated to our craft and to provide you with the best eCommerce solution based on your needs. Recently, one of our clients gave us another stellar review on our Clutch page. On it, they talk about how we provided dev support and helped them launch a backend solution for their site. Here's what they said:
The team regularly complied with deadlines. Always in touch. Project management was very polite, reliable, and professional compared to other vendors. – Dmitriy Sosnitskiy, QA & Operations Department.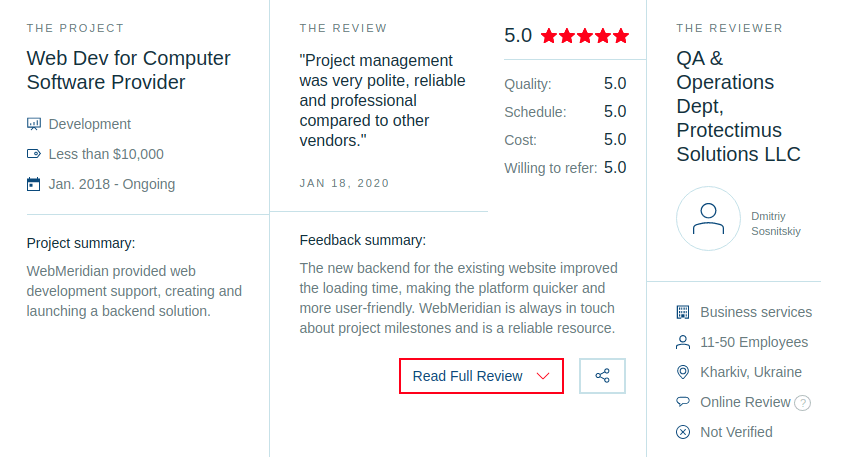 We always value client feedback and consider them as growth opportunities. To receive a testimonial about their positive experience collaborating with us is just one of the best parts of this job. 
Aside from being featured on Clutch, we're also part of the list of top Magento developers in Ukraine created by their sister company, The Manifest. The Manifest is a B2B platform that analyzes and compiles companies based on their performance and consistency to provide valuable service. It highlights company projects, peer and client reviews, expert analysis and insights, and data analytics to achieve business growth and success. Look for us and other top-performing companies on The Manifest.
If you're looking to build your online empire, WebMeridian can provide you with the foundations to get started. Talk to us now!