(AI) Artificial Intelligence used to be viewed through a myopic lens that was full of fear and uncertainty. However, with the advancements made in machine learning, we are using AI models more and more in everyday life. AI in eCommerce has also taken off, with numerous benefits.
According to Statista,  the AI software market was worth over $10 billion in 2018 and by 2020, had reached over $22 billion. The forecasts show that by 2025, it will have reached $126 billion. That is a five-fold growth, indicating that the market is poised for big things and that everyone would be better off getting in on it now.
At the moment, the industry is seeing AI influencers who speak about the benefits and uses of AI and how it can transform human lives.
The pandemic accelerates the use of artificial intelligence in eCommerce since most of the things that we conveniently do so easily are powered by these powerful algorithms. It is becoming clear that AI models are faster, more accurate, secure and reliable, while also coming with the advantage of lowered operational costs when it comes to IT operations.
Powers and Influence of Artificial Intelligence in eCommerce
Given the rate at which AI is growing and getting adopted by more and more firms such as Amazon, Alibaba, JD.com, and eBay, it is only a matter of time until most tasks are handled without human intervention. There are many benefits you will get from using machine learning and AI models.
Here are just some of the most notable benefits reported by users of AI in eCommerce:
1. Create Сustomer-Сentred Searches
You can do this using Twiggle, a business that can help you make your search engines think the way humans. That way, customers always find what they are looking for if you have it in stock. AI can:
organize images,
return search results accurately,
matching products in terms of variables like colour, material, or shape, among other preferences.
For instance, this is what Adidas does when you buy shoes, so customers can choose an exact match they want. By using AI in eCommerce this way, Adidas makes sure its customers can find the exact show that they want.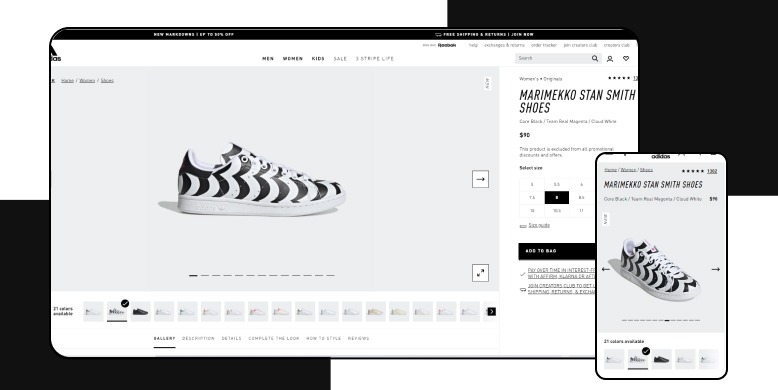 Read on the useful article: Unravelling the Code to Nike's Incredibly Effective Customer Loyalty and Retention Strategy
2. Targeting Potential Customers/Leads
Conversica reports that at least 33% of marketing leads are not followed up. What this means is that pre-qualified potential buyers interested in the product/service will go away. Since it is easy to miss them and let them fall through the cracks, you can pick up the slack and pursue them using AI to anticipate customer needs, provide answers, convince and provide a shopping experience that leaves no doubt in their minds.
3. Make Your Sales Process More Efficient
The Yellow Pages are dead and cold-calling potential clients are no longer so prevalent. Customer's lives work differently, which is why integrating artificial intelligence in eCommerce to manage clients is important.
With natural language learning, your CRM can answer questions, solve problems for customers and even identify opportunities for the sales team to engage with customers better. This way, you save money and time that may have been spent on mostly fruitless endeavours. 
4. Sales Intelligence
When you have AI, you do not just have the power to predict things, you can also check out what the competition is doing better than you and gain intelligence on what to do to stay competitive or gain an edge.
For instance, Getty Images is an example of where AI has been used to collect business intelligence and deliver it to the sales team at the company, which will then target the exceptional customers that they would like to retain and offer them something better. At certain volumes, it is not simple to look for intelligence, since it would take too long and cost too much. Getty has millions of images and this system has been instrumental in making them compete with other image providers.
They use Mintigo, which is a solution that can be incorporated into sales, marketing, and CRM, to generate leads quickly. This is exactly the kind of AI in eCommerce that most businesses would require to run efficiently.
Challenges and Solutions with AI
AI systems are not just more capable than people at a growing number of business processes, they also learn while working, which makes them almost exponentially better. To understand the benefits better, let's look at how AI has been applied in eCommerce, in ways that you can adopt too.
Here's the deal:
Smart Technology
We now have something called IoT (the Internet of Things) which refers to the interconnectedness of the devices in our homes. By imbuing them with the power to connect with and talk to each other, a person is given the convenience of being able to shop using just about any device.
Take for instance the Samsung's Family Hub Smart Fridge. It features cameras inside and AI that can be used to let you know when you need to replenish supplies, or even order them for you. It goes an extra step and offers recommendations of recipes for upcoming meals, so you never have to ask 'what am I going to make today?'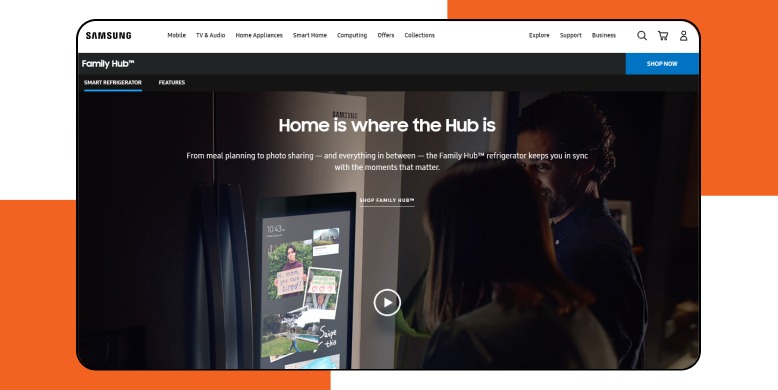 In a business, smart technology can be used to offer added value to the users, as a competitive edge. The eCommerce world is proliferated by merchants all selling similar things. To differentiate yourself, you must offer value that is unique, reliable, and better than the competition.
Using (AI) artificial intelligence in eCommerce presents you with these opportunities. In this example, Samsung enjoys a different level of popularity in the fridge market, given that they beat everyone to the punch with their introduction of technology to an icebox.
You can do the same, by making processes efficient and introducing enhancements wherever possible.
Read on the useful article: OK, Google, Hottest Magento Development Trends in 2021 and Beyond
Chatbots
It seems these days that when you use the 'chat now' option, you interact with a bot that mimics human responses very well. That is because chatbots have been learning for quite some time now and Gartner estimates that 85% of customer interactions will be managed by non-human bots by 2020.
Given the prevalence, it is not hard to see why eCommerce operations prefer chatbots. With their capabilities to:
learn,
collect valuable data,
offer a personalised experience,
push the brand's visibility,
intelligently offer customers value.
Why does this matter?
Not only will users see improved conversion rates because of the tailored experience, but they will also not have to do any extra work to make it happen.
Not only does this save time, but it also requires no extra work and takes some of it off your plate.
Customer Relationship Management
One of the most impressive things AI can do is predict things. Customer Relationship Management as you knew it is gone. Instead of collecting massive amounts of data to try and guess what your customers may do, you now just feed all of that information to an algorithm, which will spit back its insights.
You do not need in-house analysis experts to make sense of all the data. The AI can do that for you and give information that helps a business encourage more spending habits in its current customers while increasing conversions.
Aggressive re-marketing will be a thing of the past since you can now identify and remove problems in your processes with surgical precision. The best part is that all of these insights are geared toward making the customer experience better too.
You know what that means; more conversions. With more conversions, you can gain more revenue.
Inventory Management
The pain of inventory management is one that eCommerce ventures are familiar with. Keeping everything up to date, stocking what's needed, and avoiding over-purchasing stock are only a few of the problems that you have to deal with.
Without an inventory management system, the situation could change into a nightmare very quickly.
How do you avoid that?
Naturally, you'd get a traditional inventory management program or system, which relies on hindsight to determine what you need to do.
However, this method forces you to react instead of proactively meeting the inventory needs through predictions. The eCommerce market is dynamic, making hindsight inventory management inefficient. eCommerce entrepreneurs can now predict present and future inventory needs in real-time because of the power of AI in inventory management.
Get ahead of your inventory.
Image Classification
When creating an eCommerce website, it is always important to recommend similar products/services, and other related results to customers. That way, they can browse more and see other relevant options.
The problem is, classifying similar products/services especially when using images, is gruelling if you have to do it manually. That is where artificial intelligence in eCommerce shows its usefulness.
Thanks to advancements in AI, you do not have to manually classify images or even use systems that aren't too accurate to do it. With AI, you can recommend similar results and integrate suggestions to check out other options and buy with a single click.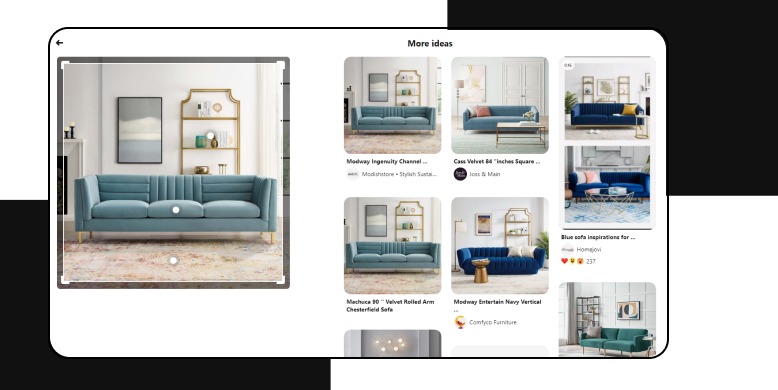 Would you like to see an example of this at work? 
Using the Amazon mobile app, you can open the camera, point it at any item and immediately get back an answer on what it is, where you can get it, and order immediately.
This kind of technology is only enabled through the use of AI that is taught to recognize items. Incorporating such tools into a website, phone app, products and services, will not only lead to increased levels of efficiency but also improve your margins.
You can increase conversions this way and enjoy that increased revenue that comes from that.
Read on the useful article: How to Structure a Product Configurator in Magento 2 to Boost Conversions
Key Takeaways
With giants like Google and Microsoft investing billions of dollars into AI initiatives, it is only a matter of time before algorithms are incorporated into everything. You don't need us to tell you about the benefits of early adoption, especially when it comes to AI in eCommerce.  
The market is ready, the technology has been tested, AI influencers write and speak of its benefits, and now, it is time for eCommerce to fully adopt as many algorithms to run processes as possible.
We specialize in the provision of an all-in-one service, catering to clients of all sizes, offline and online. We work with new and famous brands, to enhance their IT capabilities and help them transition, as the pandemic-driven digital transformation continues.
If you have any tech-related projects, challenges, questions, or requests, we would be glad to talk to you about what you need and provide solutions or any assistance you may require.