Magento created an eСommerce platform that competes with the biggest names in the industry. It provides merchants with the freedom to create the best websites they can imagine, a powerful admin experience and advanced tools that make customer service easier.
One of those features, the Magento 2 Multistores provision, is the prime focus today.
Let's start from the beginning. Multistore features begin when a server is launched and a global installation is completed. Use the cloud platform as hosting for Magento because shared hosting could affect website speed and reliability.
4 Steps That Lead to the Setup for the Multiple Stores
Magento installation starts with the global setup;
The multistore feature is launched in the global set up;
Pick multiple virtual shops during installation;
Create multiple e-shop views as you please in every shop created.
The whole thing takes a few steps from start to finish. There's more to it if you would like to explore more. We recommend using development services to get the most out of the feature.
Multi-Shop Strategy with Magento 2: Double Sales and Revenues
The multi-shop strategy is beneficial when done correctly.
The strategy is not the easiest to pull off but with the right developers and understanding of SEO, you can market each e-shop properly so that they all become profitable and bring in revenue better separately than if you had combined them into one virtual shop.
The strategy is an advantage to any operations because:
One may have different customers and necessitate the use of different strategies like B2B or B2C. You could develop an online store to cater to all customer types.
You can expand into international markets and cater to unique geographical demographics with ease since each shop is created for a specific customer base.
You can build multiple brands under the same cohesive umbrella. Each e-shop will bring in a separate and strong stream of revenue.
It might seem like a difficult task but, the multi-shop strategy is one that could potentially double your sales and revenue. Consult a development team to understand if this is the right choice for you and how to set it up correctly.
What is Multistore Magento 2?
In Magento, we have GWS. They are the first letters of the Store, Global, and Website options.
The difference between Magento Multi Store VS Multi Website VS Magento Store Views is following:
Global defines a complete installation of the platform;
Website (or Magento 2 multiwebsite) is the domain for a website that can then be used to manage multiple stores. There are provisions for multiple domains on one installation as well;
The product sections fall under Stores. You can open multiple virtual shops in one or more domains.
Magento Store Views allows the opening of multiple storefronts powered by your front-end data and capable of offering multiple e-shops in different languages.  
The different features help merchants serve different demographics of their customer base properly.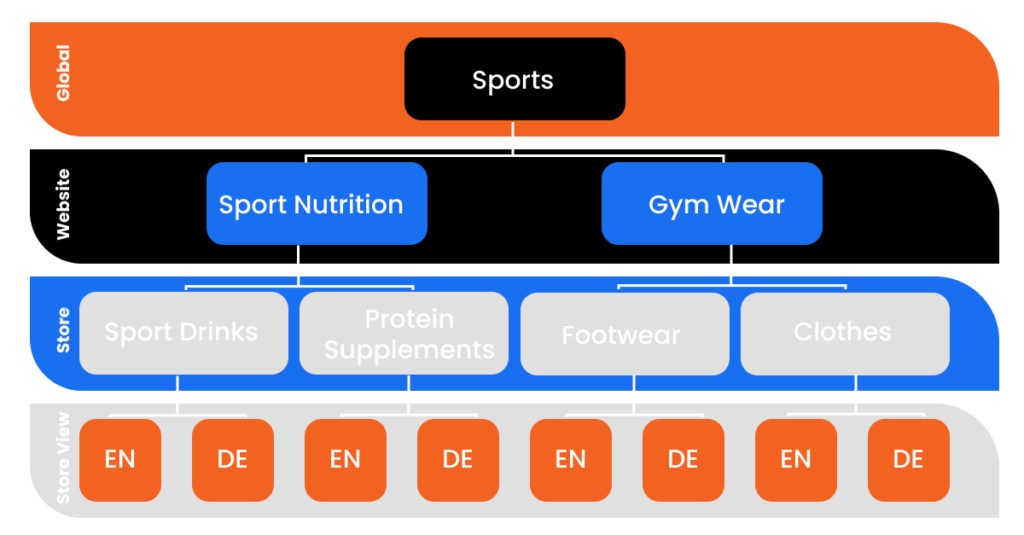 Why Choose Magento 2 Multistore?
Whether a beginner or seasoned merchant, running multiple online retails is a breeze if you have good development services and are running on a platform like Magento. As with anything, there is always a need for potential benefits and challenges.
We will consider all aspects of using the Magento multi store extension, it's features, highlight the challenges and how to solve them.
Benefits of Using Magento Multi Store Extension
     One Administrative Panel to Rule Them All
In a multi-store, one administrative panel can allow a merchant to control everything, including the backed. In a single e-shop, one panel controls just one site.
      Localization
Localization entails being a good fit for the different customer groups you serve. For instance, you can set up a store to cater to customers of different languages or set up country-specific virtual shops where you have a presence.
      Targeted Customer Bases
With different virtual retails, you can target each customer base easily. Take the example of a clothing e-shop that is split into multiple virtual retails for women, men, and children.
In a single e-shop, you will not be able to create clear and separate user categories and it will be impossible to properly target each base to generate more traffic overall.
      Hosting Multiple Brands for Diversification
When you have a single brand, your traffic is limited, not just by the lack of clarity in categories hosted, but also by sub-optimal sales. With brand separation in a multistore setting, you can pull in more traffic to increase revenue overall.
      Hosting Multiple Vendors
Using the multistore feature, you can have the ability to provide rent space on your website to other vendors for their products like in Amazon. A single virtual shop will not have this provision, which narrows product categories offered, limiting traffic and subsequently, sales.
      Managing Orders and Shipping
Order management in a Magento 2 multistore setting will be done by each vendor, not the site owner. It is convenient, unlike the single store where the site owner is responsible for all customer orders. Shipping could not be more efficient, as each vendor defines their shipping rates.
      Payments
A multistore setting means that all payments are directed to the merchant account administrator. The admin then checks and transfers the funds to vendors. Single online retails mean all payments go to the merchant account of the admin.
      Backend
In multi-shop mode, the online retail owner does not control every backend. Each store vendor has secure access to its sections. It makes uploading and managing settings and products easy. The single virtual retail option puts the control of the entire backend in the hands of the site owner.
Core Challenges of Multi Store Magento 2
As convenient as the Magento 2 multistore feature is, there are some limitations to using it. Here are some of them.
There is no way to set up specific payment or shipping methods for each virtual shop;
You cannot change the tax structures in Magento multiple stores;
You cannot manage a separate inventory with e-shops;
There is no way to manage any configuration settings between Magento multiple stores.
Does Your Business Need a Magento Multistore Extension?
We have discussed what the Magento 2 multistore concept entails, what you can do with it, the benefits and the drawbacks. To find out if you need this capability, consider your operation size, the potential outcome of running multiple virtual stores, and the capability to run each one optimally.
Things to Consider Before Configuring Magento 2 Multistore
Even though creating Magento multiple e-commerce is easy since no technical or code problems have to be solved, there are some minor obstacles you should know about:
      The Limitation of an SSL Certificate
For one domain (one IP address), a single SSL certificate is issued. You have multiple domains that need security. Consider using:
Wildcard SSL, to include all your domains
Subject Alternative Name (SAN) certification for stores in different domains. It makes admin work easy and doesn't cost a lot.
On protection, you will be covered by these options.
      The Assumption That Sharing IP Addresses affect SEO
Many people think that sharing an IP address for all your sub-domains could impact your SEO efforts negatively. This is simply not true. Many successful businesses online have several websites on one IP address. Use the power of great content to stand out on all your sites and avoid copy-pasting content from one shop to the other.
       Magento Multi Store Extension Issues
Sometimes the extensions work in one store but are not usable in the others. It is important to understand that everything stays in one domain unless you update Magento multi store extensions in its entirety. Sometimes, the extension issues come up even when not using multistore features.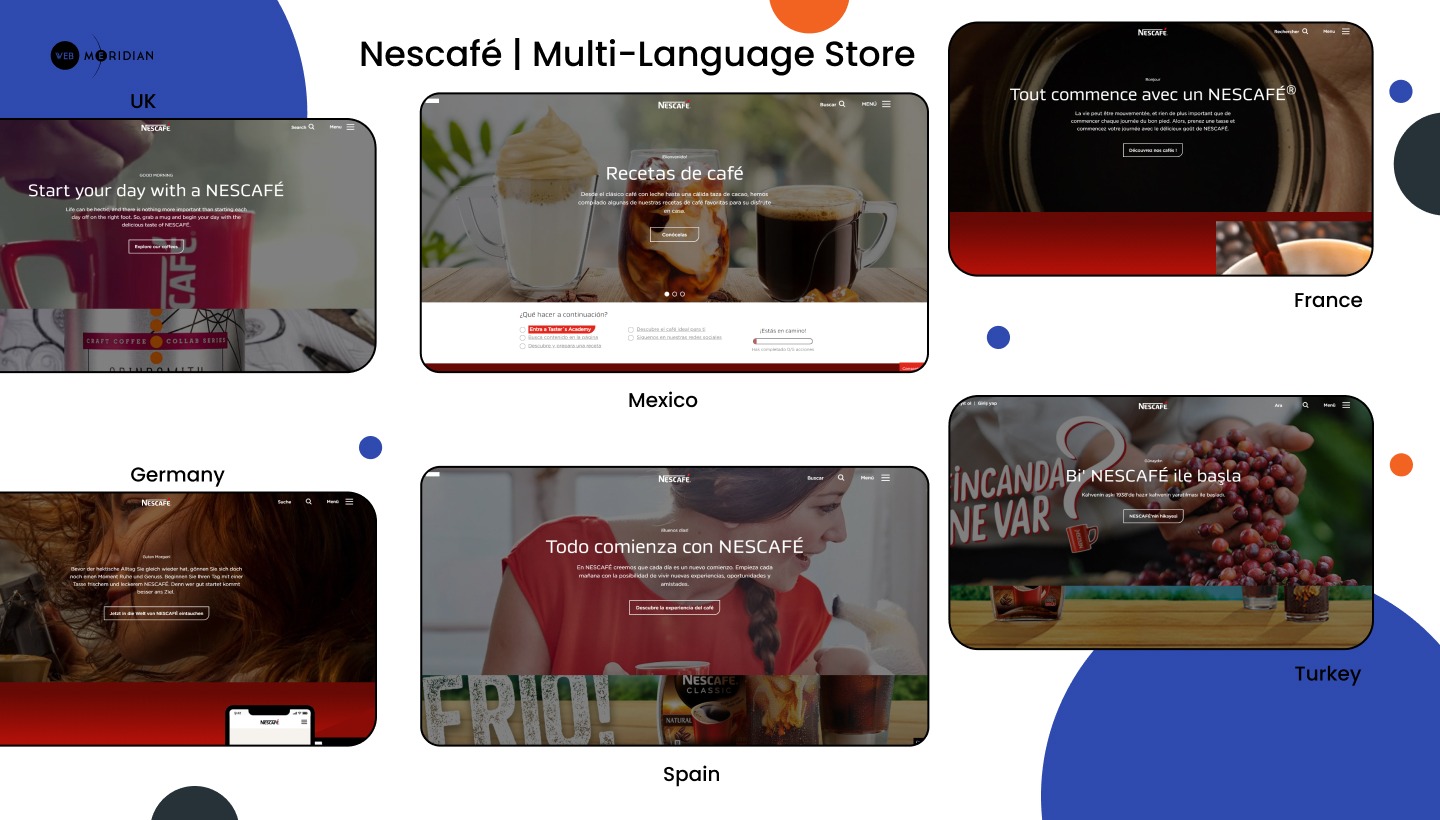 Magento Multi Store Vs Multi Website
To gain insight into the multi-shop ecosystem, we have to examine:
Structure types;
The value they offer to users;
How beneficial it is to a merchant.
We can accomplish this by comparing Magento multi store vs multi website vs multi-shop view.
Magento 2 Multistores
Under one domain, multiple sections with different goods and services can be added. The store appears as a separate shop with all products in one domain. This feature makes it easy to find items or products on any site.  
The admin experience is fully realized with a complete view of all stores, offering a site owner unprecedented control, from a super dashboard. 
Magento 2 Multi Website
The installation of Magento as a whole involves the creation of a website that manages unique customers and has a separate customer-based process. Multistore mode allows site owners to create several separate stores, choose payment methods, perform shipping configuration and is compatible with all major currencies.
The main advantage that the Magento 2 Multi website has compared to Magento multistore is that it only hosts customer data without specific product descriptions or categories.
Magento Multistore View
The default setting of every store on Magento is that it has its online-shop view which site owners use to store content and information related to products or services.
The default setting also allows the display of stores in different languages, enhances focus on adjusting design elements to add uniqueness to each store, and does not require separate shipping configurations.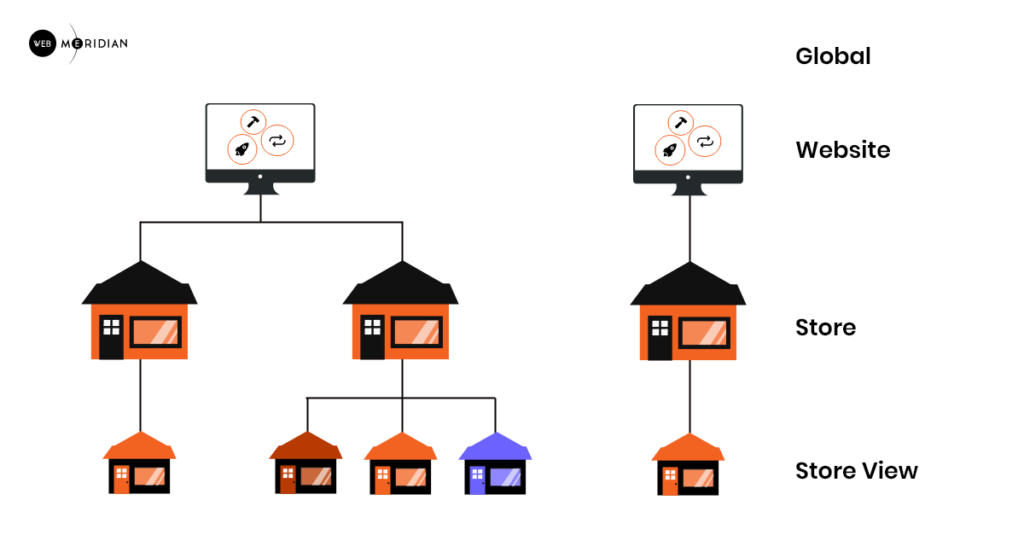 Let's sum up what is the difference between store and website in Magento 2:
Magento 2 Multistores – one domain, multiple sections and the store appears as a separate shop with all products in one domain.
Magento 2 Multi Website manages unique customers and has a separate customer-based process.
Magento Multistore View allows the display of stores in different languages, enhances focus on adjusting design elements to add uniqueness to each store.
Examples of Brands Using Magento 2 Multi Store Extension

What can be better than lists of benefits? It's proof. 
We have clients who have their store extended with Magento multi store extension and use all powers of its functionality. 
If you want to learn more about these successful cases, please check our Portfolio.
Summary
Some parts of the multistore format may be tricky and could require more than the basic knowledge of how to conduct operations. The SEO work and configuration of each virtual shop to reflect a unique entity takes time and practice.
We recommend custom Magento development services to accurately and quickly bring to life the visions merchants have for their stores.
The tiers provided have elements to control the catalogue in a more focused way that targets very specific parts of the online marketplace more sharply. When you know what the elements entail, you can carve the experience into a very accurate model of what you want to achieve.