Website content is mostly images. eCommerce sites rely on images even more than regular sites. The load page speed of any site is impacted by how many optimizations you have implemented. Magento 2 Image Optimization extensions can reduce the weight of your site's pages and allow them to load quickly.
People don't like it when sites load too slowly.
If they have to wait for pictures to show or reload, it means that something with their weight and format isn't suitable for the browser. Images carry more weight on each page, reflecting directly into page performance.
The best thing to do is image optimization. The page loading time is one of those metrics you should always keep an eye on. Because of how much weight they carry, images will almost always be the culprit behind slow-loading pages.
We will consider how you can make it easy for images to load faster, what tools to use, and the benefits you will see in an enhanced user experience.
Bonus. We provide you with Magento 2 Image Optimization Extension: Top 5 Edition at the end of the article. So, let's dive in.
What is Magento 2 Image Optimization?
Load page speed directly correlates to how 'heavy' the pages are.
---
Magento 2 Image Optimization is boosting the websites media materials involves reducing the image file size to load faster while ensuring that the image quality is not compromised.
---
It is also a part of SEO strategy. You will need to have pretty and suitable graphics or images to get more visibility and attract people's attention.
Another way SEO benefits is that faster loading pages tend to retain users who want the experience. If you make your site attractive and fast, you enhance your site's ability to attract and retain visitors. We recommend using the variety of the Magento 2 optimize images manual methods and extensions that automate the job.

Magento 2 Optimize Images: Why Do You Need to Optimize Images in Magento?
We have mentioned the need to have better load times for your pages, SEO, page ranking, and conversion in most of our articles about optimizing your website. Nearly 70 per cent of a page's weight is images. Optimizing the images is the best place to start when trying to squeeze more performance out of your site.
The best part about it is that you do not need to know software development to optimize images. The more unoptimized images you have, the longer it takes to load a page, and because of that, your store's performance and other essential facets of your venture will need improvements.
Here are more reasons why you need to Magento 2 optimize images.
#1. It Increases Store Performance
With faster loading images, the store will load faster, show customers what they want to see in the shortest time possible, and encourage users to spend more time looking through. Not only will this make your site favoured, but it also boosts the conversion rate, among other key performance indicators.
#2. It Improves Your Store UI Experience
The UI experience deals with 'User Interface,' which is slightly different from the all-encompassing term; user experience. UI refers to the assets with which users interact. We are talking about visual design elements like colours and typography. With an optimized page, you can make it as attractive as possible so users can engage with it longer.
#3. It Helps to Improve Pages' Rankings
Properly optimizing your images will not only make your site more accessible, load faster, and provide value to visitors; it will help you rank higher. Images have grown in importance and are useful when trying to communicate in a much clearer way. When you provide the value and user experience people like, your page will have a better ranking.
Magento 2 Image Optimization
When it comes to the optimization of images, there are several things you can do to ensure they are light.
We are going to talk about manual ways to optimize your site images and how to do it with additional tools and extensions.
Here are three things to keep the most important things in mind before optimizing images:
#1. Format of the media files
Ensure you use next-gen formats so that you can tick off Google PSI's "serve images in next-gen formats" requirement. Of the many formats, the most commonly used are JPG, PNG, WebP, and SVG. They all have benefits and disadvantages that will determine which one you will go with.
Currently, JPEGs are the smallest file size that does not degrade quality noticeably. PNGs are used for transparent or high-quality images, while GIFs offer an animated experience.
#2. Resolution
Google PSI has a 'properly size images' audit, which you can pass by properly sizing your images. The resolution is the number of pixels in an image. The way we identify this is by height and width.
You need to resize the image to match the display size your site visitors will see.
#3. Compression
Image compression is the act of reducing the file size of your images as much as you can without sacrificing the quality of the images. Compression tools exist that will not only help you to deal with resizing but also compress media files.
Check out lossless image compression options that reduce your images' file size by removing the unnecessary metadata.
Manual of Magento Image Optimization
In this section, we are going to talk about three manual ways to optimize your site images.

Use Vector Images If Possible
SVG stands for Scalable Vector Graphics. Sometimes you open up a page and look at some images. They seem to be okay at first glance, but they become blurry when you zoom in a little bit. That is when you need scaling images that do not suffer when zoomed out:
The best thing about SVGs is that they are scalable and can fit into any dimension without losing their quality level. The browser only needs to recalculate the math behind the picture to avoid distortion.
Using styling and scripting, you can add any hyperlinks and animation easily.
The SVG is easy to edit and can be done on software like Adobe Illustrator.
SVGs have a compact file size, making it easier to save more of them, and have no trouble scaling to fit small or big dimensions.
SVG images are defined in XML text files. Keywords and descriptions become easy to add and are recognized by search engines.
With all these benefits, it is easy to see why people would prefer them to other types.
With all these benefits, it is easy to see why people would prefer them to other types.
Use Ready Icons
Icons are tiny pictures that are used to represent the content of a website visually. Because they are condensed and versatile, icons are one of the best ways to transmit information in an easy way using pictorials that do not bog down your website.
Create Sitemaps
Sitemaps are a great way to rank higher. They are a blueprint of your website and help search engines crawl and index all your content. Sitemaps can also be specific as you can create image sitemaps that allow you to access all your images conveniently and see which ones need work.
Magento 2 Optimize Images with the Best Tools
There are many tools you can use to get the images just right. Most of them focus on the two most important things we always consider when talking about image optimization; file format and compression type.
Combine the best file format and compression type to reduce the image size up to 5 times. Try experimenting with each version of the format and compression to see what works best.
Here are some of the tools you can opt for when making improvements in the media files.
WebP
WebP is a modern image format. It has the best lossy and lossless compression for images on the web. You can now create smaller and richer images that make your pages load faster. The lossless images are 26% smaller when compared to PNGs. The lossy images are 24-34% smaller than JPEGs of the same quality.
The lossless WebP supports transparency and will only use about 22% more bytes.
Images Lazy Load
Lazy load minimizes a page's load by only showing what the user requests. It conserves the bandwidth by rendering only the parts of the page the visitor is looking at. Magento 2 optimize images can implement the same 'when-needed' rendering technique and lessen the page's weight.
It means that the page only loads the portion that someone is looking at. If users do not scroll to the bottom, the rest will not render until you scroll. That way, the page only loads parts accessible on a screen's dimensions at any given time.
Get a CDN
A Content Delivery Network uses interconnected computers on the internet that move content very fast to users. This is achieved by caching the data on many servers or duplicating it and making it available to those who request it, based on how close or how far they are.
The benefits of CDNs include:
Drastically lighter server loads;
Optimized rapid loading;
Optimizing content for different devices in terms of resolution and screen size;
Packet loss is reduced with low latency;
It is highly available and perfect for usage analytics.
The benefits should motivate you to use the option of CDNs.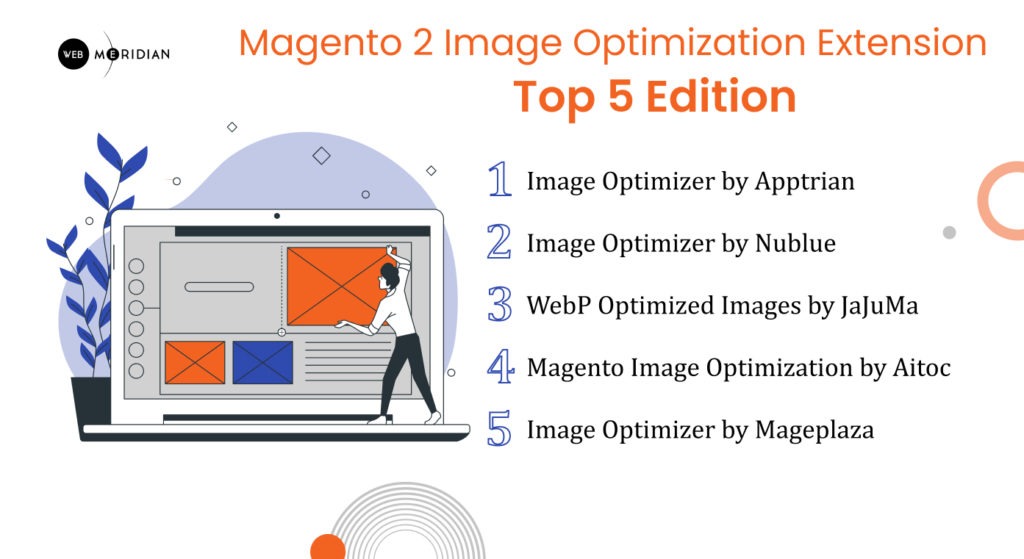 Magento 2 Image Optimization Extension: Top 5 Edition
We mentioned extensions on Magento earlier and how you can optimize your image in a more automated way. Let's look at some of them.
This extension is free, but the support is not. However, it is simple to use, and you probably won't need help. It supports most formats, including GIF, JPG, and PNG. It is not a substitute for acceptable image practices, but it is a great way to make your work easier.
This extension costs $30. The extension keeps things simple and requires no technical expertise to use, command, or configure. It is compatible with Magento 2. If you are an advanced user, there is a Command Line Interface, in case you need it.
WebP is open source and unencrypted, allowing you to customize whatever you want. It is approved by the Magento Marketplace and will help you do (.webp) conversions easily. Performance optimization and a faster loading age are what you will get when using this extension. You can balance everything with ease and enjoy the benefits that come with a fast-loading page. It costs about $129.
With this one, you can automatically search for all images in Magento, protect yourself against over-optimization, roll back changes if you do not like the outcome, and enjoy swift searches. It is a complete product with great reviews and a wealth of features. It costs $189.
This extension will enable you to organize several types of images, do image optimization quality (both lossy and lossless), backup original images, include or exclude image directories, force file permission, compress images files in bulk and do so much more. It only costs $99, with a 60-day money-back guarantee, a lifetime update, and support.
Summary
The entire process of Magento 2 image optimization is essential to your website's health and rank in general. The user experience needs to be top-notch for people to enjoy using the website. If there is something you can do to make it load faster, go ahead and implement it.
Because they take up 70% of the data downloaded in a web browser, it is essential to make them faster and lighter. The challenge is usually the speed with which the images load.
If you can overcome that challenge, you should have a page that people enjoy visiting. Magento may have JS code, a multitude of CSS styles to load, and a complex DOM structure; you will face the same bottleneck of image loading.
All the tools we have discussed are there to ensure that your visitors won't complain about slow loading website elements.