It's hard to keep track of everything involved in maintaining an online shop.
You feel like you are being pulled in a variety of ways at once. Your webshop has grown (which is good) but it now requires extra efficient tools to keep it flowing and functioning at its peak. One way to get a handle on things is to have an efficient backend system known as an ERP (Enterprise Resource Planning).
ERP software is the gold standard for managing everyday business processes such as human resources, supply chain, payroll and more. 
With Magento ERP (a Magento extension), you get to enjoy all the features to keep you organised and make sure things flow smoothly. Magento ERP extension could tackle inventory management, process orders, and create effortless business flow. 
Manage it all with ERP. 
You'll be able to use the valuable software tool to build sales, provide optimum customer service and run the business flawlessly.
In this brief step-by-step Magento 2 ERP Integration guide, we will examine the perfect solution and some common pitfalls (plus how to avoid them) that you might encounter. 
The Best ERP Options: Worldwide Brands Choice
Many platforms are pre-built that boast Magento 2 ERP extensions, which makes things a lot easier. 
ERP software components may differ and do depend on the system that you pick and the needs of the enterprise. Let's examine the best ERP system integration options and perks, so you can figure out how they best meet your needs.
Puts you in the driver's seat, so you can take full control over all your capital inflow and outflow without hindrance. Effortlessly keep an eagle eye on expenditures, examine the balance sheet, reconcile bank info, and control all aspects of tax management. You'll receive various reports that display various financial aspects. 
Take control with profiles that give you a 360-degree view of your customers and their data such as purchase history, social media likes/activities, and history with support. 
Take hold of inquiries, sales orders, taxation rules, invoices, and sales questions/inquiries. ERP can automate the entire process in a highly efficient manner. 
Improve manufacturing with precise planning of products, daily monitoring, sourcing and even for forecasts. You'll take control of your inventory, so you can avoid the dire situation of running out of resources, which is a pitfall. 
Human Resource Management: 
Magento ERP solutions give you the HRM tools you need to manage things such as timesheets, time trackers, job profiles, employee records, skill matrix and more. You can effortlessly review the payroll system. 
As you know, the management of the supply chain and purchase orders is important. You want to control the product flow from the time of production until it reaches the consumer. You want to offer friendly, easy-to-understand returns and be able to process the entire supply chain effortlessly. 
Control your purchasing power with complete materials' procurement.
Draft inventory goals while tracking and locating all items.
The above are some of the best options for the ERP system, but you are also going to discover other modules that will meet your own unique specific needs because every business is different.
Many industries can benefit from the Magento 2 ERP Integration, but let's take a quick look at the main niches.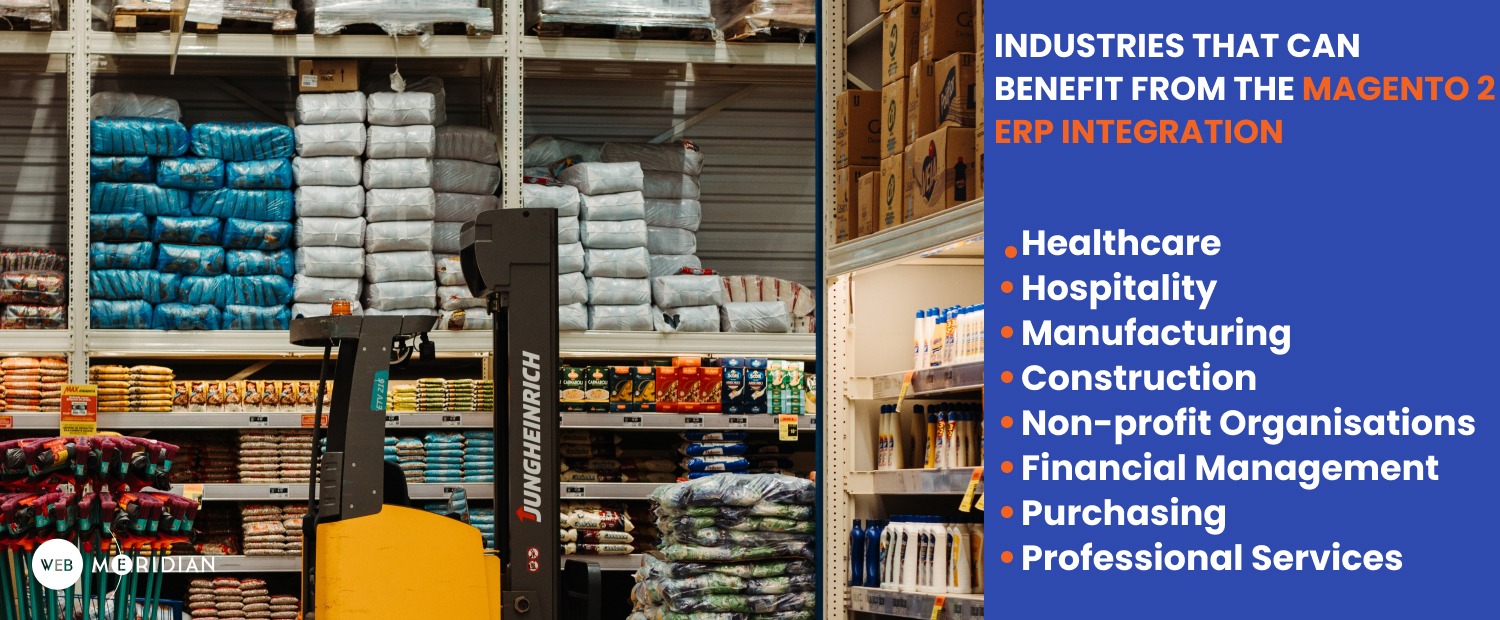 Below are a few ERP Integration choices and the brands that use them: 
SAP springs to the front of the line as a leader. The core pros are the following:
It is also highly trusted. With built-in processes that allow it to embrace a variety of industries from everything from manufacturing to retail, it's a favoured choice. With SAP applications, you get the tools you need to put you in the forefront of efficiency. 
The SAP brand also provides trusted software that integrates with the CRM and many other applications using the latest technologies. It can also be deployed at a rapid rate in the cloud or by using ERP support.
Please remember that not all modules are going to fit your needs, so you'll want to define all data passing between systems. 
Another con to this software is that it's expensive for the software and the extensions. However, when you want the best, you'll pay dearly for it, and this is by far one of the best solutions out there. 
Brands currently using SAP include Citrix, ConAgra, Audi AG, and Burger King. 
With ORACLE, you get a complete set of products that help many types of businesses. It is a high-quality solution.
The three most popular options include Oracle E-Business Suite, JD Edwards EnterpriseOn, and Oracle Cloud Applications. They each offer extraordinarily rich and diverse functions. Honestly, Oracle is great for Magento 2 ERP Integration for B2B.
However, despite the perks, there are some disadvantages such as limits on user range and the high price tag. 
Wells Fargo and JPMorgan Chase both use Oracle. 
Microsoft Dynamics is another popular choice. The core pros are the following:
They have 14 extensions available, so they cover a lot of different companies. Dynamics is an intelligent application that you can tailor and connect to other services and apps. It helps to modernise and streamline supply chains to create very unified and advanced warehouses with optimum management of interviews, so you can achieve greater fulfilment while making material sourcing easy along with logistics. Many consider it one of the great Magento ERP solutions.
The main disadvantage is the cost, which is high. Also, the Magento ERP system integration isn't geared towards the novice. It is extremely complicated and takes a good base of technical knowledge to achieve success. In addition, custom development is sometimes required to make the integration run correctly, so you are satisfied, and it meets your expectations. 
Magento ERP is a Step Forward to Automation 
ERP makes business processes easier. If you have too many manual processes in place, then implement the Magento ERP system integration to embrace automation. Remember, manual processes could be retarding your businesses growth and to become more sustainable, the Magento ERP system can help improve your store's outlook and sustainability. 
Read on the useful article: OK, Google, Hottest Magento Development Trends in 2021 and Beyond
Magento ERP Integration: The Core Steps 
The core steps needed for Magento 2 ERP Integration include:  
Basic knowledge of Magento's order and data setup. You must know and understand the order management of Magento, so you can better manage the products. With Magento, you take control of all product data with attributes.
You can then process order information that is important to the one that is passed on to ERP. This gives you the groundwork you need to understand how your data is organised, and the primary steps needed to reach integration. When we talk about data, we are referring to product types, attributes, and data that you will send to ERP. 
You need to draft a workflow design. A lot of things depend on complexity. If your workflow is intricate, then your integration will also be complex. You'll also want to examine POS or PIM, so you can better understand the impact of the Magento ERP extension. Once you have laid the framework for all of this from the beginning, then you will achieve the smooth operation of the entire system. With ERP Integration, you can enjoy out of the box integration with SAP, Microsoft Dynamics and more 
When integrating ERP and Magento, you will want to use many inventory management configurations. You can import orders using one channel and create different pathways for online orders. 
Use automation for the entire integration process. You can avoid manual order entry, saving valuable time and money. With ERP features, users can automate the generation process to make small tweaks and reduce the need for front office handling to further accelerate things. 
Understand ERP and Magento interactions involves connecting and synchronising for enhanced efficiency. 

Types of Magento 2 ERP Integration
You'll encounter three types of ERP: 
Cloud ERP is a solution available anywhere and anytime. You can control everything remotely. All the data used with a Cloud ERP is stored on external servers. 
On-premises ERP does not boast remote control, but it uses local servers for data storage. 
Hybrid types use both cloud and on-premises ERPs, so you can run in the cloud and on-premises. Most consider this the best type of Magento ERP system integration.
The Best Magento ERP Extensions for Online Store
Let's examine the best Magento ERP extensions.
Odoo is complex, but it is made up of various apps that give you different purposes, so you can effortlessly cover sales, accounting, human resources, and email marketing. You can have separate apps for each category and even synchronise them, so you can become fully automated if that is your goal. You can even choose which apps you need and which you don't. 
Connecting to Odoo is not difficult. Everything is automatically integrated with no manual entry required. 
BoostMyShop Embedded ERP functions via a built-in control panel. You can use your Magento 2 dashboard to access everything, so there is no need for external software. 
With BoostMyShop you have the following package options:
ERP + Dropshipping 
ERP + Barcode 
ERP + POS   
You'll get the basic ERP bells and whistles plus advanced inventory management and more.
3. SYSPRO ERP
SYSPRO ERP offers inventory management, accounting, planning, order management, supply chain management, production management, warehouse management, business intelligence, customer relationship management, a self-service portal, and scheduling. 
You can pick from three types of distribution: cloud, on-premises, or hybrid models.
SYSPRO ERP provides three types of distribution; you can use it in the cloud, on-premises, or through a hybrid model. 
Khaos Control is a combination of three products: Khaos Control (KC),  Khaos Control Cloud (KCC), and Khaos Control Hybrid. The three products offer financial tools, real-time stock control and business management.
Infor is a cloud-based ERP solution hosted through Amazon Web Service. They have five packages that fit various business models, sizes, and goals. You can easily implement whatever features you choose. You Can use cloud, on-premises or hybrid configurations depending on your needs. The various automation helps you stabilise your workflow for optimum efficiency. 
When looking for a Magento 2 ERP Integration, you might want to take into consideration the fact that ERP has been around for almost twenty years and has a very firm customer base who adore it. Its success is impressive. You can easily cross-reference information, which makes it easy to use and navigate.
NetSuite acts as a cloud-based ERP system. It features multi-currency and multi-language features. It is one of the most popular ERP solutions for Magento. 
Read on the useful article: Unravelling the Code to Nike's Incredibly Effective Customer Loyalty and Retention Strategy
Summary 
Magento 2 ERP Integration helps to streamline any business with automation, inventory, and more. The sky is truly the limit, regardless of business size. It can help with planning needs so you can keep your business going. 
Are you interested in Magento ERP system integration? Contact us to let our expert techs help meet your challenges.