Every year more and more shops take part in the Black Friday sales.  Do you want to give a boost to your holiday eCommerce sales?
Customers are seeking deals and retailers must capitalise on the situation with a conversion.
The goal of holiday sales is to target shoppers who are looking for savings. A cheerful holiday website is nice, but you are also going to need a few other tricks to stand out from the competition.  In this article, we also covered site optimisation tips to boost Black Friday sales.
Note: The increased traffic around Black Friday and Cyber Monday can put even the most popular websites to a halt. Customers suffered outages at a wide range of online retailers in 2016, including Macy's, QVC, Victoria's Secret, and The Gap family of businesses (Gap, Old Navy, Banana Republic and Athletica).
Discuss your requirements with your IT staff and/or outsourced cloud service provider, and have contingency plans in place to deal with the online spike and potential disruptions.
Trends of Mobile Shopping and Social Commerce 
eCommerce has naturally progressed to mobile shopping and social media. By 2021, Insider Intelligence reports that mobile eCommerce sales will increase to 54 per cent of all sales. An increase in holiday sales is just the start of the upward trend. 
mCommerce is the natural progression of eCommerce. 
Mobile optimised eCommerce sites, dedicated apps, and social media platforms are all a part of holiday eCommerce. Social sales pushed by social media has become an authentic thing. With social shopping, a shopper can use their mobile to effortlessly transition from the social media advertisement or pop-up for the holiday eCommerce site.
Why does this matter?
With only a couple of actions, the shopper navigates from the social media platform to the mobile-optimised eCommerce site where they finalise the sale. Promotion ideas such as "what to buy during Black Friday" are endless and can have a dramatic impact on sales. 
Read on the useful article: Hottest Magento Development Trends in 2021 and Beyond
Double Powers for Successful Black Friday Deals
Full automation and personalisation are balancing acts. If an eCommerce site has too much automation, then the website loses its 'human' feel and seems detached.
A customer will quickly use interest.
Here's the deal:
Excessive personalisation might seem overwhelming. 
Businesses use automation to gather information about customers to enhance the online shopping experience.  The eCommerce site can bring customers together through the use of eCommerce customer testimonials and a focused content creation strategy. Leveraging the use of social media captions and posts is another way to humanise the business and create a brand voice.
Full automation services such as the use of chatbots are beneficial for answering simple queries or providing the shopper with informative FAQs. If a shopper's questions are promptly answered using automation, then they are less likely to abandon their cart and more likely to finalise the sale.
Remember, retention is necessary because if a customer leaves the site, then they are less likely to return later to complete the sale. 
Holiday Email Message and Web Push Notifications 
Many holiday purchases as well as thoughts such as "what to buy during Black Friday" are impulsive. Web push notifications can spur such buys. Also, the installation of the web push notifications on an eCommerce site is relatively easy. The web push notifications have a much higher opt-in rate that is often 3x higher than emails. You can rapidly build a high subscriber base and re-engage users. 
Another perk is that web push notifications require no personal data such as a holiday email message or SMS.  You can reach both mobile and desktop users.  
With push notifications, segment your users for effectiveness. 
Focus on the following:
Device-specific: Separate mobile users (iOS and android) from desktop and mobile users. 
Location-based: Use location-based buckets to personalise your offers. 
Time zone specific: Remain mindless of segment time zones. You don't want to send push notifications when your audience is asleep. 
Shopping patterns: Categorise things into shopping patterns to spend specific push notifications. 
Last interaction: Send out the last activity-specific push notifications. 
Don't Let Your Customers Go Empty-Handed 
Providing shoppers with rewards is an effective way to bring back past customers or spur a reluctant new buyer to make the purchase.
Rewarding customers can increase holiday sales. 
Provide giveaways
Offer gift certificates
Feature a referral bonus
Give cash backs 
Feature a coupon code

SOURCE: BIRCHBOX
Recover Abandoned Carts with Holiday Discounts 
Abandoned carts are always a problem for holiday eCommerce sites.
Sending out a friendly holiday email message reminding the potential buyer of the abandoned cart is a nice way to reach out to push the website sales. Data gathered by Salesforce shows that 17.6 per cent of shoppers return to the cart that they have abandoned and finalise the purchase after receiving a personalised follow-up email.  
Analyse Your Checkout Process
Online buyers have literally thousands of alternatives for hot discounts during Black Friday and Cyber Monday. Don't give them a cause to surf a competitor's website instead of yours. One major cause for this is if your checkout process is overly slow or burdensome.
Before the busy Christmas season begins, make sure to remove any needless processes during checkout that could prevent shoppers from making a purchase. Here are some tips for streamlining your checkout process and increasing basket completions:
Allow users to buy without registering
Remove unnecessary form fields
Sidebars, headers, and footers should be removed.
Provide as many payment methods as possible.
Allow users to simply change quantities and remove items.
Last but not least, request credit card information (after entering shipping info)
Ensure that it is as mobile-friendly as possible.
Make error messages as transparent as possible. Indicate delivery prices clearly.
Provide free shipping.
Squeeze the Most Out of Top-Selling Products
Top selling products online should be promoted to spur interest. Free shipping on certain popular items are all ways to squeeze the most out of top-selling products online. You can also run a limited sale or a countdown sale to spur a purchase.
Let the buyer know the object is a hot commodity and going fast, so they need to act immediately before it sells out. 
Use Time-Honoured Method – Include Countdown for Special Offers
An online countdown to savings spurs action because it creates a sense of urgency.
A shopper does not want to lose out on a good deal.
The fear of missing out (FOMO) is a very real thing with online shoppers. Some customers might be on the fence about making the purchase. They start thinking maybe if they wait then they will find a better deal somewhere else. However, creating a sense of urgency helps the customer finalise the sale. 
Add a countdown for all discounts, sales, or products that are quickly going out of stock. 
Provide a reward if the customer buys the product before the deadline (free shipping, gift, or some other discount)
Reach out to customers via email social media, or SMS if a product is going out of stock or sale ending. 
Black Friday Strategies For Retailers. "Aggressive Sales" Doesn't Work.
Impulse buying is a very real thing.
A buyer visits an eCommerce website hoping to find a specific item, but they end up leaving after they buy numerous unplanned items. Pushing impulse buys using sales promotions ideas increases eCommerce revenue.
Upselling and cross-selling are all methods used to promote this action. 
With upselling, the customer is offered an upgrade on the item they are looking at. Cross-selling is a process that involves offering a complementary product after the customer makes the initial purchase. The complimentary item gives more value to the product that the buyer just purchased. 
Focus on smart upselling or cross-selling
Provide post-purchase up sales that take place following checkout
Cross-sell products before the customer adds a product to the cart
Display all products that are relevant to the customers' initial purchase
Do not offer an item that has been previously sold or purchased
Not Intrusive Pop-up with Discount 
Not everyone is a fan of pop-ups or classic pop-up sales. You should try to create a shopping experience that is positive which means not bombarding your customers with unwanted advertisements. Instead, try non-intrusive pop-ups that provide a discount to create a positive focus. 
Exit-intent pop-ups only occur if a customer moves their mouse to close your eCommerce tab or they leave the website. A specific event triggers the pop as a reminder.  
A click-triggered pop up lets the user decide if they want to click on the item and view it or pass. The unobtrusive pop-up calls to the viewer to click on it and customers love to make the choice instead of having it pushed on them. 
The polite pop up is a tiny box instead of something that takes up the viewer's screen. The viewer doesn't have to look at the item until they are ready to do it.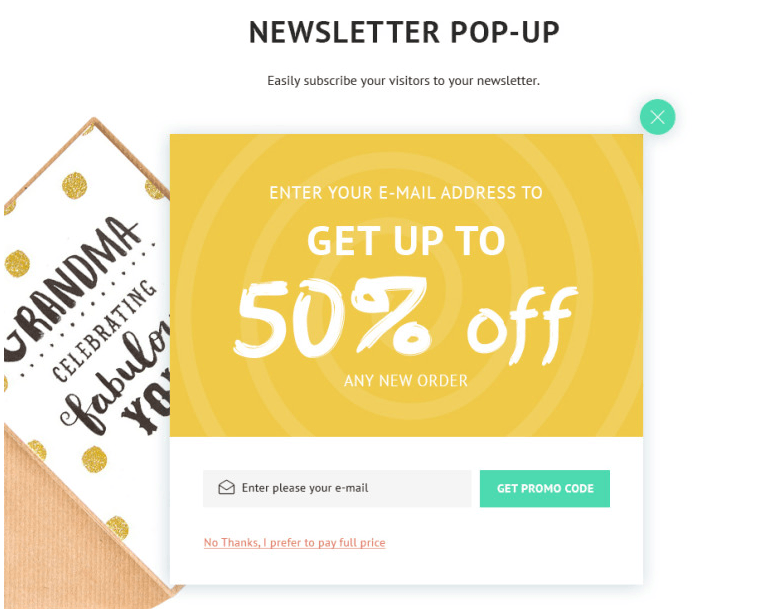 SOURCE: Magento 2 Holiday Themes
Powers of Retargeting to Increase Holiday eCommerce Sales
Retargeting holiday shoppers is often done for shoppers who abandon their carts or who have made previous purchases. Promote complimentary items to new or previous customers, especially those who have made major purchases in the past. Offering sales and discounts will instantly grab attention.
Email promos and social media posts are great ways to grab attention.
You can send an email and then repeat the email subject in a social media message. Stepping forward with a successful retargeting strategy can effectively push special promotions or a customised message can often spur the shopper to make the purchase. 
The First-time Buyer Gains Unique Offers 
The goal is always to quickly convert a first-time buyer to a long term loyal customer.
You can achieve this task with a variety of perks. Give a first-time customer a generous discount, reward, free shipping, or gift.
Always take the time to immediately send out an email that welcomes the first time buyer to the community and thanking them for making their first purchase. Some eCommerce businesses merge the thank you email with the welcome to the community message but, ideally, you should keep these two meaningful messages separate. As many as 80 per cent of welcome emails are opened according to studies.
Remember, giving an exciting offer to a first-time buyer might win you a loyal future customer. It will definitely make your site stand out from other holiday eCommerce sites. 
Inspire Purchasers and Boost Conversion with a Website Festive Look
People are visual by nature, so they appreciate a cheerful holiday eCommerce website design.
If a customer visits a drab or mundane website, then they are more likely to navigate away. However, if they arrive on a holiday eCommerce site that has a festive look, then it will inspire purchases and boost conversion.
The visual appearance spurs emotions and can make a person feel more inspired to shop. 
Read on the useful article: 6 Tips to Improve Your Store Look to Increase Customers' Trust
In 
2019, 
mobile 
phones 
accounted 
for 
$2.9 
billion 
in 
Black 
Friday 
sales, 
indicating 
that 
buyers 
are 
more 
likely 
than 
ever 
before 
to 
shop 
on 
their 
phones. 
That is why you should create a mobile-first responsive website so that your e-commerce site can be readily accessible on mobile devices during the Christmas season and beyond.
Acquire Customers Before the Sale Starts
Customer acquisition and retention consist of the funnel; basically, attract and convert.
You'll want to use marketing to pull in new customers.
Also, acquisition channels such as strategies and platforms that rely on various marketing strategies. These methods all take place before the customer ever visits your eCommerce sale site. You'll rely on content writing, blogging, offers, video, social media, and search marketing to acquire customers before the sale starts. 
Free Shipping Trend
Free shipping has become a must-have.
Many customers have become spoiled and won't even consider purchasing from an eCommerce site that does not provide the perk. Free shipping eCommerce has become a given that is expected by most buyers.  
Leverage on Authentic Clients Testimonials  
Historically, word of mouth was a powerful force for any retailer.
If a business was bad then word spread quickly, and the same thing happened with a positive business. Nowadays, eCommerce retailers are no different than their brick-and-mortar counterparts. Authentic eCommerce customer testimonials are a powerful tool to bring in new customers and should never be overlooked. 
Plan a Targeting Content Strategy 
A content creation strategy has the potential to push your traffic and increase holiday sales.
Using a combination of content writing and social media is a win/win combo in many situations. PPC and guest blogging are also options. 
Summary 
Do you want to make an impact on your holiday eCommerce sales?
This time of year has the potential to bring in a considerable amount of revenue if handled correctly. Let our experts in business and tech consulting help you. We offer a variety of services, such as our all-in-one service package.
Please contact us today to learn more.