Product configuration done right can make the difference between delivering the right things and making expensive mistakes during production. What's clear, is the fact that you need to have configurable products in Magento 2. If it is not robust enough, you could experience errors in manufacturing. In modern eCommerce, configurators are used all the time to ensure that customers feel the enhanced shopping experience that variety presents.
Customers want to buy things that fit in with their expectations and wishes. The markets are seeing trends like:
AR/VR in product customisation, 
3D product customisation, 
customisation on mobile devices, 
real-time display customisation, 
detailed custom options, 
Google Lens concepts,
sharing customisation modules on social media for sample testing.
SOURCE: ZOOVU
To be configurable means to offer the option to customise, re-arrange or adjust into simple or complex variants of products, depending on manufacturing capability and profitability.
We are going to look at details like how to add configurable products in Magento 2. For instance, electronic devices run at 220V in Europe and 120V in the US.  In offering customisation, ensure that the variants stay within the legal and feasible limits.
What is Product Configurator & Why It's Worth Implementing
Since we have answered 'what is product configuration?' let's examine why you need one. A product configurator is a tool built into the website and on the product page, which customers can use to choose things like colour, size & dimensions, weight, pattern, style, material, length, print, etc.
There are sometimes issues when it comes to the implementation of configurators that need the skills of experts. Sometimes, customers will make choices that contradict a choice. In instances like that, the choice can be made unavailable. For that reason, we recommend employing the services of experts to get the job done. 
A Visually Pleasant Shopping Journey
Let's use a clothing store as an example. What would their configurator look like? When customers get on the website, they would be able to choose the features of their clothes to suit personal preferences. With integrations like 3D viewing and real-time display, they can choose each feature and see it reflected on the screens until complete by adjusting the offered options. In a clothing store, the configurable product in Magento 2 could include things like the material of the shirt, sleeve length, artwork, collar type, and more.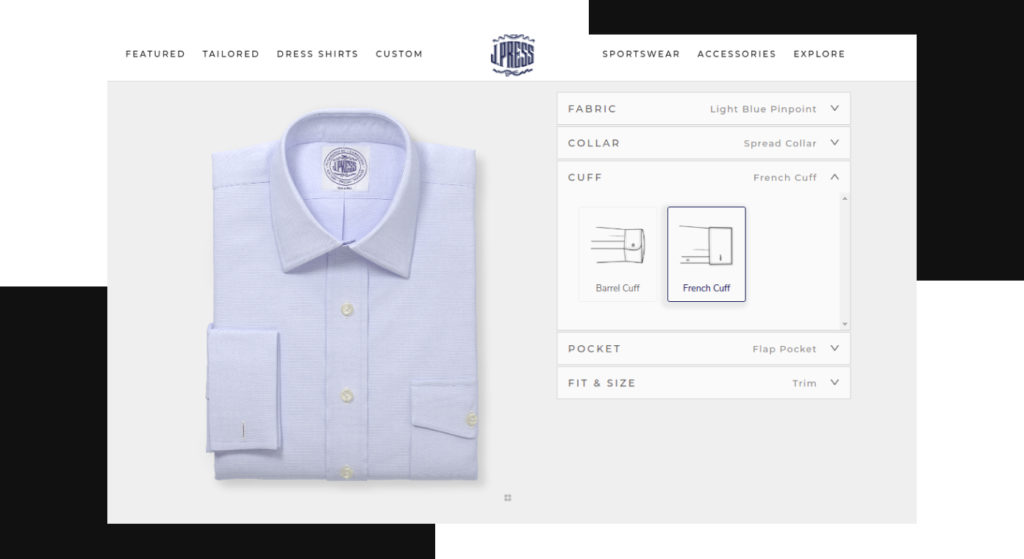 A Custom Experience
According to Epsilon Research, personalised experiences mean that 80% of customers are more likely to buy something. Magento product customization makes the search for a product feel like a journey with a pay-off.
Check out what Steelcase offers for office chairs: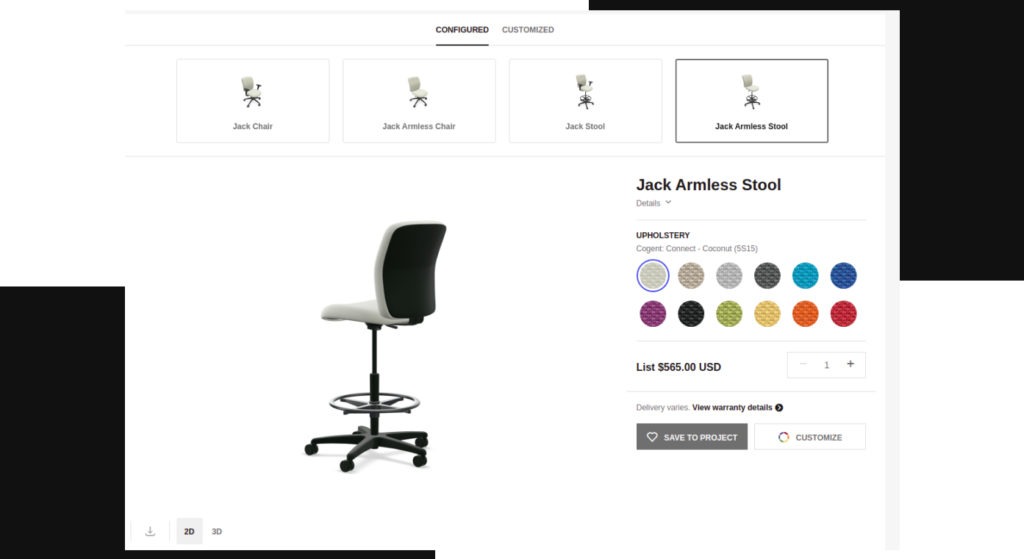 Reduce Returned Goods
Online stores have higher returned product rates than physical stores. The reason why is that physically seeing something or accurately viewing it is essential, and if people don't get what they asked for, they tend to return things. A site like Lovesac has a good example of a configurator that helps customers get very specific about what they want.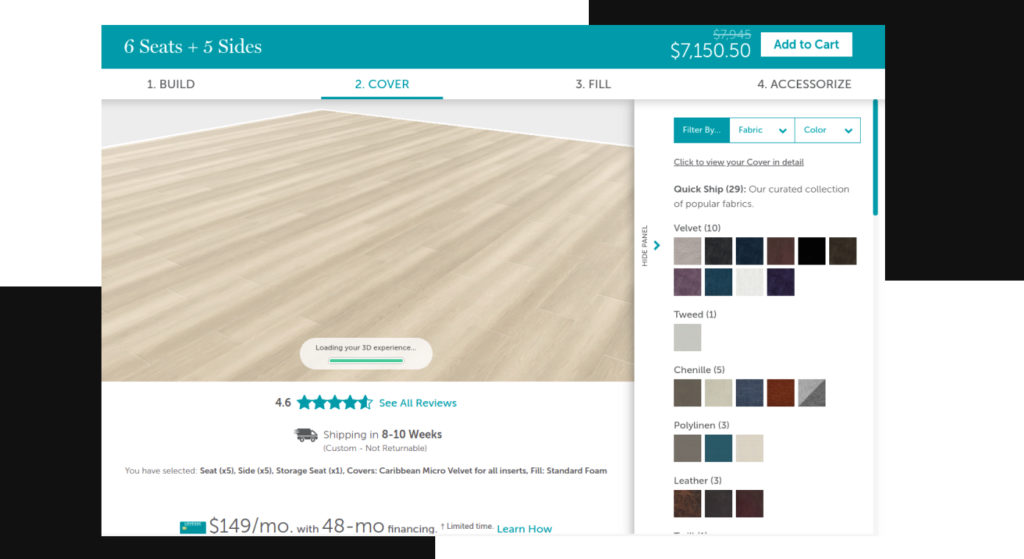 Other benefits include:
Better customer satisfaction rates since they get what they want without guesswork
The chance to improve your conversions by inspiring confidence in shoppers
Spurring engagement and nudging customers to spend more time on the site and be more likely to shop
The opportunity to stand out from the crowd, where the same presentations are used time and again
Your advantage will be that your website communicates professionalism and ensures that customers always get what they ordered.
How to Implement Configurators on Magento
Here's how to add a configurable product in Magento 2, presented in 2 phases:
Phase 1
In the first phase, you are dealing with the creation of the configurable product. Typically, the process goes through the following steps:
Start by selecting the product type by clicking on Products, then select Catalogue under Inventory. That is where you will find Add Product in the upper-right corner of the menu, where you will click on Configurable Product.
Select the template for your product. You can do this by searching directly from the search box. Choose a template that works for the product with at least one drop-down option.
Complete the fields required while ensuring that the Product Online switch is OFF since you are not ready to publish yet.
Complete your details and add images from the Images and Videos box. Each product field is determined by the product's details since you can't include options that you don't offer.
Phase 2
Now, we go on to the addition of configurations. This is where you choose the colours offered and sizes for each product that can be configured. It is a simple process that goes like this:
Select the attributes. Click on Product Details and then expand Configurations to access Create Configurations.
Mark the boxes with the attributes you would like to configure. You can click on Create New Attribute and then Save Attribute to ensure they're all saved.
You can click on Next to go to the Attribute Values entry.
Here, you can create a new value, enter the new input and then click on Enter to save it.
You can then configure the images, quantity, and price, among other details to save the configurations you want to apply.
The process is self-explanatory and uses prompts to take you from one step to the next until all of it is completed. If you are unsure of your ability to do this properly, consider hiring experts to get configurable products in Magento 2.
Product Customiser and Magento Extensions
Are you looking for a product customiser and Magento extension that will serve you well? Here are some examples of the popular options to get you started.

SOURCE: ZOOVU
JustSelling
JustSelling is perfect for Magento, as it is built for the platform. It serves customers like Braun, Deutsche Carportfabrik, etracker, Haarhoff, Hagemeyer Deutschland, Schauf and xTWO Market, among others.
JustSelling is hosted on a cloud server as a SaaS application with advantages like lower cost and high security. You will have access to many input types, option groups, option settings, images, a mobile-ready configurator, and an easy-to-use interface. 
Zakeke
Zakeke specialises in 2D, 3D, and AR. With it, you can turn any item into a customisable offering for your customers. Some of the things the configurator can do include text customisation, image customization, augmented reality, real-time 3D previewing, 3D product configuration, print-ready files, and more.
Zakeke is simple to use and supports all major eCommerce platforms. You can deploy it to create your product inventory and publish products to see more growth in sales. Test the 14-day trial to see why it is the configurator of choice for Make Badges, Instafreshener, EngraveCo, Sleeves, and Daisler Print House.
Productimize
Productimize takes the presentation to another level, using a 360-degree interactive product preview. With it, customers can see all the edges and corners of intricate details on the product. There is no way you are getting an order wrong with this one.
It integrates with all the major platforms for a seamless experience. With it, you can provide real-time rendering through a robust, feature-proof, and scalable solution that works right out of the box without complicated configurations. This is the configurator of choice for Wristbands, Old Spice, Abbot Lyon, Blue Sky, Pencils.com, and Racesafe, among others. 
Product Customizer: Successful Examples on Magento
Once you learn how to add configurable products in Magento 2, you can use suitable tools to achieve a level of configuration that works as successfully as these three examples
Blinds, shades, and shutters may seem simple until you see the configurator Levolor has. By offering you all the choices they have, they provide you with the opportunity to find the exact types that will go well with your home. You do not have to settle for a close match.
With implementations like incredible visuals and error flagging when people choose that isn't feasible, it feels like you are designing your product.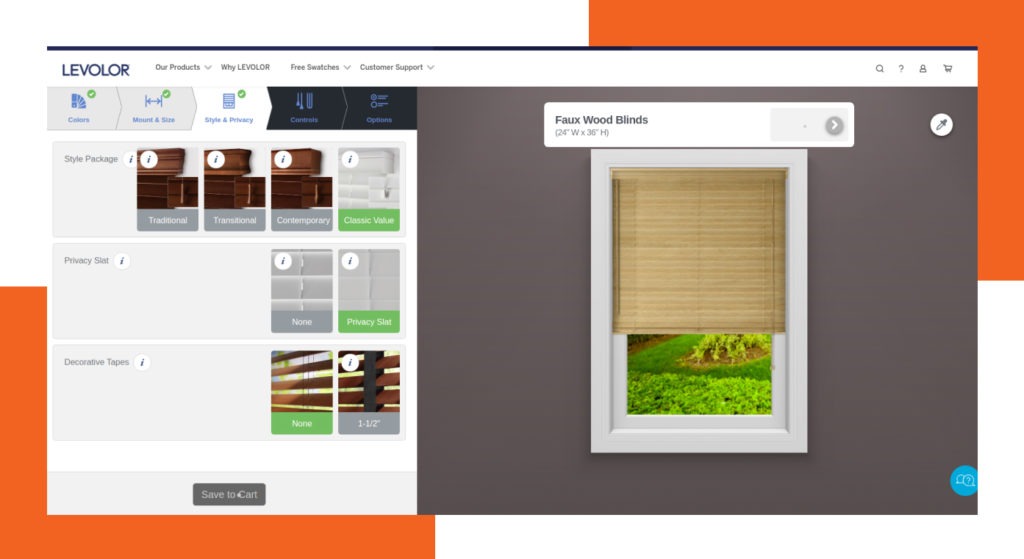 We highlight Steelcase again, with their gesture chair. It is a simple configurator, but it gets the job done. There are no threatening options that could stump a buyer. As you add products, you can see the price changes and real-time updates.
It is a simple process that is easy to follow, ensuring that customers find exactly what they are looking for. It may not look like much at first until you begin using it and discover that even minimalist customisation is still a game-changer.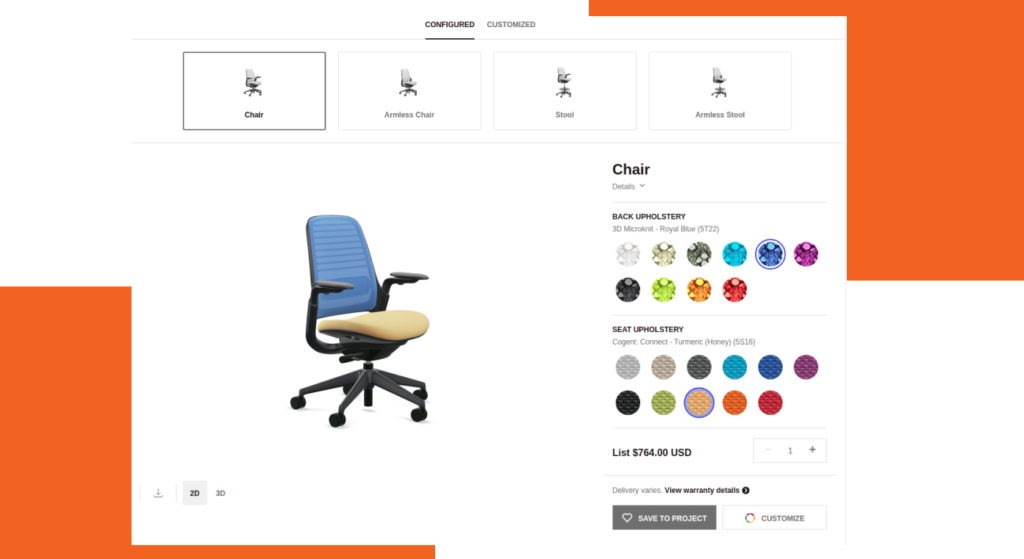 Full offers some of the best standing desks, ergonomic furniture, and chairs on the market. The configurator used is simple. When customers pick products, they have an option to 'Design your Own', which can allow you to change things like the type of upholstery, the colour, the base, and more.
Some of the configurations are simple, but others, like the one for their standing desk, are not too simple. It may turn away customers, but when it works, it increases conversions.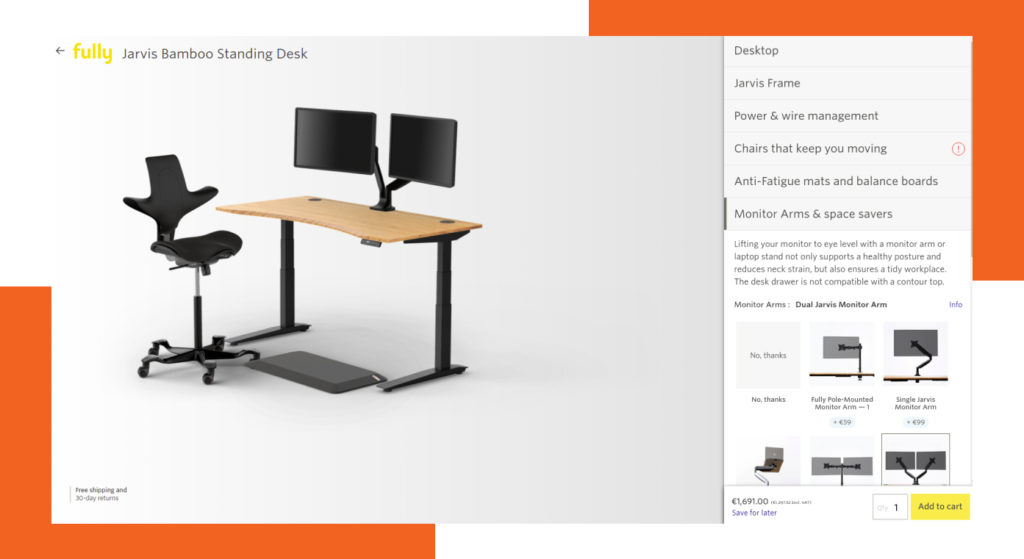 Summary
After examining how to add configurable products to Magento 2, what they look like, and how to implement configuration management, configurators are no longer a mystery. Product managers, salespeople, and developers should all think about adding capabilities like these to help with product pushing, efficiency, and conversions.
Customers like getting exactly what they ordered, and configurators are a great way to ensure that you deliver that experience. You can make them as complex or simple as you like.
We offer an all-in-one service that specialises in solving tech challenges and undertaking tech projects of all kinds. We serve both online and offline businesses, as well as notable brands. You are welcome to talk to us about what challenges you have, and we'll be ready to find a solution for you.
Dive deeper into eCommerce and Magento insights in our blog. By the way, WebMeridian was recognised as the Top 100 eCommerce Blogs, it's a real honour for our experts.