Right now, the online fashion industry pulls in a jaw-dropping $90 billion in revenue a year, with a bright future. Predictions from Statista say that the apparel and accessories market in the United States will exceed 153.6 billion two years from now.
Even with the projected growth, the market is not easy to get into and has big names competing to get market share with their own online fashion stores.
We are going to learn how to start a clothing business online.
Our focus is on Magento and how you too can leverage its incredible tools and join the likes of Hermes, Fred Perry, Christian Louboutin, and other famous names on what is arguably the ideal platform for an online clothing store. 
 Also, there is a BONUS at the end of the article – Online Boutique Launch Checklist
Choose The Profitable Niche
What is a niche, in this case?
Clothing, or fashion, is widely varied. Levi is known for jeans, Fendi deals in bags and accessories, and Versace is known for embellishing vivid prints on gowns of all kinds. Picking a niche gives you an advantage right out of the gate.
The process is not just about starting a business; it's about starting a business where it will thrive by being unique in your approach and catering to a particular audience.
The reason why choosing a niche is important lies in the fact that you bite only what you can chew.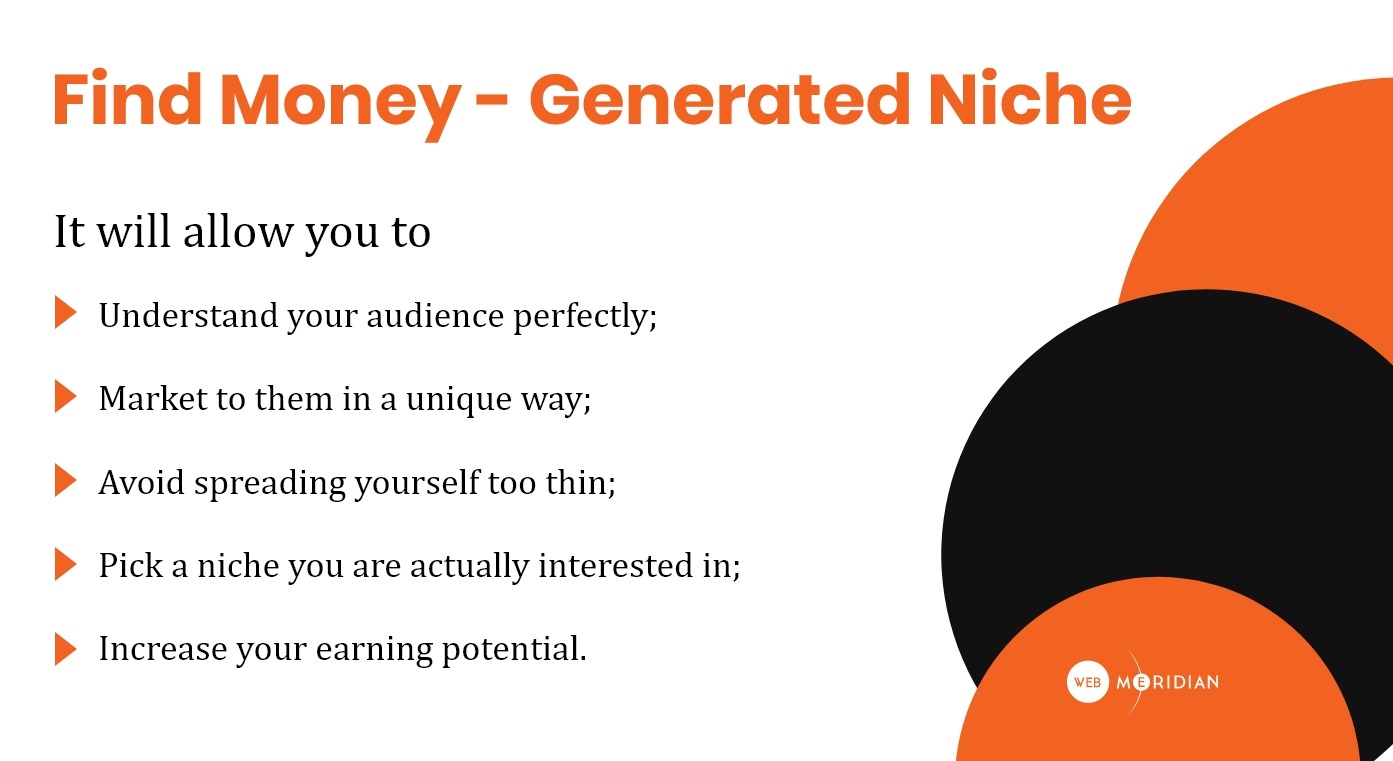 We can keep listing the advantages of picking out your niche, but you get the idea. Specialization pays off when done right.
Choose Your Online Clothing Store Products
After finding your niche, you have to curate your product line. The clothing market has an almost infinite number of products. Some of the most successful billion-dollar companies specialize in just a few products, which is something you too should do.
In picking out what makes it to your store, you need to start small and move up cautiously.
In learning how to start an online boutique, you should understand that selling everything is not the way to go.
      Start With A Few (Or One) Product(s)
If you want inspiration, think about companies like Kiini, the New York-based Turkish designer that sells just bikinis. They have a unique design, with crocheted edges, which sets them apart. Uniqueness, creativity in design, and properly targeted marketing are things the one-product clothing stores have in common.
Fashion rises and falls with fads. Some products do not change much over the years. So, if you aim for the mainstream market, you need to plan to design a store that can quickly adapt to the changing times. Besides, you should provide customers with the latest fads at a moment's notice.
      Build Future Growth into Your Overall Business Plan
In coming up with the business plan, you will go through extensive research to develop the best way to be profitable. As mentioned, the beginnings need to be narrow and focused on a limited number of products. However, growth is usually not out of the question.
Plan for where you would like to go next.
Know Your Target Audience and Their Pains
Who is your target audience?
After picking products, you move on to target market analysis. Your audience would logically be whoever is interested in buying whatever you are selling. Here's how you identify them:
What are you selling?
Who else is selling the same product?
Who buys the kind of product you have?
What do they typically get for their money?
Can you offer more or better than the competition?
After finding out the market is willing to buy from you, you have to offer them value by giving solutions for their existing problems. We call these problems pain points.
Major pain points include:
      Money – Can your customers afford the prices you set?
      The shopping journey – Is it easy to find and buy what you are selling?
      Delivery – Do you have flexible and cheap shipping options?
      Payments – Do you have support for multiple payment options?
      Customer support – Can your customers get answers to questions easily?
Your job is to make buying your products as easy as possible by eliminating pain points.
Understand Competitors
How to start an online boutique? You should gather maximum insights and the best practices of your competitors.
To understand how you can succeed in the online clothing market, you need to know who you are competing against. Research the following things:
      The products and services they provide;
      How they price items;
      The distribution and delivery systems (which you can copy);
      How they keep their customers loyal;
      The brand and design choices they make;
      Their innovations;
      How they use commonly available tools of the trade.
Check them out online, attend conferences, expos, and other industry events to discuss what they do.
Define Business Model for Your Online Fashion Store
A business model is like a blueprint for where you want your clothing business ideas to go. It dictates how you do everything, from sourcing material all the way to fulfilment.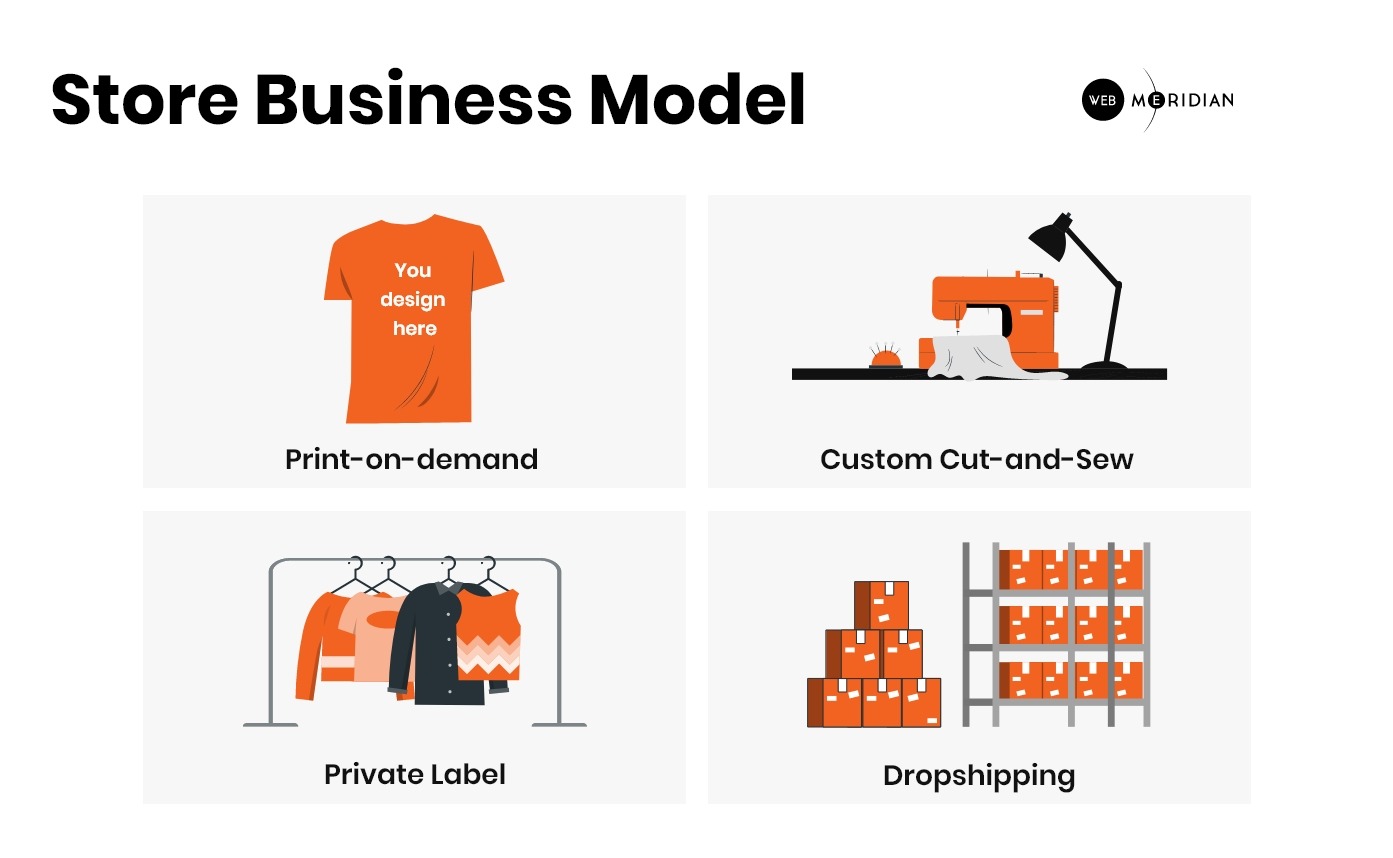 Print-on-demand
The easiest model to use for an online clothing store is print-on-demand. Here, you print a unique logo or any graphic on blank clothing.
It is the cheapest way to deliver value to a small pool of customers during the early days.
The downside is that the profit margins tend to be thinner than other types of stores.
2. Custom Cut-and-Sew
If you are launching your own design or brand, this is the way to go. This option means that you do everything yourself, from design all the way to fulfilment of orders. The advantage is that you have a unique product, and customizations are easy to make.
However, you will need to do a lot of management, coordination, and sourcing, among other labour-intensive tasks. All of that translates to high capital requirements.
3. Private Label
If you could have a hybrid of print-on-demand and cut-and-sew, its name would be Private Label. You get to have customization options but do less work without needing a huge budget. You buy blank clothing with no labels for this model and then add your design, tag, or label before putting it up for sale.
It is cheaper than print-on-demand since you can get better prices for buying in bulk. You will have to do all fulfilment and stock management yourself. However, you can use tools that make the process easy.
4. Dropshipping
This model depends on selling clothes that are fulfilled by wholesalers. It is cheaper to set up than the other models, but it is limited in terms of choices you can offer.
Well-Thought-Out Business Plan is a Key for Success Online Store
If we were to talk fully about a business plan, we would need more space than this article takes. These are some key pieces of information you have to include:
      Details about the brand/store description cover your vision and how you want to come across to your audience;
      The business models – They will inspire your fulfilment strategy and initial budgeting;
      The competition – Research them to a point where you know them so well, you might as well be running their business. Then, you can craft a store that competes well;
      The product line – It has to be unique or interesting enough that people want to buy;
      Market research – Knowing who you are selling to will inform your marketing strategy, as you will anticipate and meet their needs.
The business plan will inform your eCommerce strategy by detailing the steps, so you do not miss anything.
Include all relevant information like pricing, web development and hosting, design and development of clothing, production costs, labour costs, transportation costs, and material sourcing.
How to Choose a Platform for Your Store?
We're sure that you may have already chosen a favourite among the best eCommerce platforms. In all likelihood, it's maybe Shopify, WooComerce, Magento, but let us sum up the core pros and cons of each platform before you make a choice. 
Shopify

Pros

High flexibility
Advanced security
Incredible scalability
Comprehensive features set for marketing and SEO
Infinite possibilities for customization
Free features set is the largest

Simplicity
Numerous shopfront themes
Free hosting 
The App Store is wide
Scaling

A ton of both free and paid themes
Integration with WordPress
The product attributes are not limited
High-security standards

Cons

Cost of an advanced edition is higher than other platforms offer
You need to have basic knowledge of web development or to hire a team of developers

Poor CMS without blog or vlog features
There are commissions on every sale! 
Out-of-the-box version of product search and filtering doesn't satisfy the majority of Shopify users

SSL certification is not free
Lack of support
To customize professional WooCommerce theme, you should be a skilled developer
Read on the useful article: eCommerce Website Requirements: 12 Essential Tips to Know Before Build Out Online Store
Stand Out with Eye-Catching Design of Webshop
A report compiled from a study by the Society of Digital Agencies shows that UX is the biggest weakness seen in eCommerce website design (77%). A good first impression has the potential to increase your conversion rate.
Here are some of the things you can do when designing the site to attract people:
Unclutter your home page without leaving out important information;
Have good product descriptions for each of the items you offer;
Create a theme that is cohesive and visually pleasing across the entire site;
Go with contrasting colours to influence whoever opens your site;
Pick out a font that is legible and youthful. Do not pick out anything too fancy;
Do not shy away from white space. You can increase it by removing unnecessary elements;
Align everything, including headings, chunks of text, and images;
Use colour in creative ways to highlight important parts of the site;
Be consistent across mobile, pc, and tablet formats.
Good design impacts several facets of your business.
It is up to you to get the best development services to maximize what your design can do for your bottom line.
Build a Simple but Outstanding Shopping Experience
The most cited pain point for online shoppers is 'a difficult shopping experience.'
Simplicity is a must in every step. A customer should be able to do the following three things without any trouble at all:
Search for an item;
Add items to the shopping cart;
Pay for the items at checkout.
During development, ensure no unnecessary steps are added. Do not force people to sign up to purchase, or ask them for a lot of data, so they can complete orders, or fail to offer crucial checkout information like:
Shipping cost;
Delivery time;
A return policy.
Use one-click functions wherever possible to create an experience that flows.
Read on the useful article: 9 Steps to Optimize eCommerce Shopping Cart and Checkout Process

Launching Your Virtual Clothing Store
You've received almost all crucial tips on how to start a clothing business online. But…
Launching is the last thing you have to do.
But before you go live, what should you ensure is done? Here's a checklist to ensure you are not missing anything.
Is site monitoring working? It would help if you ensured that tracking tools, among other metric collectors, are in place to chart your progress.
Set up your newsletter, preferably using email. This will be one of your first marketing strategies, and it has to be functional from the get-go.
Set up your social media platforms and make sure they are nicely tied into the site to funnel traffic.
Ensure you have backup plans in place to be on the safe side. Without backups, if your site gets trashed, you will be taken back to zero.
Make sure that shipping options are all figured out and ready to go.
Proof your website by checking and double-checking it for any errors in design, coding, and other important parts. If you have developers, they will do this for you.
Plan how to make the announcement. You can start with a store-wide discount, a strong marketing campaign letting people know what they can get, and you are good to go.
From here on out, look for advertising opportunities to increase traffic.
————— Download the Online Store Launch Checklist —————
Use Social Media and Search Ads
Social media provides a platform any clothing merchant can use to market themselves. It involves building a following that you can call into action and improve sales. You can also attract new people, tell others about your brand, spur sales, build a recognizable profile, and share new products.
Search advertising (search ads) is based on a user's needs by compiling information that indicates what they may want.
If people search for products related to your store or something you have, you can target these people with ads guiding them to your store, increasing conversion to new levels.  
Display Product Review and Rating
People tend to copy what others do, based on what they think they are going to get.
If you have product reviews and ratings displayed, the customers will feel the realness of your product. They want to know that someone else, other than them, has bought it before. If the ratings are good, it will remove doubts and hesitation from the purchasing process by inspiring confidence.
Build Engagement for Your Online Boutique
It is tough to predict what each customer wants specifically.
They all want different things, but they share the same basic needs as everyone else. It is these needs you will have to cater to by deploying effective eCommerce customer engagement strategies.
Here's how:
Understand what drives them;
Personalize how you communicate with them using live chat, personalized emails, or notifications based on behaviour;
Create content that teaches them something or is so good as to be shareable;
Enlist influencers to promote your product to their fans;
Make your brand feel relatable, so you can come across as a distinctly useful member of society by participating in social justice causes. Try humour and witty responses when dealing with customers. Don't feel too corporate;
Create a great first impression experience everywhere (the site, social media, marketing campaigns);
Monitor feedback and change accordingly.
The whole point of building engagement is to get traffic and conversion.
Key Takeaways
We make it a point to maintain knowledge of what's new, what works, and how to deliver the best development possible. Our team of experts is not just proficient at crafting the best sites; it also keeps up with business analytics and trends. This ensures that we give you an online fashion store that can compete in addition to tech consultancy.
With a comprehensive all-in-one plan, we can solve the technical, technological, online, and offline issues most eCommerce traders face.
Magento enjoys the flexibility that is lacking on most platforms. That is why it needs more developmental work than others. However, all the developmental work brings your vision to life in the truest way possible. You can create a website that is as accurate as your imagination if you have the right developer.
Talk to us to find out more about the developmental part of how to start a clothing business online.