What is the best way for a brick-and-mortar store to make sure that people who walk in feel welcome and leave feeling like they should return?
If you said that they should work to make an excellent first impression, then you are right. An online store is very similar, with regard to an excellent first impression. If you are thinking about the website requirements that will help people have a great experience, you need to understand how visitors flow through the website.
With this information, you can tweak your website requirements to load pages faster, have an intuitive design, helpful features, and remove barriers that may prevent your customers from buying anything or signing up for a service. We are tackling this problem by highlighting what to include on your website functional requirements checklist, and the consequences you may deal with, if you skip anything.
1. Choose and Purchase a Domain Name
Your domain name communicates essential information to the search engine bots and your visitors. There are a few reliable ways to get a good domain. You can opt to research strong keywords to add to your content or use a name generator to get ideas.
With a subpar domain name, you will deal with things like:
Being forgettable;
Suffering ambiguity because of a domain name that does not communicate what the site is about;
Negative SEO impacts;
Ultimately having to change the domain name when they realise it does not work, which is time-consuming and complicated.
Here are some ideas on how to find a good domain name.
    Employ strong keywords use tools like Google Keyword Planner or KWFinder to get the best terms with low competition and a high search volume;
    Use a domain name generator to find ideas. Tools like DomainWheel will help make the process easier since you see the best ideas and the domains available for purchase;
    Your domain name needs to be concise and clear (avoid long and confusing names), creative and memorable (the more unique, the better), and easy to read or pronounce (so people can tell others without stumbling through the pronunciation).
Your website requirements list should have a good domain name at the top.
2. Take Care About Proper Web Hosting
Web hosting is a service offered to website owners so that their content is accessible on the internet. If you want your store to be searchable, you will need to have all your content hosted.
Think of it as renting space on a web server accessible by anyone who has access to the internet. Without the host, the files will remain on your computers/storage options.
A good host has perks like:
A fast-loading website and improved site performance;
Maintenance and upgrades;
Technical support for the trickier parts of running a website;
Improved security;
 A highly reliable website that is not crash-prone.
To understand your web hosting requirements, let's look at some of the choices you have.
Shared hosting– With this option, your website will be hosted on the same server as several other websites. The cost is low because resources are shared.
VPS (Virtual Private Server) hosting– A VPS option is somewhere between shared hosting and a dedicated server. If you want to maintain control and pay low fees, this is your option.
Dedicated Server Hosting– A dedicated server gives a website owner all the control they need. The server is rented exclusively to one person and contains only one website.
Cloud hosting– Cloud hosting leverages a network of computers that run apps and combine their resources to offer you a scalable environment where you grow as much as you need to, use as many resources as you need to, and pay only for what you need.
Managed hosting– With this option, the hosting companies provide technical expertise for hardware and software, configurations, patching, monitoring, updating, and other important needs.
Colocation– With colocation, you rent out shelf space in a physical location that comes with bandwidth, cooling systems, and an IP address, among other things. You are then left to do everything else, including hardware, software, configuration, and services.
Which One Works Best for You?
Let's talk about Magento 2's hosting services. Some of the eCommerce Magento hosting benefits include:
Easy installation;
Guaranteed compatibility;
You won't face performance issues;
No hidden fees;
Heightened security.
The benefits above are by no means exhaustive. Magento is incredibly scalable and developer-friendly.
3. Choose the Best eCommerce Platform
In choosing the best eCommerce platform, comparisons can come in handy and make it easy to know what will work best for you. So, let's pit them against each other, based on their biggest selling points in the table below:
| | | |
| --- | --- | --- |
| | | WooCommerce |
| Users can choose between a free community version and premium services. | Shopify is not free to use, but it has a 14-day trial to test before picking a plan that suits you. | WooCommerce is entirely free. |
| The community version of Magento is self-hosted but hosting is available for premium users. | Shopify provides entirely cloud-based hosting. | You will have to find your web host. |
| Users can get what they want from a theme-based system and a large pool of choices. Alternatively, you can design your theme. | The range of themes is wide and affordable. | It supports almost all WordPress themes and has many customisation options. |
| There is support for hundreds of extensions and offers on several options. | The range of tools on Shopify is adequate. | It has an extension system with many of the most useful ones. |
| Magento is known for having one of the most advanced security systems in the world of eCommerce. | Being a SaaS solution, Shopify has a standard level of security. | It has basic security to protect your website/store. |
| Users need to have at least a basic knowledge of web development. | Shopify is relatively easy to use, given that it does not offer as much depth as Magento when it comes to features and freedom. | WooCommerce may be simple to use but does not have as much freedom as Magento in terms of design. |
Magento is well known for its freedom, allowing users to do whatever they want regarding aspects of their websites. Shopify and WooCommerce offer cheaper and more accessible options with not as much leeway on some aspects.
You get to pick the one that works best for you.
4. Consider the Best Practice of User-Centric and Responsive Design
User-centric applies the approach where the technology is designed to serve humans instead of the other way round. Responsive web design is the approach that says design and development need to respond to the user's behaviour and environment, with screen size, orientation, and platform in mind.
Without these practices, you will drive visitors away, as they will most likely not want to visit a site that feels too difficult to navigate.
Seamlessness, frictionless, and fast, is what people want to experience.
Website Design Requirements
It is vital to have a checklist of the most important parts of your design requirements, to make the website building easier and accurate. Here's a checklist:
Do an analysis of the target audience, including demography, psychography, web-o-graphy, and other details about your potential visitors;
Choose the right design in terms of colour schemes, fonts, user experience, and anything else that makes a visitor's experience on your website better;
Make sure to use the latest coding to make your site dynamic and interactive in all the modern ways;
Use smart UI elements;
Structure your site to be scalable for when you want to add more elements;
Make the site mobile-friendly;
Focus on the visitor's journey through your website and make it as smooth and intuitive as possible.
With the right experts, your website should be a joy not only to behold but navigate.
5. Mobile Optimisation Is the Must-Have
The advantage of having a mobile optimisation website is that it reorients itself for mobile devices. Not only will this improve the display on smaller screens, but make it easy for users to navigate.
The mobile-optimised website can adjust to ensure that the site's visitors do not struggle to access what you have to offer based on the screen size. Without it, you will lose a huge chunk of the market that uses mobile devices to shop. 
6. Website Caching
One reason people abandon carts, leave websites without buying anything, and probably never come back is that your site loads slowly. Website caching is one of the best technologies you can employ to optimise the site for faster loading.
With faster loading comes better SEO scores, increases user satisfaction, boosted conversions, and increased income.
7. Security at the Core
What is website security all about? It's about ensuring you do not fall victim to ransomware, easily fixable bugs, fraudulent activity, lost revenue, a bad reputation and ultimately, an avoidable end.
The benefits of having security are numerous and ensure that you and your customers can do business without fear. If you are unsure about anything to do with security, ensure you get the proper IT pros' services. 
8. Website Speed
To increase your conversion rate, you will need to have a website that doesn't lag. Customers hate waiting. There are several ways to get a faster site. They involve image optimisation, the use of content delivery networks, among other methods. Your website should load almost instantly with the right optimisations, guaranteeing that visitors have a great UX. 
9. Eye-Catching Content
Your website needs to be designed to attract and inform. It is easy to mistake 'attractive' for 'cluttered.' There is a fine line, which depends on simplicity, easy navigation, clear calls to action, the philosophy of 'less is more,' creatively using colours and using the most appropriate fonts.
Select the best product photos, use authentic testimonials and well thought out content marketing to attract visitors.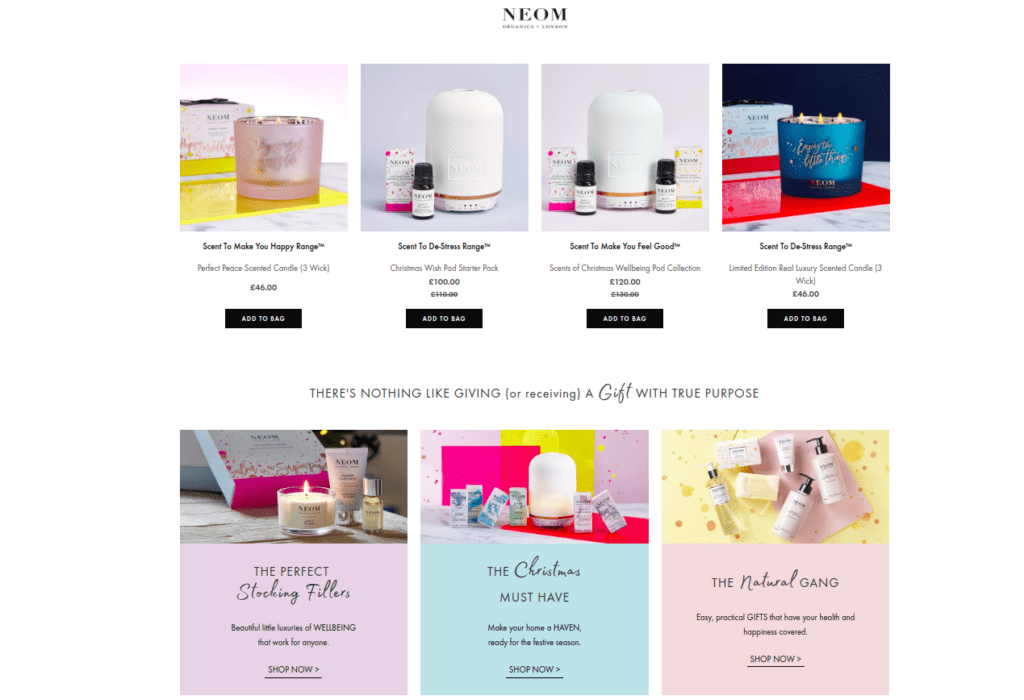 Source: NEOM
10. Ensure High-Quality SEO
Search engine optimisation done well guarantees that you stand a chance of ranking higher on search engines like Google. However, it goes beyond ranking in search results. The ideal outcome of SEO is to drive traffic to your site and generate more leads.
The advantage of good SEO is that you do not have to pay for ad space to market yourself. If you're unsure about what to do, consult experts who will offer better SEO strategies and SEO tips for new websites that are just starting out.
11. Painless Transactions
Complicated or flawed transactions tend to lead to cart abandonment. Customers do not want to pick out items or subscribe to something, only to find that the transaction/checkout page is a pain to use. Ensuring that you have security while also making the transaction fast and painless is a must. Consider using professional developers to create smooth transactions.
12. Thought-Out Packaging and Shipping
Good packaging makes the customers know that you care about the things they pay for. In addition to that, it ensures that the items you send out get to their destination in good condition, saving you the time lost and costs incurred when you have to take something back just because it did not arrive in good shape.
Shipping packaging is best done using the most trustworthy service, with a plan that does not eat too much into your margins and gets the items to customers on time.
Read on the useful article: eCommerce Shipping: How to Choose the Best Option for Your Store
Summary
The first time you get a look at a proper and complete website requirements list, your heart sinks. It's a lot to get done. You have a deadline; you need to make sure you don't miss anything and still make a good first impression.
It's a lot to take on for one person. You have to think about security, design, hosting, maintenance and other pertinent additions to make the whole thing functional.
It may look complicated, but in the six years that we have been working in the industry, we have managed to help retailers take their businesses to the next level. It does not matter whether you are just starting or trying to scale up; we have everything for everyone.
The benefits of using professionals to build a website cannot be understated. They understand what comes first, what is commonly overlooked and what works for a particular site. 
It's our recommendation that you consider experts for this portion of your eCommerce venture. It could go a long way to help you succeed. If you have any questions about what is required for a website or would like to know more about what we do, feel free to talk to us. We are always happy to work on something new.