Every retailer desires a versatile, scalable eCommerce infrastructure. Well, the truth is, the eCommerce architecture of your website can affect the stability and efficiency of your website. High traffic, shop mods, or technical changes won't deal any harm if the backend works well.
A well-built eCommerce website architecture ensures the goal of any online business. Magento offers one of the simplest and adaptable amazing platforms. Also, vendors can add mods and change core programming as they please.
In this post, we'll go over the fundamentals of Magento eCommerce site architecture and other systems that you are able to use right away.
Magento eCommerce Architecture
Magento's approach to its product setup includes the core code and other mods. These extra modules supplement or replace the previously-mentioned code for added functionality.
When your Magento shop is active, you may wish to integrate other supplementary systems. APIs enable Magento to make any 3rd-party service available.
Integration in your Magento site requires a bit of understanding of PHP or Magento's underlying operations. You can say this connects to any other supported systems or modules without implementing a lot of coding processes.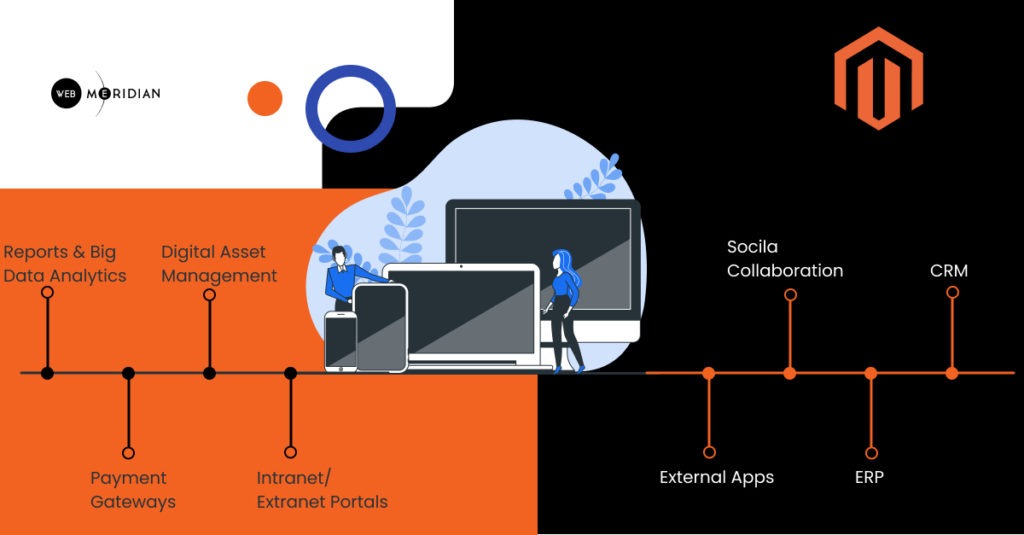 Magento API Integrations
In integrating Magento API to your website, you should take note of some of the fundamental systems that may relate to the following:
Enterprise Resource Planning (ERP)
Customer Relationship Management (CRM)
Product Information Management (PIM)
Payment gateways
Marketing automation services, and
Accounting/tax managing systems
Magento will determine the framework of the eCommerce project and establish your website. Let's take a closer look at which you can connect third-party solutions with Magento.
ERP
ERP refers to software that assists companies in managing daily business operations. They can automate project implementation and management, supply chain management, and risk reduction.
Also, this solution improves productivity by syncing order information, client data, and more.
ERP allows you to automate handling orders, managing order discrepancies, and tracking orders. Instead, ERP makes your job as a vendor easier and enhances the experience of your customers. Magento architecture is compatible with the best ERP systems out there, including:
Microsoft Dynamics
NetSuite
SAP
Oracle
Infor
Epicor
Sage
Riese & Müller (a German bike manufacturer) tell their success story about how ERP integration helped in processing orders. It also relieved their sales team of customer service calls and made it easy for customers to configure their bikes and make repeat orders.
It's safe to say that ERP systems automate and simplify operations, resulting in a leaner, more accurate, more efficient business. ERP gives you full insight into your key business operations. ERP solutions enable your company to grow without incurring extra IT or personal expenses.
Dive deeper into: Magento 2 ERP Integration: Step-By-Step Guide & Common Pitfalls
CRM
Customer Relationship Management (CRM) is a self-explanatory term. It is a system that manages all a company's contacts with existing and potential consumers.
Magento 2 CRM connection bridges the gap between the flow of the activity of your customers and the online shop they are using. It allows you to:
Gain control to more precise marketing efforts
Access to a more tailored user experience, categorise your customer contacts into groups.
Determine which consumers are most convertible to valuable leads
Get sales and customer-related information to help you make better business choices
So much more functions to look at
Magento 2 is compatible to use with the best CRM systems in the market such as::
Salesforce
SugarCRM
CRMNEXT
Pega
ServiceNow
Zoho
When it comes to linking with any CRM, Magento provides a lot of versatility.  Aldo experienced excellent results in using ERP. With the help of integrating Magento 2 CRM into their system, Aldo formed a loyalty program called the "A-List" for returning consumers. This also expanded their eCommerce all over the world and connected them to new prospects.
CRM enables companies to get insight into their customers' behaviour. This ensures that their company processes are serviced in the best manner possible. CRM may be accomplished through learning about your customers' buying patterns and preferences.
PIM
Product Information Management (PIM) provides useful tools to vendors for creating product entries. It also manages product info, and streamline product amendments across eCommerce platforms.
PIM integration is a necessary feature to provide an immersive experience for clients. PIM handles massive, complex information architectures and organises workflow as follows:
You send the product information and input them in your PIM from several sources.
Within the system of your PIM, data is then enhanced, sorted, clarified, and localised.
You may extract data in the proper format to linked websites and other eCommerce platforms.
You may then connect the Magento shop to any central PIM system, such as  Akeneo and Oracle.
The results will amaze any eCommerce website owner. According to the latest report of Scaling eCommerce, the integration of PIM boosts the rates of sales conversions by up to four times. It also reduces transaction returns by 40 per cent and enables distribution to new markets. Lastly, it improves omnichannel marketing and marketer efficiency by up to 50 per cent.
PIM collects, manages, and enriches your product information in a single location. This allows you to build a product catalogue and disseminate it to your sales and eCommerce channels. It is a solution that accelerates and simplifies the delivery of product experiences.
Payment Gateways
Payment gateways are intermediaries that take care of transactions involving money. These include credit card info and enable authentication of payments. It is a must-have for securing sensitive data and ensuring the legitimacy of payments.
When selecting a specific payment gateway, you should take note of the payment gateway's capabilities. It is important to be aware of all the accepted payment types, security, installing methods, and related expenditures.
Magento 2 currently supports more than 10 payment gateways that are accessible globally. Among them are:
PayPal
Braintree
Allow.net
Square
Bolt
Signifyd
These are well-equipped with fraud-prevention technology and follow SCA standards.
Adeo Group, a retailer of construction supplies in Europe, created a brand-new brand named Obramax using a backend of Magento 2. With secure payment channels and quick payments, the team gained the confidence of its consumers. So, customers are able to pay via Visa Electron, Boleto, and debit/credit cards, across three sales platforms.
Dive deeper into: TOP 9 Best Payment Gateways for Magento 2 Merchants
Marketing Automation
Marketing automation services include any solutions that automate recurring marketing activities. These include marketing campaigns, social media posting, and even advertisement streams. These automations also help to tweak the experience of the end-user on your eCommerce website.
One of the most sought-after services connected with the Magento backend is none other than email marketing. When used, it increases customer conversion rates and develops the confidence of clients.
Magento is connected with several main email marketing platforms, including:
Dotdigital
MailChimp
HubSpot
Listrak
Remarkety
For example, Modalu combined Pure360 AI software together with Magento. It allowed segmentation in their clientele and permitted them to market to several target audiences. In one year, Modalu's campaign has resulted in 30% of the brand's profits!
By automating the many stages between marketing and sales, your team will have more time to concentrate on overall strategy and nurturing prospects with genuine potential. This translates to more prospects and customers. Marketing automation may also provide you with a more complete and comprehensive view of prospective consumer behaviour.
Dive deeper into: Promote Products Effectively With Marketing Automation in Magento 2
Tax Management Systems
A tax management system that assists in managing tax-related functions. There are about 17,000 tax jurisdictions in the United States alone, which is a lot. This solution removes the burden by automating the whole tax procedure.
Magento's accounting service connection in an instant. Particularly with Vertex Cloud, this allows tax configuration and address clean-up. It also overrides by nation and performance improvement capabilities.
Magento users may connect their accounting systems with:
Avalara
QuickBooks
ZohoBooks
Xero
SageIntacct
Other accounting systems
Tax third-party systems have aided the operations of JL Marine Systems, a producer of boat anchor systems. Before deploying Avalara's solution, they were charged for not complying with exemption certificates. You addressed the problem following this integration.
As you can see, there are many tax management systems with great capabilities. What you'll need to consider now is everything else that comes with them. Make certain that the solution you choose is appropriate for the size of your company and the kind of deployment you need. Of course, there are additional accounting tasks to consider, such as payroll, invoicing, and budgeting. Our research team at WebMeridian has identified these (and other aspects) as critical needs, in addition to tax management.
Why You Should Create a Good eCommerce Architecture
So, do you have to have your own eCommerce site architecture?
If you want to expand your eCommerce presence, a resounding yes is the answer you're looking for. You may create your website with Magento options, but your website's loading times would suffer. It will also need lines of code to create identical functionalities, reducing productivity.
Magento and its API connections provide fast and easy functions to all your business's demands and requirements:
You can use ERP to automate several back-office operations and manage day-to-day responsibilities.
You can use CRM to build connections with existing clients and train new ones.
You can take advantage of PIMs to manage product catalogues and gather data.
You can use payment gateways for and processing internet payments;
You can use services for marketing automation to automate and personalise marketing activities;
You can use tax and accounting systems to get control of your financial operations
These Magento connections are simple to install due to APIs, and they guarantee that.
Summary
In the fast-paced digital age, you should not afford to not learn how to do eCommerce Magento architecture. Instead, starting your own website will allow you to automate and concentrate on user engagement and sales. When selling online, the architecture of an eCommerce website is critical to the success of the company.
However, there is a problem. Neither intensive SEO tactics nor enhanced marketing campaigns can assist in making the online shop successful. This is possible if it is challenging to browse and its checkout does not function. Instead, a well-functioning website will attract much more visitors and consumers than a functioning but well-advertised shop. Website design plays a significant part in the seamless operation of the website and its expansion possibilities.
Create a website that works and, moreover, converts right away. At Logic, we take pleasure in our extensive knowledge of Magento website creation and integration services. Be sure to check out our full-stack services, and we'll automate your work procedures right away!