How can I improve my eCommerce delivery? What are the Best eCommerce Shipping Solutions? 
Choosing effective eCommerce shipping solutions is essential, whether you have a big or small online business. It will help to keep your eCommerce business running smoothly. However, selecting the right shipping services for your business can be tricky as you need to know the basics.
So, let's dig deep into the selection of reliable eCommerce shipping solutions, methods, carriers, and software.
Establish Your eCommerce Shipping Process
Before jumping into the band-wagon, you need to establish your shipping process first:
Do you want to give your customers different shipping options?
Do you know how to calculate shipping costs?
Have you considered setting up shipping security?
What is your plan for the holiday seasons when it comes to shipping?
There many things to look at before setting up an effective shipping process for your eCommerce store. You need to consider the factors that would make shipping solutions successful and effective.
Determine Your eCommerce Shipping Methods and Strategies
When it comes to methods and strategies for shipping solutions, one size will not fit all. The perfect shipping strategy for your store will depend on your products, budget, audience, and other factors. You should offer cost-effective and fast shipping methods to reduce abandoned shopping carts and increase your store's conversions.
The strategy of shipping solutions for eCommerce has core goals:
increased conversion;
boost the average value of order (AOV);
decrease cost;
expending of a market and target audience;
improvements in operational efficiency.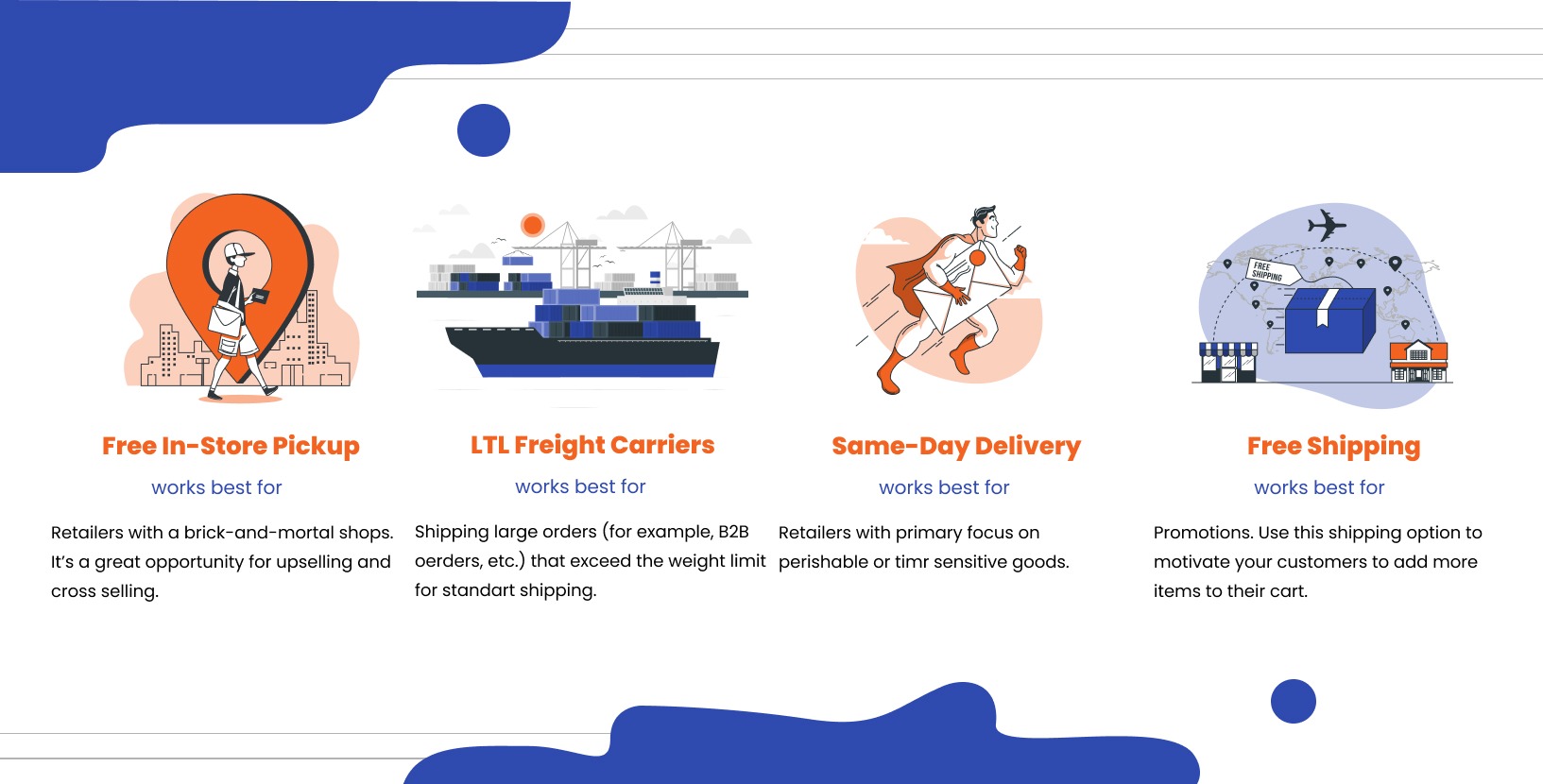 Here Are TOP Shipping Methods That You Can Choose For Your Store:
Same Day Delivery
This ensures that the delivery of the order is done on the same day of purchase. Did you know that 61% of customers are willing to spend more money on this option? Executing this method will need coordinated resources, technology, coordinated operations, and courier services.
Two-Day Shipping
This method has become popular with online shopping due to Amazon Prime. Even smaller businesses are opting for this approach. There are ways to do it without breaking your bank.
Expedited Shipping
This method refers to any technique speedier than standard ground. The turnaround for this method will differ depending on the shipping and carrier services. Expedited shipping will help your eCommerce business meet customers' expectations, lessen card abandonment, and establish customer loyalty.
Overnight Shipping
This method can help your online store stand out. It ensures your customers receive their orders as quickly as the next business day.
International Shipping
If you want to expand your online store on a global scale, this shipping method is the way to go. However, it is among the most expensive and challenging shipping methods for any business. Regulations, requirements, tariffs, and taxes will vary depending on the country. You must deal with experienced fulfilment partners. They can provide you with budget-friendly shipping rates and assist you in handling international shipping.
Read on the useful article: Boost Sales With Astonishing Speed Like Helly Hansen Did With Magento 2 | Success Story
eCommerce Shipping Costs
Most online shoppers prefer fast and cost-effective deliveries. Nevertheless, you also have to ensure that you are providing budget-friendly shipping rates for you, as well. eCommerce shipping costs may seem complicated.
Here are some insights into it:
Calculation of Shipping Costs
Shipping cost will depend on a range of factors such as the package weight and dimensions, shipping service, shipping destination, the carrier used, and the content.
Dimensional Weight
To calculate the shipping cost, carriers utilize the DIM (dimensional weight) technique. This considers the package size to find out the shipping cost. Carriers such as UPS, FedEx, and USPS calculate shipping costs based on the DIM weight or weight of the package.
Shipping Zones
This calculates the distance between the origin and destination of the package. Carriers utilize shipping zones to determine shipping rates. E.g., the longer the distance between the origin and destination, the costlier the package would be.
Reducing Shipping Costs
Using 3PL or third-party logistics can significantly help in cutting down shipping costs. It can also help eCommerce businesses to leverage shipping discounts, reduce transit times, and scale operationally.
Shipping and Handling
While shipping costs cover the cost of acquiring the package from the carrier to the consumer, handling fees fill in for everything else, such as moving inventory, labour-related to retrieving the items, shipping labels, packing shipments, loading shipments, and all sorts of fulfilment operations.
Flat Rate Shipping
Flat rate shipping involves charging a fixed rate for orders within a specific order value, weight range, or any other classification. It should be the combined average handling and shipping rates across orders for a particular category.
Real-Time Carrier Rates
Some online stores opt to reveal real-time carrier rates upon checkout. The rates will be automatically taken out from shipping carriers based on the customer's delivery preference and location. The Advanced plan from Shopify has this option, as well as shipping APIs.
Offering Free Shipping
If you decide to offer free shipping to your customers, it will lessen the abandonment of shopping carts, establish customer loyalty, and boost conversions.
There are some ways your online store can stay profitable while offering free shipping:
You can suggest your shoppers spend a certain amount to be eligible for free shipping.
You can incorporate the shipping cost into the price of your wares.
You can offer a loyalty program when you take a recurring fee to trade for free shipping (such as Amazon Prime).
Shipping Solutions for eCommerce: Packaging and Labeling
The packaging and labelling used to ship orders will affect customer experience and your shipping costs. Your packaging will be the first connection your customer will create with your brand; that is why you need to make a lasting first impression.
Choose your packaging thoroughly. There is a myriad of options when it comes to product packaging. To get this right, ask yourself these questions:
How do you explain your product?
What is the shape of your product?
What is the weight of your product?
What is the size of your product?
Is my product durable or fragile?
Is there packaging that is already included by the manufacturer?
Do you want to utilize branded or plain packaging?
What about eco-friendly packaging/recyclable material?
eCommerce is a competitive business, that is why excellent custom packaging will make your business stand out. A great custom packaging will provide a better customer experience, generate buzz, stay memorable, and establish brand loyalty.
Read on the useful article: How to Reach eCommerce Domination: Key Elements for a Successful eCommerce Website
What to Consider During the COVID-19 Times?
According to the ECSA report, commercial shipping accounts for around 80% of worldwide trade. However, the Union for the Mediterranean (UFM) accounts for almost 25 per cent of global traffic volume.
The maritime industry facilitates the transport of essential products and commodities; that's why it plays a vital role in temporary emergency response to the pandemic. A vast majority of ports have set themselves correctly to handle large cargo operations.
Below are a couple of recommendations for improvement of shipping solutions for eCommerce and whole shipping strategy during the pandemic time.
Check the Information from Shipping Carriers
Most of the carriers remain operational during the COVID-19 pandemic.
UPS still delivers worldwide, where permitted. Its highest priority is to guarantee the safety and health of its employees, suppliers, and customers while it meets its service commitments.
DHL follows a holistic management process to keep its employees and customers safe. Its operations are frequently adjusted to minimize the possible impacts of the pandemic. It has established a Coronavirus task force that coordinates with organizations such as WHO, ECDC, and CDC and gives essential information to their employees and other relevant operations.
FedEx keeps its customers' and employees' safety by following the recommended safety practices during the COVID-19 pandemic. They offer a customizable sign for their customers. This enables the drivers to be aware of when the customer is ready for delivery.
Choose the Optimal Time for Delivery
It is better to choose a particular time window to send orders (e.g., 1 pm-3 pm). This will make things hassle-free on your side, as well.
Write a Small Guide About Delivery Time and Rates
It would also be best to keep your customer informed about your delivery time and rates. Think of the possible questions they will have and create a FAQ guideline to cover them all.
Useful Resources
Below, you'll find a useful resource you might want to look at regarding industry issues with the COVID-19 pandemic.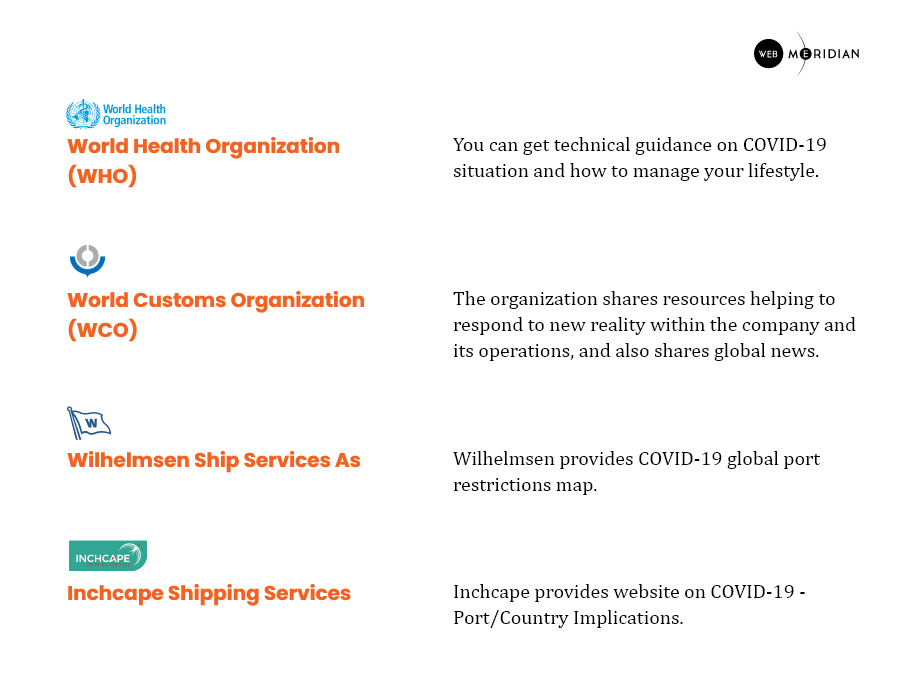 Source: World Shipping Council – COVID-19 Resources
List of Top 5 Shipping Carriers
After we looked at the common shipping methods, types of shipping, and defined a strategy, we can choose a reliable shipping carrier, or a couple of them, if you sell globally. Below are the best eCommerce shipping carriers to ship your products with.
DHL is one of the world's leading international logistic firms. They love to challenge what is possible, shape, simplify, and revolutionize the logistics world. Their most affordable shipping plan is DHL Express Worldwide, with up to $100 insurance policy. Its price ranges from $40.95 to $230 and delivers products worldwide.
FedEx is recognized as a highly admired brand when it comes to shipping services. FedEx is all about connecting people with services, ideas, technologies, and goods, which creates an opportunity to energize businesses, fuel innovation, and lift communities.
FedEx International Economy is the most affordable plan (price ranges from $72.50 to $427). It offers up to $100 insurance policy and delivers products worldwide.
UPS believes in integrity, service, teamwork, quality, efficiency, sustainability, safety, and innovation. Its UPS Worldwide Express Saver plan delivers products worldwide at the lowest price ranging from $58.90 to $508.12.
United States Postal Service (USPS) is the only shipping carrier to reach each address in the US. Its mission is to deliver world-class customer experience, innovate faster, empower, equip, and engage employees.
Its most affordable shipping plan is USPS First-Class Package International Service, with its price ranging from $12.25 to $63.2. It also offers worldwide deliveries.
Royal Mail is a British courier and postal service company that offers shipping services and mail collections throughout the UK. Its most affordable shipping plan is Royal Mail International Tracked that charges between £10.40 to £21.02 for local and international deliveries.
Essential Software to Manage Shipping
After all, if you were looking for some advice on store functionality or how you can add shipping options to your store, we got you covered. Below, you will find some good examples.

It is an eCommerce shipping software that covers the shipping, inventory, delivery, and email marketing needs of the business. Packages pricing starts from $29 p/month per basic functionality. They also have a discount on shipping carriers and additional functionality to set up the smooth process of shipment and delivery. This kind of shipping solutions can be easily integrated into eCommerce platforms, marketplaces, etc.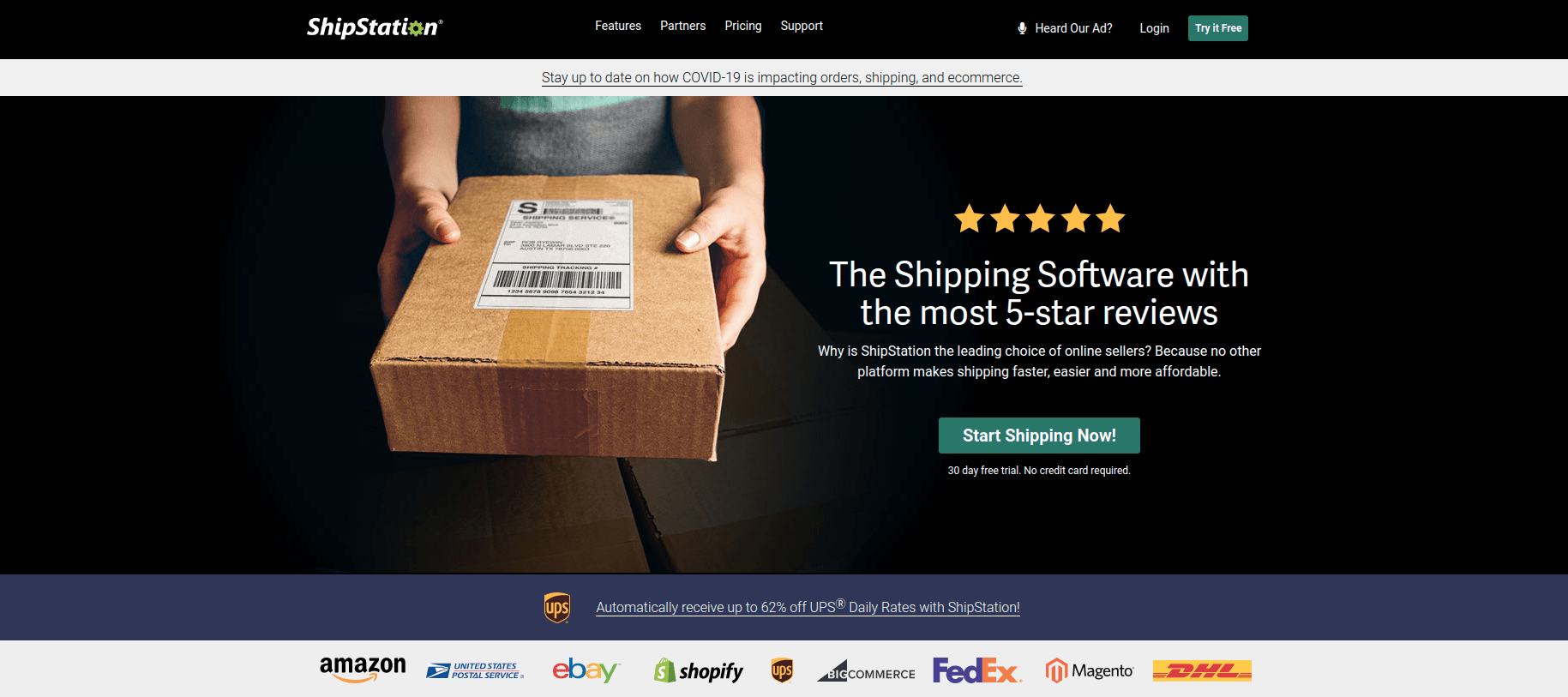 Among standard shipping software features, ShipStation allows you to customize shipping labels, returns portal, and tracking page. It gives an endless opportunity to create brand awareness, increase loyalty (if you follow the best shipping and delivery practices), and save some money. The basic package starts from $9 p/month. It can be easily integrated into your store or marketplace, and allow you to do all the necessary activities with your orders, inventories, and shipping.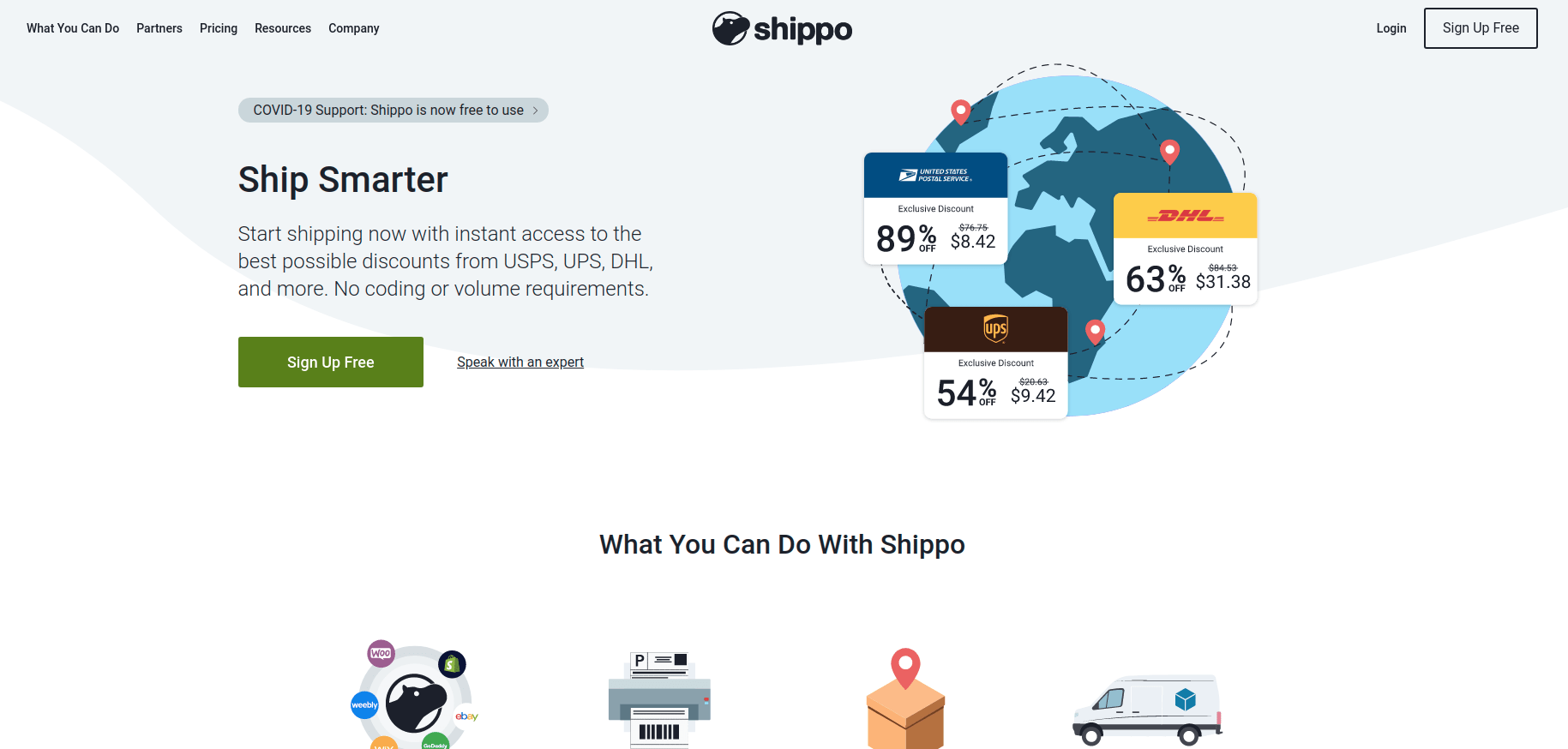 Another useful shipping software allows you to do all of the standard shipping activities plus management of your returns, providing help with documents for international delivery, and analytics&reporting. Packages price a bit different, they charge you for each printed label in the basic package and from $10 p/month for the professional package that gives more features and accounts for use.
Summary
If you plan to establish an online store, it is best to look for proper eCommerce shipping solutions which would fit your needs. Choosing the right eCommerce shipping options for your online store would contribute to a hassle-free service that will benefit you and your clients-a win-win situation.
If you are looking for a reliable service provider to add alike functionality to your store, we are here to help.