Not too long ago, eCommerce's leading minds thought that mobile commerce adoption was far down the road.
Now, the story being told is different.
In 2017 alone, two billion people bought items online with their phones. In 2014, there were only 1.6 billion mobile purchasers. The increase is significant and will continue to rise since phones are easier to use for online shopping. 
mCommerce is opening up a new world to merchants.
Now, merchants can easily track user behaviour with analytics, launch data-driven sales and marketing campaigns and make the shopping experience better. Mobile commerce brings a personalised experience to users, ensuring that they can purchase anything conveniently, even when on the go.
As a new platform with different designs and interaction methods, there is a way to ensure that your website is properly served up to your potential mCommerce base.
It's uncharted territory, and we are going to find out just what it can offer you and what kind of best practices will give you an edge.
Bonus Doc wait for you at the end of the article – Helly Hensen Tips & Tricks on How to Build a Successful Business in Digital World 
Why Does Responsive Design Matter in Mobile Commerce?
We refer to a website as responsive, when it has been designed to respond or change to fit the size of the screen they are presented on. A responsive website will typically rearrange itself automatically when rendering on screens of different sizes. We call this mobile eCommerce UX, and it is only a small part of what you have to do.
Why does this matter?
The reason why this is important to mCommerce, is because there is simply no way to make sure that you only get customers who have devices with the same screen size.
So, when designing the website, ensure that it can show up on mobile properly and offer the same great experience as on a bigger screen.
Remember that since 2015, mobile eCommerce traffic has become as ubiquitous as desktop traffic.
Functions like swiping, double-tapping, zooming, and other nifty shortcuts should be integrated because customers expect even better functionality on their phone than they do on a desktop.
Read on the useful article: Build a Mobile App for Magento 2 Website in 7 Steps: Pitfalls, Trends & Tips
Think Out Consistent and User-Friendly Navigation
Navigation is crucial in mobile design. On the screen, you have a limited portion to work with. You have to use space efficiently, which means using common and recognisable icons to represent words.
Most of the eCommerce sites on mobile show the company's logo, search bar, shopping cart, and product categories.
With icons, you can include more without cluttering up the screen. Here are some guidelines to follow when implementing user-friendly navigation.
Only the checkout should not have the navigation icons. This makes it easy to go back to the store or homepage to look at other things.
The logo should not be too showy or too inconspicuous. You need people to know your brand name but not by shoving it down their throats.
 If you have icons that are not very clear in meaning, consider adding a label to clue your visitors in.
Your search box needs to be visible once a person starts looking for it.
The point is to ensure that no one gets lost by clarifying where everything is and getting them there in one click.

Simplify the Mobile User Interface (UI)
The user interface on mobile is a bit trickier since mobile devices tend to have smaller screens.
You have a small space to work with, so keep it simple. Even if you are tempted to tell everyone about everything you have and show them all the cool photos, you probably should not take up all the white space.
The ability to distinguish a website's elements on a mobile user interface is how you help your customers find what they want.
Simplicity is not just in graphic design or visuals (where you learn how to optimize images for mobile); it is also in how you use words. Use catchphrases or short sentences to invite users to click and get to the page with the products that captured their interest.
It is all about how they flow through the site.
If you guide them with great design and a flawless distinction of site elements, they will find everything you want to show them.
Remove Your Animated Carousel
Who doesn't want to see an animated carousel?
They are visually attractive but you probably do not want one of those on mobile because it can confuse users. A carousel animation CSS can ruin an interface, as in the case of Bed, Bath and Beyond, where they have a carousel but the interface is unable to tell when users are trying to do a carousel swipe and when they want to get to the shopping cart.
That is just anecdotal, but the point remains that blocks of information work better than carousels. People tend to scroll when they are on their phones, which is why animated moving parts are not advisable.
Read on the useful article: Hottest Magento Development Trends in 2021 and Beyond
Add Eye-Catching Call-to-Action Buttons
The best CTA buttons are not just everywhere, and they are exactly where they need to be. They are compelling to customers who are convinced enough to want to buy something.
You need to pay attention to the colour, positioning, dimensions, and text on the CTA buttons, to cut through the noise and reach your site visitors.
Some of the best mobile eCommerce practices regarding call-to-action buttons usage include:
Usage of colours that make the button more visible than its background
The words in your CTA buttons need to be urgent. For instance, "Book Today!" "Buy Now!" "Checkout Now!"
On products pages, where scrolling to the bottom takes a while, add some CTAs in between to improve conversion rates.
Your CTAs need to be written and designed in a way that prompts users to get to the checkout page as soon as possible. A button can pop us when they add items to the cart, to take them to the checkout page as soon as possible.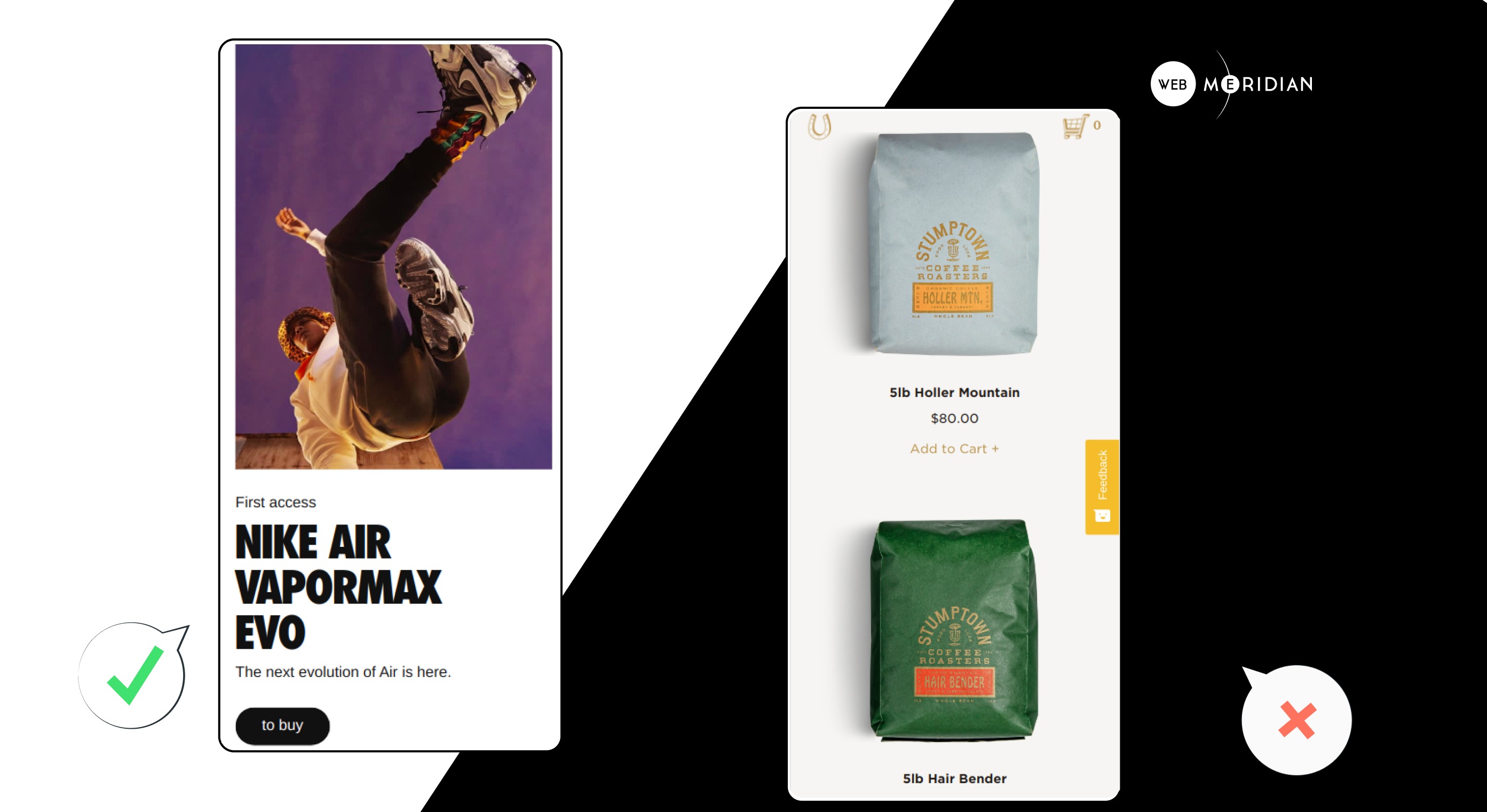 Source: Nike and StumpTownCofee
Ensure the Streamlined Checkout Process in Mobile Commerce
You can't afford to fumble the checkout process.
Here's the deal in mobile commerce:
This is the stage where many things tend to go wrong. People on mobile phones are not the most patient people and will likely abandon the cart for a checkout process that simplifies things.
The checkout needs to be streamlined to include all necessary assurances, information, and functionalities.
Checkout best practices include:
When your site visitors sign up, as for personal information, so you don't have to do it when they are checking out. You can automate the checkout process requiring personal details this way.
Provide a way for your site visitors to save details of their payment methods for easier checkout next time.
Use the best payment platforms for faster checkout.
 Make sure that visitors can see what's on their cart, with clear information about the costs. Do not hide any charges. Include information about when they can expect to receive their goods.
In your shopping cart, include an option to save items for later.
In the delivery address form, not all information is important. Use asterisks to indicate information that they do not have to enter.
Use autofill functions to make it easy to check out. It also reduces errors since the site users do not have to enter the details repeatedly. 
Read on the useful article: 9 Steps to Optimize eCommerce Shopping Cart and Checkout Process
Let the Magic Happen – Swipe, Pinch, and Double-Tap
In making your mCommerce efficient, you do not have to reinvent anything. Just give your site users the ability to do what they are used to. The swipe, pinch, and double-tap functions are crucial and should be a part of your mobile gestures list during development.
Why is mobile eCommerce UX matter?
When looking at products or reading anything on your site, people like the freedom of being able to zoom closer, pinch in to see more details, and double-tap.
Do not try to make your own rules for how your site should work by forcing people to click on things to see them clearer.
Display Shipping and Pick-Up Options
There is a big problem when it comes to shipping. Customers do not want to pay for it or if they do pay, they want to pay very little. If you have no option they can tolerate, they will just go to Amazon.
Most customers agree that free product shipping is one of the best incentives to buy things. Customers who love free shipping far outweigh the number of people who say their incentive is one-day deliveries.
Even if you do have shipping charges, the last thing you want to do is fail to indicate what they are.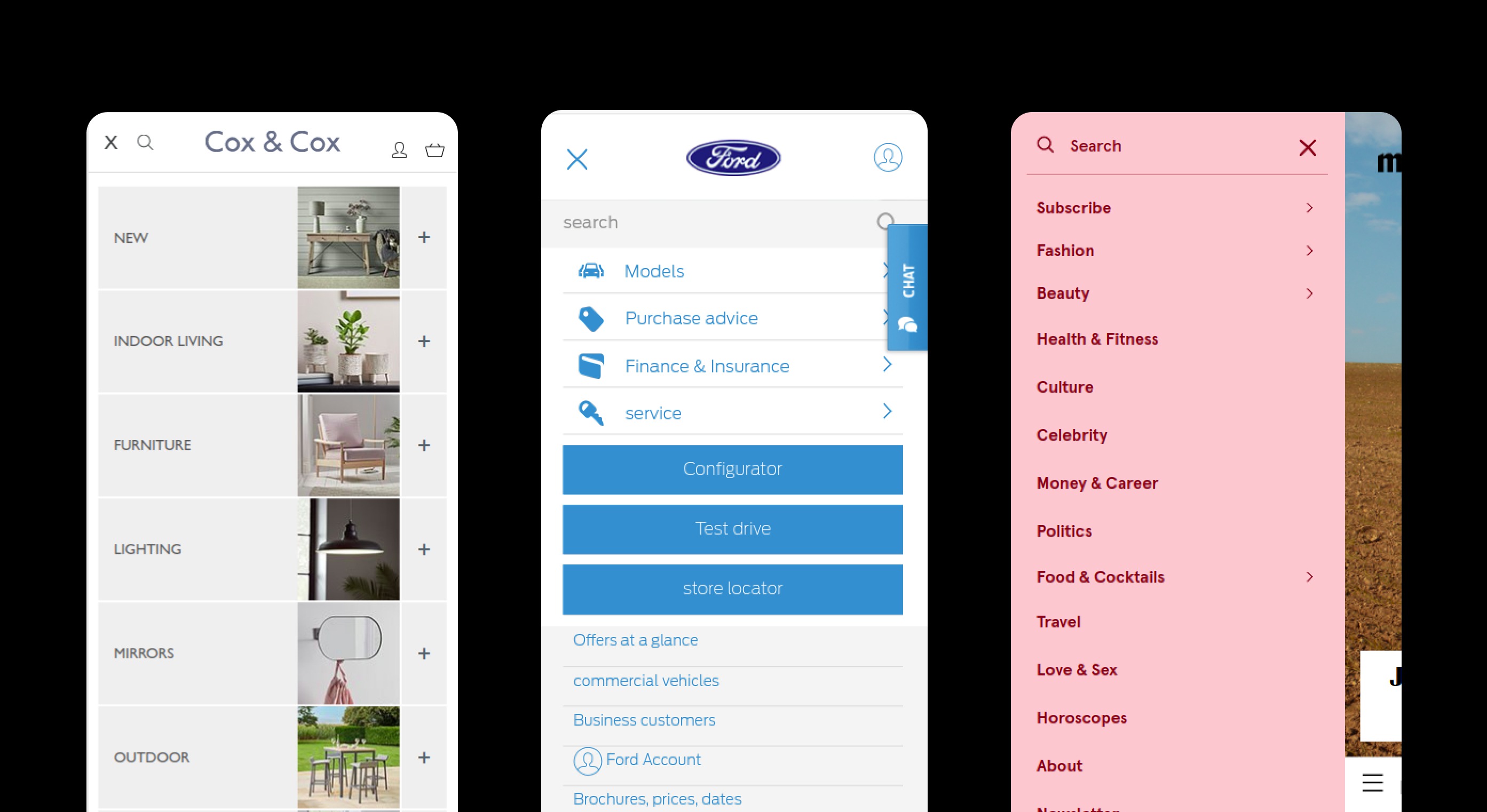 Source: Cox & Cox , Ford , MarieClaire
Enhance and Optimise On-Site Search Functions
We have mentioned the search bar, its positioning, visibility, and importance. Enhancements will include filters and other tweaks to ensure customers can find whatever they want in your store with ease.
It is also a huge part of navigation since the site search function can lead your customers where you point them.
Scan Credit Cards or Pay with Wallets
During the checkout process, we mentioned that it is important to use autofill or information collected during first-time signing up to speed things up. You can also create an option to scan credit cards to make providing payment information easier.
Services like PayPal and Apple Pay can help complete purchases and save time. Frustrated shoppers consider the checkout process the last straw. If you do not get them out fast enough using convenient and fast payment methods, they will abandon their carts.

Bonus Material: Key Elements of a Successful eCommerce Website | Helly Hansen Tips&Tricks
Summary of the Best Mobile eCommerce Practices
mCommerce optimisation is as much a science as it is an art. Following these best practices will enable you to avoid missing out on important things. Some of these are common sense, but sometimes you could forget to indicate a certain fee and surprise your customers when they get to the checkout page.
To avoid having trouble with the design and development part of mobile commerce, consider the services we offer.
Our team of developers and eCommerce experts will solve your tech challenges both online and offline. We have an all-in-one service that you can use to finesse your design and mCommerce optimisation.
Do you have any questions about what our team can do? Feel free to talk to us.