For merchants on the internet, the world and its myriad of languages is their playground, which is where Magento multi language capabilities come in.
Growing your business can take you to multiple countries, necessitating you to have a multi-language website(s). Localization could be as simple as translating or take a more complex form to communicate your message coherently, and in line with the norms of your audience.
The work requires some Magento design and development services/skills to deliver a country/locale-specific website. As we learn how to create multi language website in Magento 2, we find out that it involves, not just language, but also features, design elements, and content.
Magento Multi Language Websites: Step-By-Step Guide + Common Pitfalls
This article is essentially a checklist to help you know what to do when undertaking a localization project, pointing out what you will need, to prepare you for multilingual eCommerce.  
However, it is neither cheap nor easy to do. As such, a strategy is needed to guide your actions during localization. This list has critical elements you have to keep in mind. Depending on your budget, you could start with the bare minimums, like Magento multi language extensions, and add more elements as you go along.  
Before we dive in, here's a summary of why localization matters. 

Language & Currency Configuration
The base step of localizing your website is translating it into a language spoken by your audience. Lucky for you, Magento has provisions for this, to allow users to launch several shops in one installation, with customizability for each store.
 If you were to expand into Finland and Germany, for instance, you'd open a Store View for each. At this Store View level, you have complete visibility into everything and can tailor language, currency, and design. This format is generally how you utilize Magento 2 to create multi-language stores with customizable elements.
To add translations, you'll require language packs (German and Finnish in our case) from Magento Connect.
After translation with packs, you will have to manually translate the text with in-line language translation, or use pre-written language files compiled by you or your staff. Magento multi language extensions will help you manage a multilingual website, which is why we recommend you check them out too.
Off-The-Shelf Solutions
When customizing your website to fit certain specifications on the Magento platform, it is worthwhile to scrutinize the marketplace for custom-ready multilingual eCommerce solutions. You could translate the website yourself, or find out if there is a localized version for the language you've chosen.
An example would be the localized Magento edition creates for Russian, Polish, Spanish, Italian, French, Swiss, Austrian, and German markets.
Currencies configuration can easily be done on the admin dashboard, at the website level. It will affect your 'multiple stores' model, though, as you will have to build a Website > Store > Store View, for each language version of the site.
It is always advisable to use professional/native copywriters for translations and expert developers to set up the currency portion of your store.
Dive deeper into: Magento Multi Store VS Multi Website VS Multistore View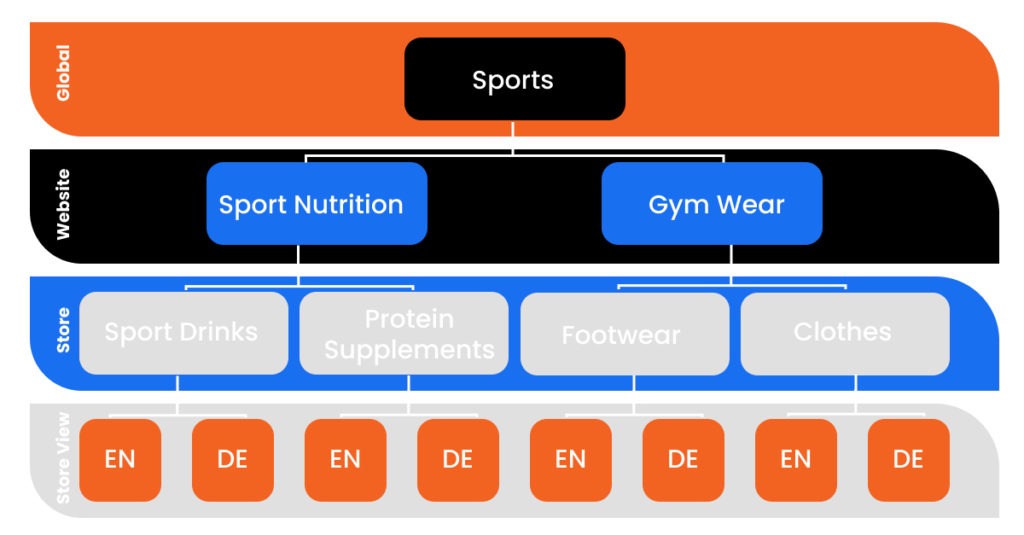 Legal and Regulatory Requirements
It may be a global economy we are experiencing right now, but the laws differ from one nation to another. It is not just the laws, but also the customs. However, the best approach is to focus on the compliance side of local eCommerce sites. Adhering to local laws means no disruptions when doing business.  
Each country outlines a way to do business that you must follow. For instance, the European Union countries are governed by stricter data privacy/internet laws, which your website has to follow.
In some instances, especially with countries that have not too unalike laws, the changes could encompass a short checklist. Nevertheless, other cases demand acquiescence on several unique levels. Not to worry, though, since you can find extensions to comply with the law, including Seers GDPR & CCPA Cookie Consent or Responsive Cookie Consent.
Design for a Specific Market
If you have ever looked at marketing material or product/service presentations from countries other than your own, you'll notice that even for big corporations, some observable changes in branding, feature promotion, and messaging are present.
The reason for this is people aren't the same. For instance, a site that performs well in a place like the US, might appear too crude and 'shouty' for Nordic markets, where minimalism is appreciated more.
It is important to examine the language because translations do not necessarily match in terms of volume and/or layout. For instance, Chinese characters take up less space than English ones, while Arabic and Hebrew are written from right to left.
Nescafé is a Brilliant Example of Localized Website
Nescafé is one of the few brands that has created so many unique layouts and designs. The company has taken the time to study the intricate distinctions between each market in order to achieve maximum impact on each target demographic by providing completely translated and localised websites.
Nescafé does a great job of customising the home page feature. The homepage features very well designed images, which differs slightly depending on which country's website you are on.
Mexico's website is promoting INTENSO as the new BLACK, with some interactive features on the home page(with pleasant bonuses.)
UK's and Frances' site attracts visitors to start their day with a NESCAFÉ. Life can be hectic, and there is nothing more important than starting each day off on the right foot.
Uranian's homepage features a cosy atmosphere with the Nescafé products. 
All images are highly colourful, bright, and lively. To sum up, the contrast of the websites for different mainlands is impressive, which are entirely different styles, layout, message, and culture elements.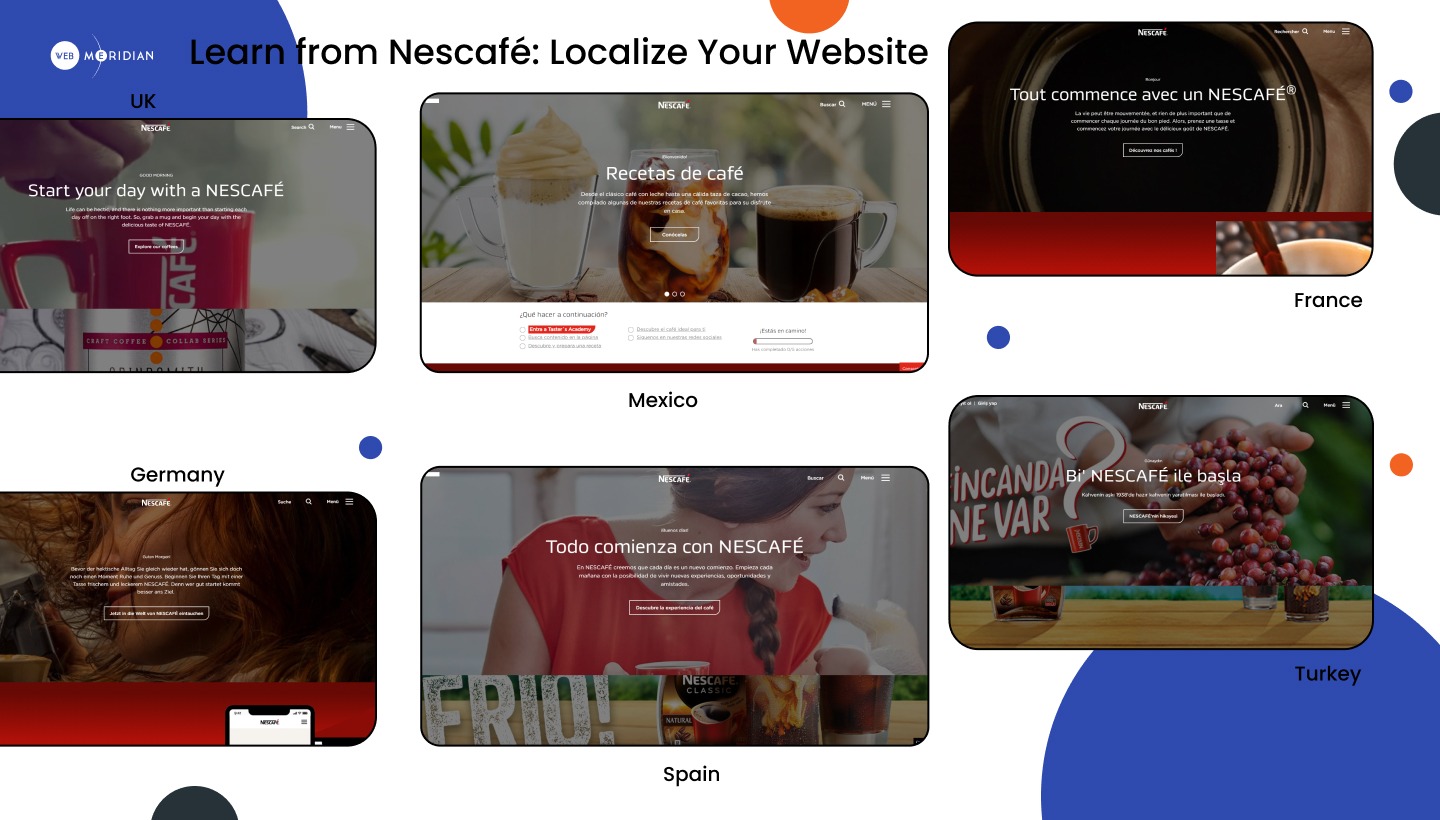 Appropriate Shipping and Payment Options
Familiarity is like a comfortable blanket, which is why it should be built into your eCommerce site architecture. If people don't find the payment and shipping options they are used to, your cart abandonment is going to be higher than it should. People love the convenience of using tried and tested systems already in place, instead of having to subscribe to something new.
Countries tend to adopt different payment options, depending on what's convenient and prevalent. In Italy, for instance, people prefer Colissimo while Germans love DHL for their shipping. When it comes to payment, Nordic countries prefer Klarna, while many Scandinavians prefer 'cash on delivery' payments.
Finding out what payment gateway and shipping option are preferred improves your checkout.
Dive deeper into: Choose the Best eCommerce Shipping Solutions: All You Need to Know
Geo-Targeting
Asking users to choose their country or making them have to look for a language switcher and then asking them to choose a country is not the way to go. When learning how to create multi language website in Magento 2, you will find it useful to know which country a site visitor is in, using geo-targeting.
What it means is, determining the country of origin of the visitor, and displaying the appropriate website right off the bat.
The website shows up with the appropriate currencies, shipping options, offers, pricing, and more. Magento has several geolocation extensions that display the appropriate website. They include GeoIP Store Switcher and GeoIP Currency Switcher, among others.
These extensions can determine geo-locations, down to the city and post/zip code level, to offer consumers recognizable options, shops, and services.  
In some instances, you will have to give customers an option to select language or locations they want the store to be displayed.
Marketing & Feature Promotion
Every business has to take a highly specific approach when marketing or promoting products/services. The differences vary, not just from business to business, but from country to country. How you market yourself in the US, is not how you would market yourself in China.
Geo-targeting plays well into multilingual eCommerce since it can help tackle things like a fraud since you can pinpoint which countries have the highest online crime rates and avoid/prepare for them differently.
The point here is that the needs of customers vary from country to country. It is always important to learn just how they want to be communicated to and cater to that.
Many in-built tools in Magento can help you market and promote your goods in whatever format you prefer, to a wide range of audiences.
---
NOTE: Remember to take note of how the calendar works too, as you acquire Magento multi language extensions, to ensure that you do not miss out on holidays when you can offer feature promotions and market yourself even more.
Search Engine Optimization
As with any other site you own, the ones running in new/different regions have to be optimized too. All aspects of SEO have to be integrated into your site, to access the specific audience of that particular country.
In some countries, like China, you will find that people prefer to use the Baidu search engine, which you'll have to optimize for. In Russia, you have to deal with the Yandex search engine. Studying each engine's specific needs ensures that when they search, your name comes up.
Additional Country-Specific Elements/Details to Remember
Dates- When representing dates, you would write them as MM-DD-YYYY in the US. However, in Europe, they prefer DD-MM-YYYY.
Calendars– The USA's week starts on Sunday, while in the UK it starts on Monday and Friday in the Maldives.
Local social media– If you are using local social media to market yourself, do not forget to use local social media, like Hyves for the Netherlands, VK in Russia, and Weibo/YouKu in China.
Store locator– If you have physical stores, it is always good to display contacts closest to your customers or give them an option to choose which store they want to buy from.
Customer care– Different markets expect different types of customer care. Understand what they prefer and use that to set up support.
Local trust marks– A trust mark from one country may not necessarily be recognized in another. As such, local trust marks are important to reassure locals that you are a trustworthy business.
 There's more to finesse and change, depending on what's required, which means you will need more than a few Magento multi-lingual extensions.
---
A Brief Localization Checklist
Do you have…?
Appropriate branding, design, and logos
A properly translated and proof-read website
Localized and relevant content throughout the site
Localized media (video, audio, graphics, photos, etc.)
Working local payment methods
Localized product listings
The local time zones
The correct formats (numbers, dates, layouts)
Consistent domain structure
Correct units (temperature, weight, mass, area, and volume)
There are more options specific to your business that emerge as you progress with localization. With the right team, you can meet every challenge head-on and solve it.
---
Summary
As they say, when in Rome…!
The message here is that a Magento multi language website with localization is a great way to communicate to an audience in a super-specific way. Many start businesses after conducting market research. However, the initial research could be for one audience type and not necessarily work for another, should you choose to expand.
For that reason and others, you may want to communicate more effectively about your business to new markets.
That is where localization comes in. Making local eCommerce sites makes your brand relatable to hyper-specific audiences.
If you are looking to get some localization work done right. Then WebMeridian is where you'll find your ideal solutions. We can put together teams, brainstorm ideas, implement them and even manage how they work.
To find out what we can do for your business to make it optimized for a specific locale, feel free to talk to us. We work with businesses of all sizes and have catered to new and established/popular brands.