Here's a common scenario: You have built your website to perfection, everything works out well, your inventory is top-notch, and pretty soon, the traffic starts flowing. But then, you notice something quite disturbing that might very well be solved by some nifty solutions for your eCommerce shopping cart.
You have high traffic but low sales. What is happening? Why are all these people visiting your site and leaving without purchasing anything?
Before you start examining your inventory, products, or pricing, you should know something important. According to the Baymard Institute study, seven out of ten website visitors leave the eCommerce checkout process before they buy, and usually, the problem is connected to the eCommerce shopping cart. Of course, some customers realize at the very end that they may not be able to afford the product plus shipping, but they make up a small number.
Well, you might have made a mess of things on your checkout process design. That is the problem that most eCommerce sites experience. Most eCommerce merchants build a site and hope that people will come, and they should. But when they don't, it is time to solve that issue.
In this article, we will reveal the ways that will help you to optimize the shopping cart and checkout page to get more sales.
How to Calculate Conversion Rate?
The conversion rate is a mathematical way of measuring the performance of your marketing. How many people can you get to buy your goods?
The conversion rate is high when you optimize marketing strategies. However, it is not always about marketing campaigns. Sometimes, it's about the level of smoothness that shoppers experience when checking out. The formula is simple. It works like this:
Conversion = (Number of clients/number of visitors) * 100%
It's simple, right?
For example, if you had 100 conversions from 1,000 interactions, your conversion rate would be 100/1000 * 100 = 10%. Let's find out what you can do to optimize the process and increase the conversion rate.
Common Mistakes on Purchase Process
Non-Adaptive Checkout Page
When you flick a switch for a lamp, it is supposed to turn on. That is a responsive design. Adaptive design is when that lamp can adjust so you have either lower light or more.
When it comes to the checkout page, you want a page designed in such a way that it can change to fit the screen size of the device the user has. This way, someone shopping on their phone has a view comparable in quality and responsiveness to a laptop view.
This will increase convenience as anyone on any device can access the store and load up their eCommerce shopping cart with ease.
Broken Links
Broken links typically don't work when you click on them. They could bring up an error code or load forever without showing anything. Now, if your users are running into a brick wall on their checkout process, the conversion rate will be low, and the chances that they will ever try your site again, significantly diminish.
One of the best tools to combat this is called "Screaming Frog." With it, you can find out where you have broken links and fix them so your users can get through easily. It will check crucial things that include forms, shipping methods, logins, and authorizations.
Too Long Request Form
When your request form is too long, it is easy for users to give up halfway through it and opt for something else. Your forms should only contain necessary spaces. Delete any extra space and leave only the place for shipping and payment.
Customers find it more convenient to shop when they can checkout with a few short clicks. Try to put it all on one page instead of several checkout process steps.
Shopping Cart Optimization Checklist
When attempting to solve problems with shopping carts, it would be nice to have a checklist. There are crucial things that make it optimized and user friendly. Here are some of them.
Pay in 1 Click
The less information will be there to complete; the more people will go through the purchase.
Implement the one-click payment option to speed up the process. If it feels like a breeze, your conversion rate will benefit from this feature. You can have it by implementing one step checkout. It is available for most popular CMS. You also can find it in Magento by using the ready module from vendors or creating custom functionality. Look how COS made it simple for customers to buy clothing on one page.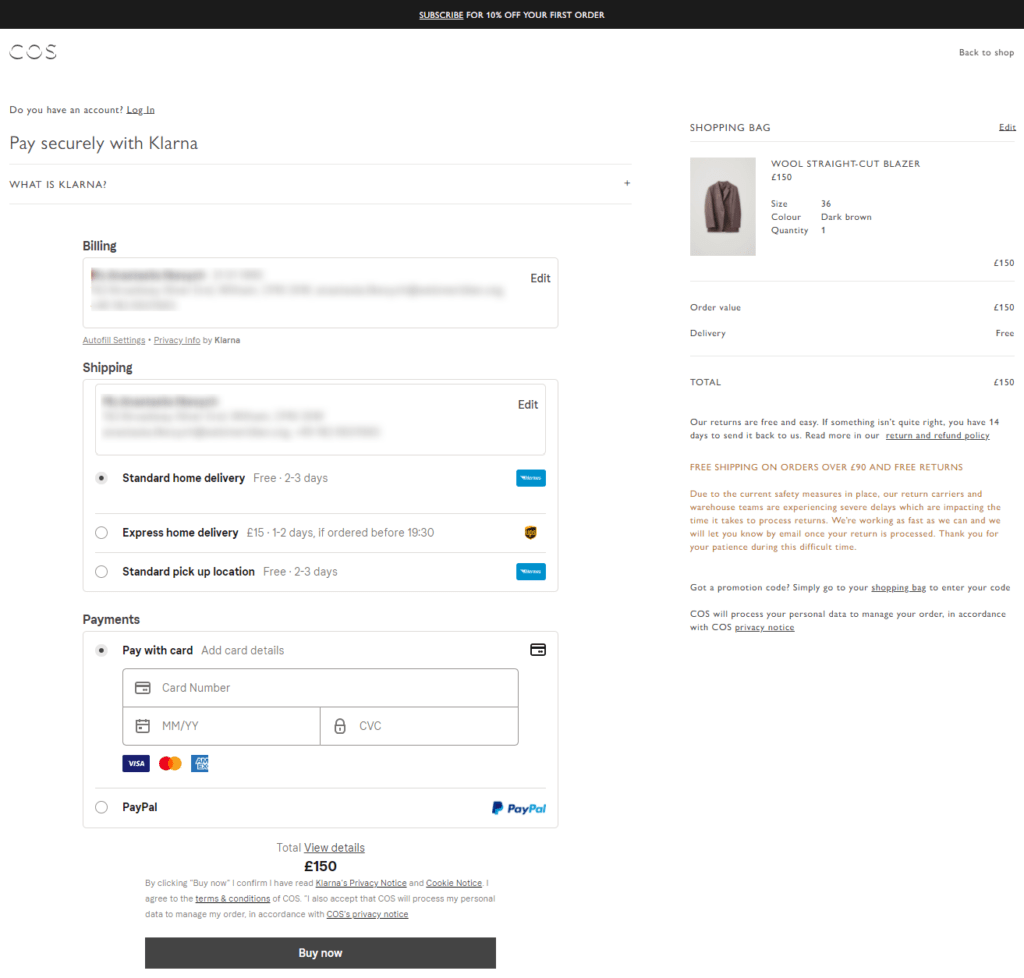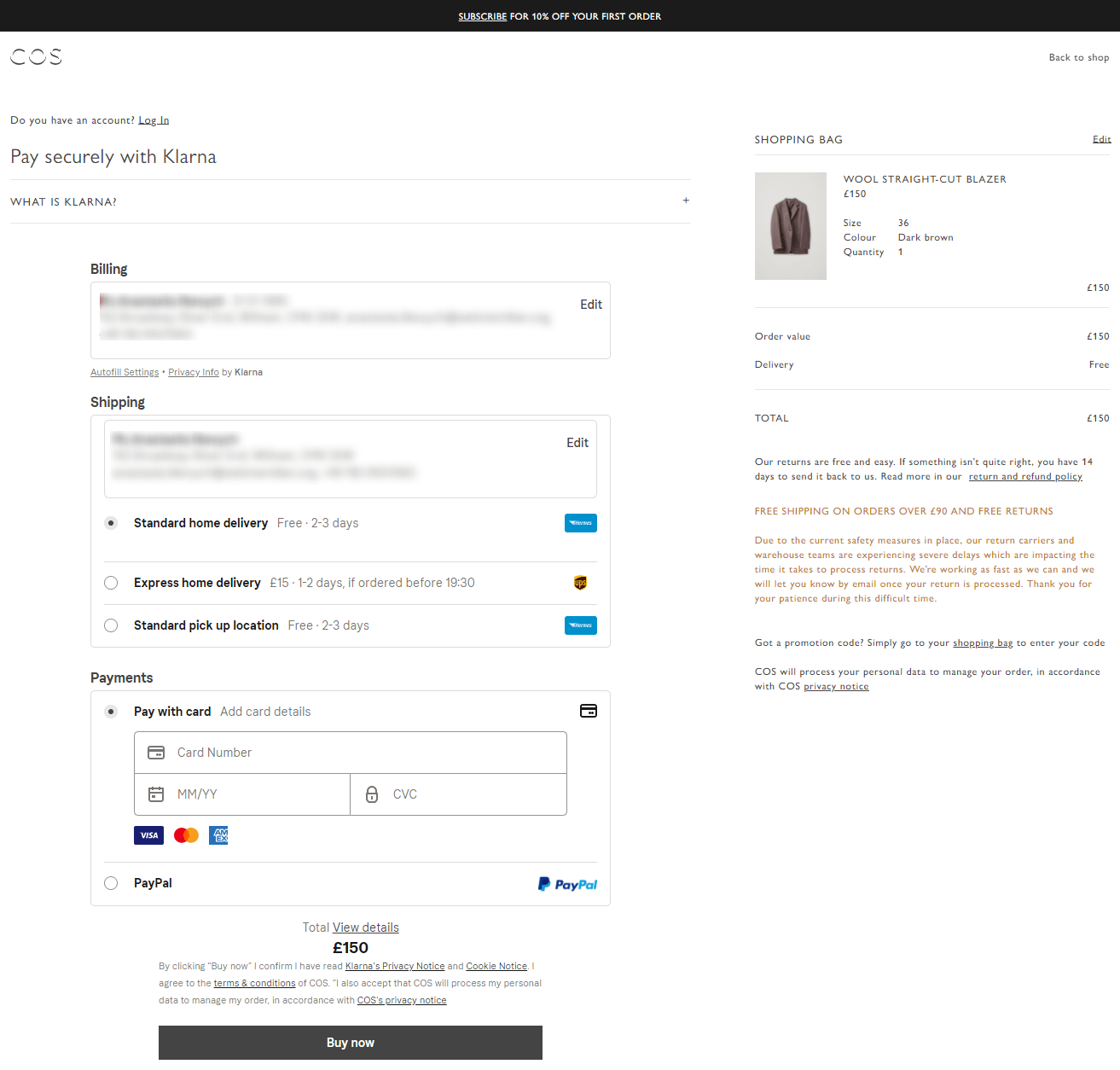 Source: COS
However, as much as you need to ask questions, you should know that the customers will appreciate pre-prepared options about things like size and quantity for easy specification.
Add Live Chat for Real-Time Conversations
People feel more comfortable buying when they can talk to you and get answers from a live person. Live chat can increase online leads by an average of 40%, according to a study by ApexChat.
Utilize this feature to ensure that your customers get useful answers to their questions. Look at one of our client's IRexperten example:

Source: IRexperten
By implementing a live chat, they allowed their customers to get instant answers on product and delivery information and already have improved their sales.
Use a Few Payment Methods
The link between payment methods and the conversion rate is a clear one. Providing an overwhelming number of payment methods makes things confusing. Customers should have 1 or 2 preferences. Now, the store needs to use one of the well-known payment methods, such as PayPal or Klarna, plus credit/debit cards or checks. Look at how H&M made convenient payment options.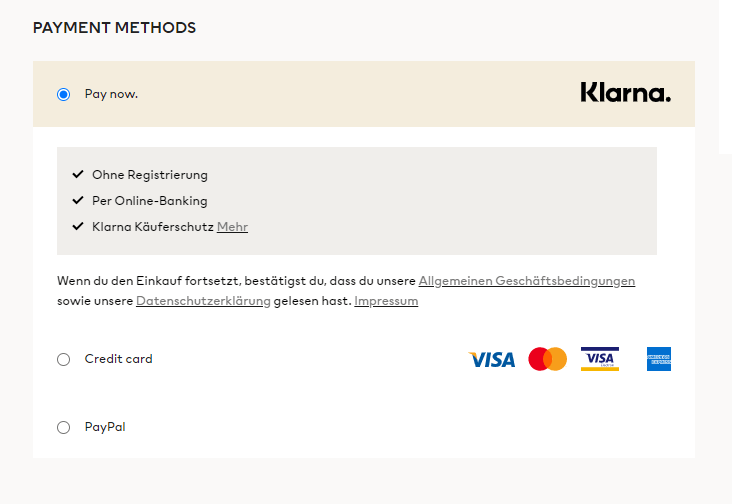 Source: H&M
Finding out the most popular types and including various payment methods will make it easy for shoppers to complete the process faster and more convenient.
Make the Shopping Cart User-Friendly
There is nothing more important for customers like ease-of-use. Include features like 'return to shopping' while viewing the cart items, make it easy to edit the number of items, size, and other pertinent details. If the customer can shuffle from the items on display to the cart and back to shopping with ease, the convenience will lead to conversion. Look at the advanced shopping cart of IKEA: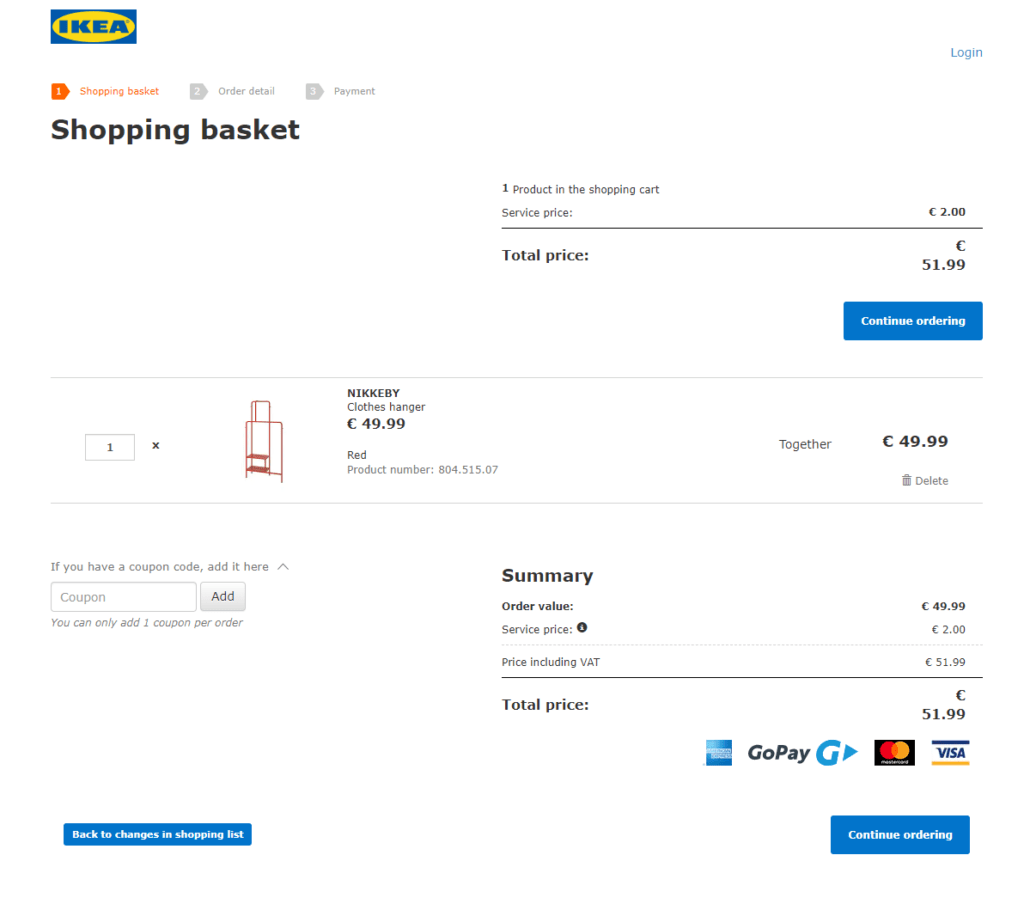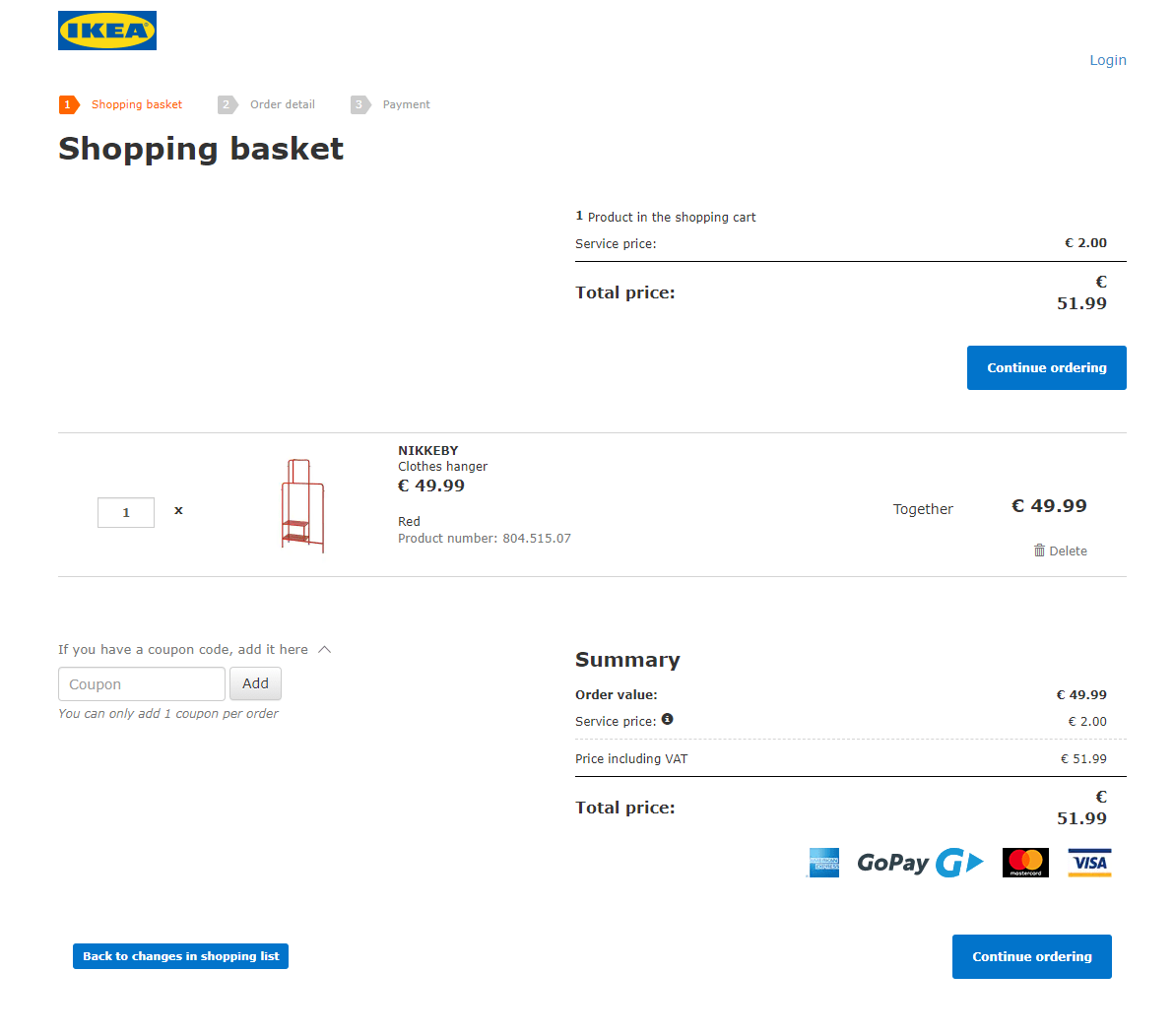 Source: IKEA
As you can see, the IKEA shopping cart includes the option to add more products in it or to proceed to checkout. They give customers a choice of editing the order before the purchase. 
Use Progress Bar for Checkout Pages
Make it easy for a shopper to know what stage of the checkout they're in. If they know that, they are most likely to see it through once they start. If the pages come up as a surprise, it could easily frustrate a shopper, leading to cart abandonment. We have a great example from a book store:

Source: Waterstones
Show the User Selected Product on the Checkout Page
While on the checkout page, shoppers might want to look at what they are buying right before making the payment. Ensure there is a summative way of viewing what customers have bought, the quantities, the price, and the shipping. Having to go back a page to see this will affect your conversion rates.
TOMS has a convenient shopping carton their website: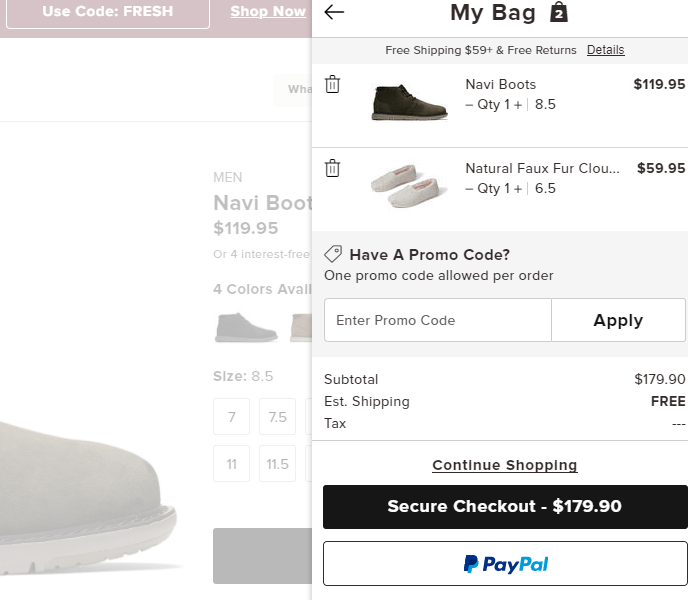 Source: TOMS
When a customer clicks on Add to Cart button, the side pop up window automatically appears on the top of the screen. This gives an ability to check cart before proceed to checkout or buy more items.
How to Find Errors in the Checkout Process Steps?
It is always good to have tools to show you when you have gaps and errors in the process. Here are some of them.
Google Analytics Reports
There is a multitude of ways to use Google analytic reports. You can track marketing campaigns, sales, and revenue, website traffic to understand your target audience, learn customer shopping behavior, deploy specialized SEO and keyword search, and gain insight into other useful metrics.
Third-Party Integrations for Enhancement of the eCommerce Checkout Process
There are several ways to create a better user flow. Essentially, it involves creating user travel lines from the entry point to the end goal to complete a task on the user interface. Some third-party integrations that help are Justinmind, Timblee, Flowmapp, Overflow, Wireflow, and Mockflow.
Hotjar
Hotjar is one of the tools you can use to analyze behavior and get user feedback on how the users feel about the website. This app shows you heatmaps and has session recording plus surveys. It complements data and insights from traditional analysis tools like Google analytics.
Crazy Egg
Crazy Egg is pretty much the same as Hotjar and provides eye-tracking tools like Scroll map, Heat map, Confetti, and Overlay to track website operation. This can help you know the customer's interests so that you can boost profits from your website.
Summary
The task here is to find existing gaps in the eCommerce website and then fill those gaps. By crawling the website for broken links, clunky design, complex processes, and other shopping cart issues affecting conversion, you can increase your rate from 25% to 45%.
Your eCommerce shopping cart is the endgame, and you need to make it easier for people to get there. To be clear, according to Wordsream, the average conversion rate for most websites stands at 2.35%. However, the top 25% of websites are converting at 5.31% or higher. Ideally, the aim is to break into the top 10% of the eCommerce websites, where the conversion rate is 11.45%. It is demanding work, of course, which makes it hard to do but, you can take your numbers higher than 11.45%.
The reasoning behind this is that you know what your customers want, and with that in mind, you can tailor your website to fit perfectly with your customers' needs. Hopefully, these optimizations to the checkout process steps will be your stepping stone to even greater conversion rates.