Getting customers' trust when you are in a brick and mortar store is way easier. The look, the staff, and the general feeling they get from walking in is all it takes. In an eCommerce store, the situation is different, and takes a lot more effort to achieve a level of trust that prompts customers to buy from you.
As much as there is no way to directly influence how someone feels about our store when they are online, we can follow some simple tips to gain that trust. It is all about building eCommerce site features that make it easy for the customer to feel like they can trust you.
1. Must-Have Features for eCommerce Store
Customers' trust is challenging to build, especially when there are thousands of stores, ads, and information. Companies compete for their customers' attention. So, how do you ensure that your visitors feel like they can trust you?
Well, for starters, you can check out these must-haves of things like product page design, which goes a long way to building your trustworthiness levels.
Your store cannot afford to be sloppy or missing some features. Let's get into the functionality vital for building your business's credibility through your online store. 
User-Friendly Website Homepage Design
User-friendly websites encompass a large swath of information, and we will cover some essential parts of the homepage design. In the specific niche of making your website homepage design attractive to new users, do the following:
Choose Video Background for Website Homepage
Auto-play background videos are a great way to tell your brand story, showcase your projects and portfolios, and tease products and merchandise. Video background for website homepage, when done well, can evoke emotion about the entire business.  
Look how Chanel has performed a video on the first screen when a customer just enters the site and gets the first impression.
Source: Chanel Official Website
Add Attractive Blocks to Your Home Page
Start building trust in your customer using blocks with offers. You can show items with discounts, a new collection, or trending products. It's up to you and should reflect on your sales strategy. You can follow the example of many successful brands, such as Tommy Hilfiger, Daniel Wellington, PANDORA, Apple, and Land Rover.

Source: Daniel Wellington Website
Make Detailed Product Pages and Search
When writing content for the product page, make sure that you grab attention, fully explain the product and company, use social proof and upsell or resell to increase conversions.
It would help if you built an emotional connection by being honest and authentic. Show the customers you share in what they love and care about, and add only essential information about products.
Check how ASOS made their product pages. It has high-quality images, details by the size chart, size swatches, Shop Assistant, ability to add to bag, and a wishlist.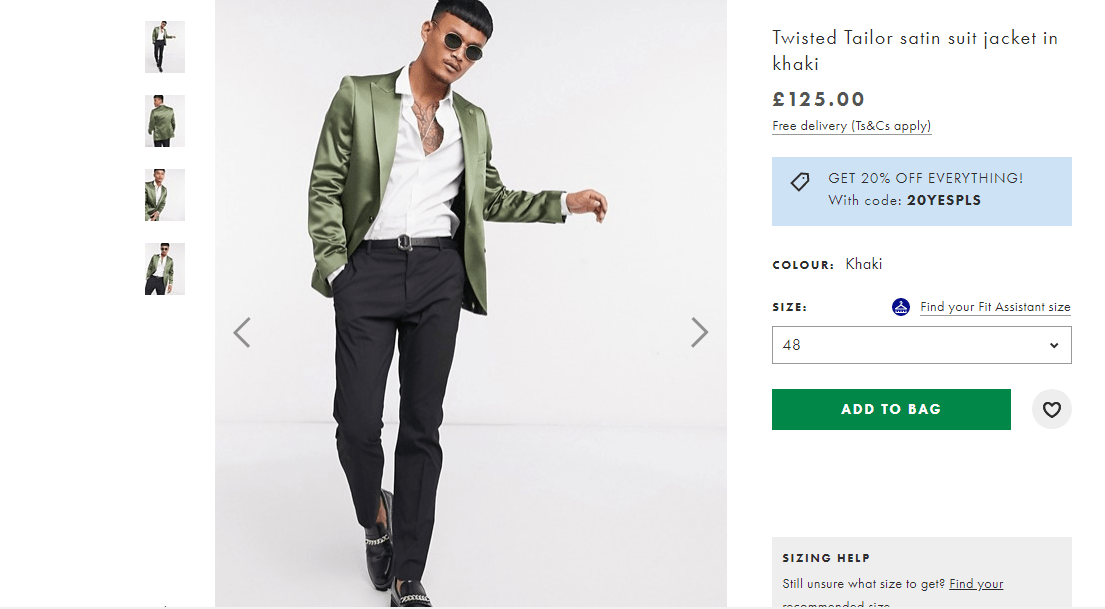 Source: ASOS Product Page
You also will find a detailed description of the product, its material, size&fit, care guide, brand, and style. It helps customers to make a decision about the purchase faster because they can check the most important information in one place. However, you can include the links to the care guide or style guide and help your customers solve any product-related questions.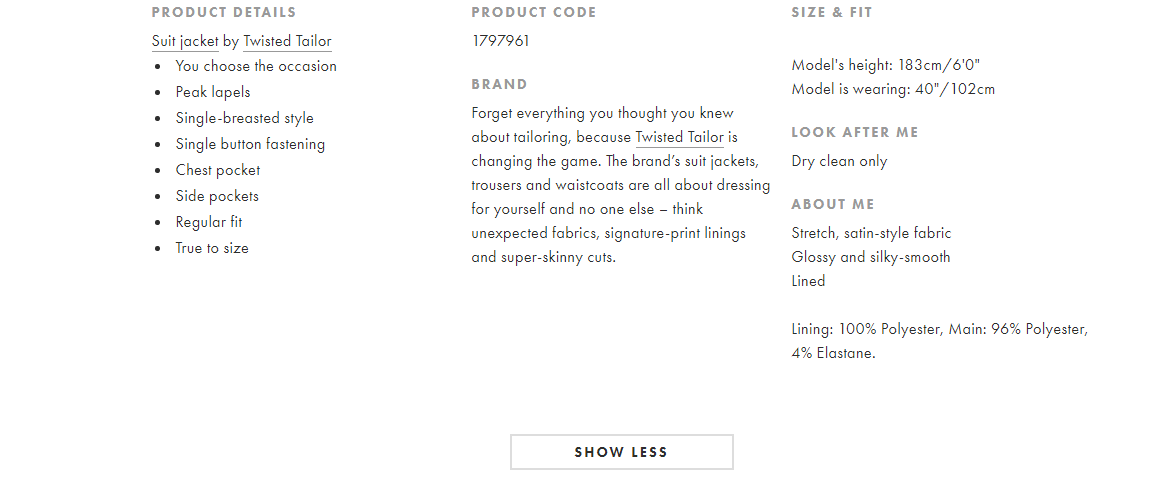 Source: ASOS Product Page
When on a site, visitors will find it easy to locate what they want if you have a search function that not only auto-completes when they start tying but gives suggestions for searches related to the one they just made.
TOMS has great product suggestions with images and descriptions that help customers to find the exact product.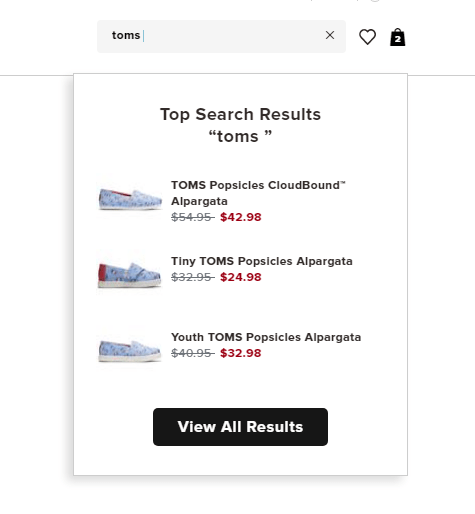 Source: TOMS Website
Suggesting other products after the search brings up what the visitor wants is a great way to increase your sales.
2. Implement Sales and Discounts
Implementation of sales and discounts is a great way to get first-time customers to buy your product. When they decide to buy something on sale or a discount, you get the chance to impress them in terms of service, deliver quality, and, to depend on that first transaction, achieve the goal of retaining that customer.
Nike has placed a banner with an extra discount with a link to all products that include the discount. It is very convenient and desirable for customers.

Source: Nike Store
According to Statista, 93% of shoppers use a coupon or discount code throughout the year. This means that almost all site visitors will be more likely to use a coupon on their next purchase. So, placing it on the main store page is the best solution to increase sales.
3. Showcase Shipping and Delivery Cost at Checkout Page
Your checkout page can be your undoing if it is not correctly designed. There are a few key things you can do to make the checkout page earn customers' trust.
You have to show that your payment procedure is secure. Data breaches happen all the time, and many shoppers are concerned about submitting payment information to you. How do you make your checkout page trustworthy?
Post a trust seal(s).
Use professional graphic designers. If the checkout page looks suspicious, people will abandon the cart.
Ensure you have an SSL certificate for the site. Shoppers know that sites without the padlock before the https are not certified and, therefore, not secure.
Have a shipping cost calculator, so the customers knew clear rates.
You have to eliminate all doubts when designing this page. You can never have too much security.
4. Storytelling as a Part of Your Business Strategy
To be competitive in today's world, you will need more than an attractive website. Using storytelling strategies for your products, your company, and eliciting emotions is a great way to gain attention and trust. 
What Is the Storytelling Strategy?
The storytelling strategy employs a millennia-old thing we have been doing. As a marketing strategy, it is all about creating a narrative around your store and the products/goods you sell. You are building a brand and not merely offering goods.
Narratives are a creative way to tell visitors how to use the product, what it's for, why you created it, and the mission driving your operation.
How Do Businesses Use Storytelling Strategy?
Businesses have taken what used to be a Hollywood approach and made it work for them, 'Show Don't Tell.'
It is one of the many marketing strategy examples you can use for business, the others being:
Social networks
Paid media ads
Internet marketing
Email marketing
Direct selling
Show your customers why you are the best. Evoke emotion through a story. Get them to buy by appealing to the part in them that is attracted by a story.
To make your story compelling, make sure that:
You have a clear goal.
 You have a deep understanding of your audience.
You have incredible images.
You have a clean design that doesn't make your site look cluttered.
Add a call to action at the end.
One of the great examples of the story and the deep purpose of the brand is TOMS. You can read about the founder story and his idea to use One to One business model to improve other people's lives by selling shoes. It is a beautiful real story that is carved out on a separate page to tell more about the brand and it's higher goals.

Source: TOMS Website
5. Improve Your Overall Marketing Strategy
Building customers' trust will take everything you have. It is all about infusing everything from product narratives with a trustworthy feel to tweaking your marketing strategy.
Some marketing strategy examples can foster trust. Let's look at some of them.  
Develop a Social Media Marketing Strategy
Social media can help you build trust by giving you an identity people can relate to your selling products. Through live engagements with a person, they can ask questions, feel the human 'touch' in your marketing, and be more likely to consider buying.
You have to come across as an authority in your niche, helpful, intimate, and use self-promotion tactfully.
Use the Power of Email Marketing for Promotion
Email marketing might seem bland, but there are ways to make it work for you. Keep the following tips in mind when using email marketing to gain customers' trust.
Always ask permission before sending emails. Nothing grates on the nerves more than unsolicited emails.
Make it clear who the messages are from.
Let the recipients know what you are offering.
Ensure that all your messages respect the customer.
Use personalization and contextualization.
Do not use click-bait subject lines or headlines because people tend not to react to the information that isn't consistent with reality.
If there are mistakes in the emails, like broken links, for instance, apologize. Learn to admit any other errors. Acknowledging you are not perfect while fixing mistakes is a great way to earn customers' trust and engage with them.  
6. Add Social Proof of Your Products' Quality with Reviews
Customers tend to believe other people's opinions. You can tell great stories about your products and why you want them to buy items, but it will be hard for customers to decide without social proof.
So, what is social proof for eCommerce going to do?
The term explains a concept that says people tend to follow the action of the masses. The idea is, since so many people are making a particular choice or behaving in a specific way, they must be right. 
Use Third-Party Plugins for Reviews
One way to allow people to leave their reviews on your products is by using plugins. Reviews on the site make it easy for your brand to gain credibility, build trust, and enhance your sales numbers. In addition to the social proof WordPress plugin for reviews, here are some plugins you will find useful:
With these, you can enjoy benefits like returning customers, longer on-page time, increased user engagement, and SEO benefits. 
In Conclusion
As much as earning customer's trust is a difficult task, you need them to believe you. The marketing strategy examples we have discussed will be your road to a chain reaction that leads to the social proof of the quality of your products and business overall.
The environment inside a website needs a professional look, security measures (especially for payment), and excellent product descriptions.
Entice the visitors to stay by using stories, videos, offers, social proof, email marketing, social media identity, and any other tool at your disposal. If the visitors feel like they connect with your brand story and reflect their views, they will consider buying.
If they feel like the product has been explained well, and the checkout process feels secure and smooth, they will not abandon their carts.