Millions of people buy products and services online. Research also shows if a person buys from you once and he/she likes the quality and user experience, they are likely to return.
But, with more and more providers switching to sell online, and the quality being of very different levels, buyers may be hesitant to buy from you for the first time.
Also, as the level of online fraud increases, it's important for customers to feel secure.
What they may trust, is a third party "Checked and secure" badges (especially if the company/logo is familiar), and other people's feedbacks.
Even if thousands of customers buy your product and are satisfied, it may be not that easy to have them left a positive feedback.
Trust badges, awarded by a third company, make consumers feel more comfortable about giving their credit card information to an unfamiliar website, which generally results as a higher rate among new customers.
How can you help a person who is checking your website for the first time, to try your product and become your satisfied coming back customer?
There are several services and plugins that can help you with this. In this article we will help you chose which one is made exactly for your type of e-commerce.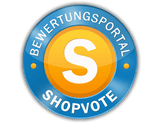 1. Shopvote (www.shopvote.de)
With this plugin, you get lots of features at once for free:
Your public evaluation profile (all the important information about your company at a glance!)
Reviews without limit
Handing your reviews on Google
When you collect SHOPVOTE reviews, they will be automatically transferred to Google at no extra cost. That adds trust and may lead to higher traffic and more sales.
Adding ratings to your AdWords ads can help improve your ads' performance and have a higher click-through rate. This feature is free with SHOPVOTE.
When the customers are viewing the reviews and stars in Google Shopping™, you can immediately show that you give a great shopping experience.
Efficient protection against misuse (The system is able to detect invalid ratings).
Master account for managing multiple profiles
With the central master account, you keep track of your profiles and can react quickly and purposefully to customer feedback without ever having to log again.
Respond to ratings
This feature allows you to react to customer feedback. Your answers are visible to everyone. Readers can see that you actively deal with the wishes of your customers. This promotes trust and represents a high level of service awareness.
The site also offers the possibility to check the customer's experience with various sites that have Shopvote plugin (easy search of categories: from "arts and crafts" to "wedding") and vouchers, discounts and promotions.
All the above mentioned features are free of charge.
If you are satisfied with the service and want some more, here are some of the premium features:
EasyReviews – Easier to collect ratings
That's an extremely useful feature, to our opinion. Your customers will be asked directly after purchasing whether they want to submit a review upon receiving the order. When the time window you have preidentifined passes, your customers will automatically receive the evaluation request.
Rating stars for your search results on Google
ReviewTab – Facebook Reviews
The ratings are displayed in a page "Customer Feedback" within your Facebook business page.
www.wyomind.com has several nice extensions for Magento 1 and 2 shops, but in this article we will speak about two that will enhance the customers' likelihood to trust your site.
These are Google Trusted Stores and Google Product Ratings, both priced at "starting at 50$". Both have an option to get up to 3 months of FREE upgrade for a review, 15 days money back guarantee, free support,
and response during 24h.
The extension and support allow you to: 1) Be completely compliant with Google; 2) Confidently pass the code validation tests (including automatically adding the order confirmation module, 2 JavaScript codes to your web pages and quickly pass the tests on the order confirmation pages); 3) Choose the position of your Google Certified Shops badge at your Magento frontend.
There are 12 5* reviews on this extension on the site, including the following: "Cleanest, most efficient Magento code I've seen. Installed the extension on 7/15/2015 and got the Google Trusted Stores badge displayed on the site on 8/14/2015. Support is phenomenal and lightning fast".
There is also a version for Magento 2.
3) Google Product Ratings
Google Product Ratings gives you the opportunity to highlight your Product Listing Ads in Google Shopping by displaying your products reviews through a valid and adapted data feed.
In order to help buyers to find these information more easily, Product Ratings are now directly displayed in the Product Listing ads in Germany, United-States, France, United-Kingdom, Japan, Australia
Potential buyers can see the ratings directly in the Google Shopping results. These results are interpreted in the form of 5 stars next to which the total number of reviews for the product is displayed (see image).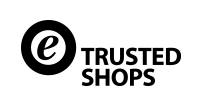 4) Trusted Shops with Trustbadge®
(How to activate the plugin: system – configuration – Services- Trusted Shops- trusted shops id paste – save config – product reviews – yes – product review sticker – yes – reload the eshop – received product reviews on the eshop)
Even though it is a free extension, it offers a lot of options.
Your customers receive a money-back guarantee and customer service, certificate that guarantees the authenticity of the trustmark, product reviews.
When your customer makes a purchase, he or she gets an immediate pop-up suggesting to leave a review.
There are also several other options to receive reviews via this plugin: you can upload an Excel sheet with your customers' names, order numbers and email addresses – you decide when your review requests are sent.
The customers can leave a review for a product or the site/service overall.
The badge is seen in the bottom right of the site, with the medium of the rates the customers gave to it, and also a "verified" badge – small version of it – will be seen where you choose to put it on the site (also, note the two badges on the top of the page), image to the left:
If the customer clicks the badge on the right bottom of the site, he or she has access to general info about the date your site was certified, number of reviews it has and how positive they are (see image to the right):

By either clicking three dots – All reviews, or reviews – evaluation, your customer gets to the following screen, where he/she sees when your shop was certified, date of certification expiry, and reads the reviews (see the image below).
Your seller ratings are automatically transmitted to Google and your stars will be also visible in rich snippets, your AdWords campaigns, Google Shopping and Product Listing Ads.
The extension works with Magento, Prestashop, Epages, ekmPowershop, SEOshop and OScommerce and is optimized for mobile usage
5) EKomi.
The site https://www.ekomi.co.uk/ offers you several solutions to make the visitor trust your site and product.
eKomi offers innovative, easy-to-implement SaaS software to gather both customer and product reviews. Once collected, they are reviewed by eKomi's Feedback Management team, and then published online and syndicated to all major search engines. The reviews can then be integrated directly into your website. You can track your performance with eKomi through real-time statistics which is available in your customer area.

How does it work?
1. A customer buys your product or service, validating an authentic purchase point.
2. eKomi proactively sends out a review request.
3. Your customer leaves a review.
4. eKomi's review team collects, manages, and publishes the review.
5. Potential customers read other clients' experiences.
Here is how the rating looks at your website (we have magnified the stars):
The customers who use EKomi, speak for themselves.
Austrian airlines, AXA, BMW, DHL, ESPRIT, FIAT, M&Ms, Renault, Rosetta Stone, and many, many others.
eKomi's robust SaaS Social Commerce Technology Platform is easily implemented
with any customized or standard e-Commerce, e-Marketing and CRM solution: Magento, Prestashop, Shopify, Woocommerce, Volusion, IBM WebShare, MIVA, ShopWare, DreamCommerce, JTLShop, Gambio software, Plentymarkets.
EKomi works in various industries: retail, ravel, real estate, automative, education, fashion, finaincial service, beauty, and many others.
6) https://www.kaeufersiegel.de/
Kaufersiegel (consumer/buyers' seal) is tailored for the German-speaking and Polish markets, with offices in Leipzig and Krakow.
The site has two parts: for buyers (which contains the buyers portal, for example), and for dealers.
The individual assessments are made up of the respective individual assessments in the differently weighted categories: product, shipping, delivery time, customer service.
 On the site which was estimated using the module, the seal is featured in the bottom right of the site under "Customer reviews" as follows (image to the right):
The last line is the so-called confidence index.
The confidence index indicates the average of all ratings. Once an online merchant has integrated or unlocked the eBay ratings into the Buyer Rating, the eBay ratings are automatically included into the trust index.
If you click on the seal, it leads you to Kaufersielgel's website containing all the info on reviews of your website (see below):
For the following shop systems, the buyer seal rating is already available: Modified, Xt: Commerce version 3.x and 4.x, Shopware, Plentymarkets, Magento, VirtueMart, EPages, legend, Seoshop, Strato, Prestashop, JTL 3, Gambio GX2, Oxide eSales, OpenCart, DreamRobot, Oscommerce, Bigware, Telekom, WooCommerce, WPshop, WordPress.
So, these are 6 modules that can help you build trust to your online shop. On different levels all over the web, in the most visited places, like Google, your ranking will be visible if you chose it to be , that will help your business to attract visitors and potential clients to your Magento website. It is also obvious that the raise of trust to your eshop with the help of these extensions will lead to the raise of conversion.
Different extensions also give you various additional features. You need to try several to really understand which one makes your business work like a charm.
If you are not sure which particular service fits your business, or you don't know how to integrate these extensions into your website – we will be glad to help. Just send an email to info@webmeridian.org with the subject line "Trust badges quote" and describe your situation.