During competitive analysis, you may have noticed, in the world of eCommerce, top brands are using all cutting-edge Magento 2 features to attract and interest customers, who will enjoy their shopping journey and get the exact product they want.
eCommerce owners are scrambling to utilise the hottest Magento development trends and be ahead. Ready to unleash your full potential?
So, read on to get:
an overview of the shopping cart and intuitive one-step checkout tips,
the key reasons to use product configuration,
a list of top Magento features with Artificial Intelligence (AI),
the best plan for website optimisation for voice search,
other tips and Magento 2 features that will help you win a race.
Let's dive in!
NOTE: Titles (the core Magento 2 features) are hyperlinked to our relevant, comprehensive articles and step-by-step guides.
Shopping cart is the endgame, and you need to make it easier for people to get there. 
Without further ado, let's get run down to solve all common problems with shopping carts. Our experts gathered for you a checklist for smooth eCommerce website development and top Magento 2 features for a shopping cart in 2021.
 Here are 3 crucial things in custom Magento development that make it optimized and user-friendly.
#1. Add Live Chat for Real-Time Conversations  
Live chat can increase online leads by an average of 40%, according to a study by ApexChat. People tend to use live chat to talk with a natural person and get instant answers on product and delivery information. Make their shopping way more comfortable by implementing a live chat, and already have improved their sales.
#2. Use a Few Payment Methods  
All big players are constantly seeking new ways to increase conversion rate, and the link with payment methods as the finish line of purchase is clear.  Free of choice of an overwhelming number of payment methods? 
Don't make things confusing. Now, the store needs to use well-known payment
#3. Make the Shopping Cart User-Friendly  
In most instances, ease-of-use is the most crucial thing for customers and high conversion rate. 
Easier said than done, right? 
But, by following UX trends, your team tackle them in a blink of an eye.
Include product details in a basket summary.
Show total cost.
Let users save items for later.
Give your shopping cart long-term memory. You lose if your cart refreshes every time a visitor returns.
Include features like 'return to shopping' while viewing the cart items.
Make it easy to edit the number of items, size, and other pertinent details.
If the customer can shuffle from the items on display to the cart and back to shopping with ease, the convenience will lead to conversion. 
Too long a request form means for you that users, in most instances, will give up halfway. Keep in mind one essential point — checkout should be done with a few short clicks. Your forms should only contain the necessary spaces, such as shipping and payment. Put it all on one page.
Of course, it is demanding work, which makes it hard to do, but you can take your numbers higher than 11.45%.
Keep in mind the pains and desires of your target audience and tailor your website to fit perfectly with your customers' needs. Hopefully, these optimizations to the checkout process steps from our eCommerce website development company will be your stepping stone to even greater conversion rates.
Pay in 1 Click 
The less information will be there to complete; the more people will go through the purchase. Implement the one-click payment option to speed up the process. If it feels like a breeze, your conversion rate will benefit from this feature. You can have it by implementing one-step checkout.
Add Progress Bar for Checkout Page 
Make it easy for a shopper to know what stage of the checkout they're in. If they know that, they are most likely to see it through once they start. If the pages come up as a surprise, it could easily frustrate a shopper, leading to cart abandonment. 
In modern eCommerce, configurators are used all the time to ensure that customers feel the enhanced shopping experience that variety presents. According to Epsilon Research, personalised experiences mean that 80% of customers are more likely to buy something.
Product configuration done right can make the difference between delivering the right things and making expensive mistakes during production. What's clear is the fact that you need to have configurable products in Magento 2 and benefit from its features:
#1. Build a Visually Pleasant Shopping Journey
With integrations like 3D viewing and real-time display, customers can choose each feature and see it reflected on the screens until complete by adjusting the offered options. In a decor store, the configurable product in Magento 2 could include things like the material of the item, length, artwork, collar type, and more.
#2. Reduce Returned Goods
Online stores have higher returned product rates than physical stores. The reason is that physically seeing something or accurately viewing it is essential, and if people don't get what they asked for, they tend to return things.
With product configuration and our custom Magento development services, you gain more benefits:
Better customer satisfaction rates since they get what they want without guesswork.
The chance to improve your conversions by inspiring confidence in shoppers.
Spurring engagement and nudging customers to spend more time on the site and be more likely to shop.
Your website communicates professionalism and ensures that customers always get what they ordered.
SOURCE: ZOOVU
It would be best if you built a homepage for an online store that appealing visually. Humans are very visual by nature. Most shoppers don't want to read a lot but instead want to focus on pictures and other attractive things. Our experts gathered eCommerce website design tips.
Imagery should be a massive part of your online sports store. 
Feature lots of graphics to grab attention on your product page. 
The photos that you use are a great selling feature. 
You will come closer to crafting a homepage that works with the following checklist of custom Magento store development:
Step #1. Clear Value Proposition
When it comes to value, your primary focus is to convince people to feel a sense of pride buying from you. Your value proposition needs to cut through and make it clear to the first-time visitors as well as for loyal customers that they need what you offer. Our marketing team recommends using solid and engaging content and combining elements of the UX and written copy to communicate without missing any demographic.
Step #2. Intuitive Navigation Website
If we talk about navigation, we talk about its simplicity. Yes, this might sound like a contradiction since you want to cater to everyone and simplicity might not offer variety. 
Note: The simplicity needs to be in how you write the words or group content. Draw the customers' attention to the right places without overwhelming them with too much information and design elements.
Step #3. Make Your Brand Easily Identifiable
Remember, you want to not only stand out from the pack of online eCommerce stores, but you also want to become memorable to your clients. 
Keep your brand's colours, fonts, messaging, and other identifying markers consistent. 
Share your story. Your customers need to be able to attach some humanity to the brand and have emotions about it. 
If you can get your target audience to feel warm and fuzzy whenever your brand comes up, you will have done your job.
Step #4. Easy to Access Shopping Cart
It needs to be easy to spot. It should also sit in the top right corner. Furthermore, it is better when the cart can display on a small icon the number of items placed in it. The shopping cart should also be able to slide out and let the customer continue to shop or go to checkout if they want to.
Step #5. Advanced As Well Easy Search Bar
Finding anything on your site should not be challenging, especially when it comes to highly populated catalogues. If you have many products, the customer should be able to find whatever they want using a website search bar.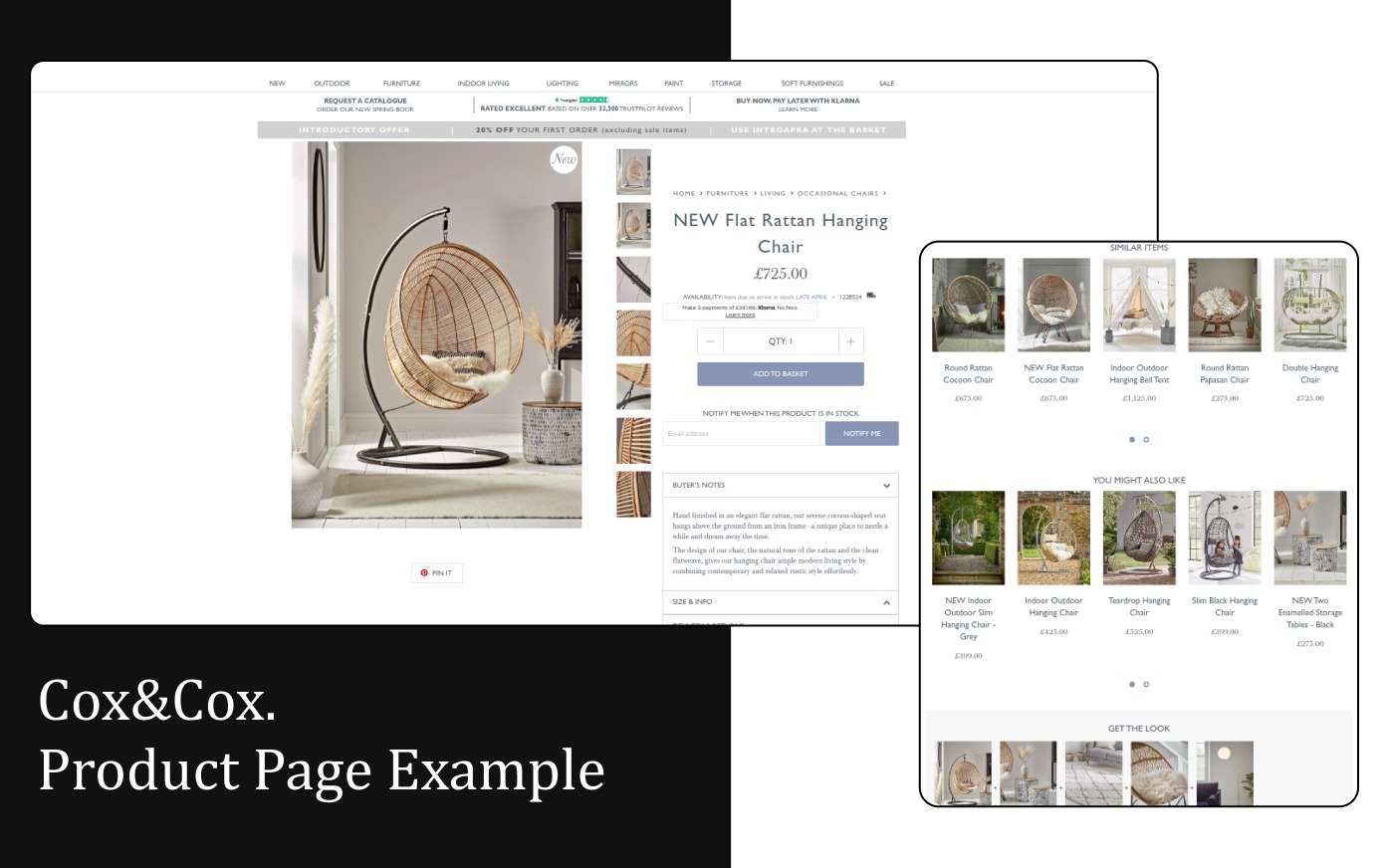 SOURCE: COX & COX
Upselling and cross-selling techniques, along with renewals, are exceedingly popular. 
One of the top Magento features is the "related products" section, which often increases the buyer's purchase size substantially as they discover new items that pique their interest and appeal to their budget. The things you choose are typically related in some way, and they are made as suggestions. 
When a potential buyer sees something that interests them, then they will click on it. You'll keep the buyer on your page longer, which could help them plan and finalise the sale. 
You can also categorise things into sets to offer a bulk discount when someone buys one. Most people like to save money, and buying more than one product in a group makes them feel like they are getting a good deal. 
Impulse buying is a very real thing. Pushing impulse buys using sales promotions ideas increases eCommerce revenue.
Focus on smart upselling or cross-selling.
Provide post-purchase up sales that take place following checkout.
Cross-sell products before the customer adds a product to the cart.
Display all products that are relevant to the customers' initial purchase.
Do not offer an item that has been previously sold or purchased.
With AI as one of the hottest Magento 2 features, customer service has become hassle-free, efficient, and automated. Predictions have AI-enabled personalised shopping picking up the pace.
Chatbots
Conversational-AI helps with engagement scenarios where they can simulate human-like interactions to provide quick responses, reducing turnaround time. Providing round-the-clock customer service through AI and chat-boxing has become a necessity for eСommerce sites to stay ahead of the curve. The bots are driving acquisition and retention will building loyalty. 
Сustomer-Сentred Searches
Make your search engines think the way humans do; this means customers always find what they are looking for if you have it in stock. AI can organise images, return search results accurately, matching products in terms of variables like colour, material, or shape, among other preferences. 
Sales Intelligence
When you have AI, you do not just have the power to predict things, and you can also check out what the competition is doing better than you and gain intelligence on what to do to stay competitive or gain an edge.
Smart Technology
In a business, smart technology can be used to offer added value to the users as a competitive edge. In this example, Samsung enjoys a different level of popularity in the fridge market, given that they beat everyone to the punch with their introduction of technology to an icebox. It features cameras inside and AI that can be used to let you know when you need to replenish supplies or even order them for yourself.
Image Classification
When creating an eCommerce website, it is always essential to recommend similar products/services and other related results to customers. You can increase conversions this way and enjoy that increased revenue that comes from that.
Thanks to advances in AI, you don't have to manually categorise images or even use systems that aren't too accurate to do it. With artificial intelligence, you can recommend similar results and integrate suggestions to check out other options and buy with a single click.
Voice search has become exceedingly popular with mobile users who do not want to type in the search term. The process is remarkably fast and easy. If you don't embrace the technology, then your eCommerce site will more than likely be left beyond as other sites will sail to the lead positions over yours in a Google search. 
People use Siri or other voice-activated features on their phones to hunt for various things, so it shouldn't surprise you to learn that they are now using verbal queries to find what they seek and shop for the best deals. 
Activating your site to take verbal queries is a great step in the right direction to appeal to smartphone shoppers. 
In our article, we examined top tips on eCommerce website development and optimisation for voice search.
Summary
By implementing these basic Magento 2 features, you can tweak your website requirements to load pages faster, have an intuitive and customer-centric design, helpful features, and remove barriers that may prevent your customers from buying anything or signing up for a service. 
You can tackle this problem with this white paper highlighting what to include on your website and the consequences you may deal with if you skip anything. We are here to provide you with solutions.
P.S. We have some news. WebMeridian featured in Feedspot Top 80 Magento Blogs. Our team and WebMeridian's blog are ranked 38th out of 80 Top Magento blogs. We'll work harder to share with you more insights about eCommerce and Magento world.